Hillary Clinton Secures Democratic Nomination, Celebrities React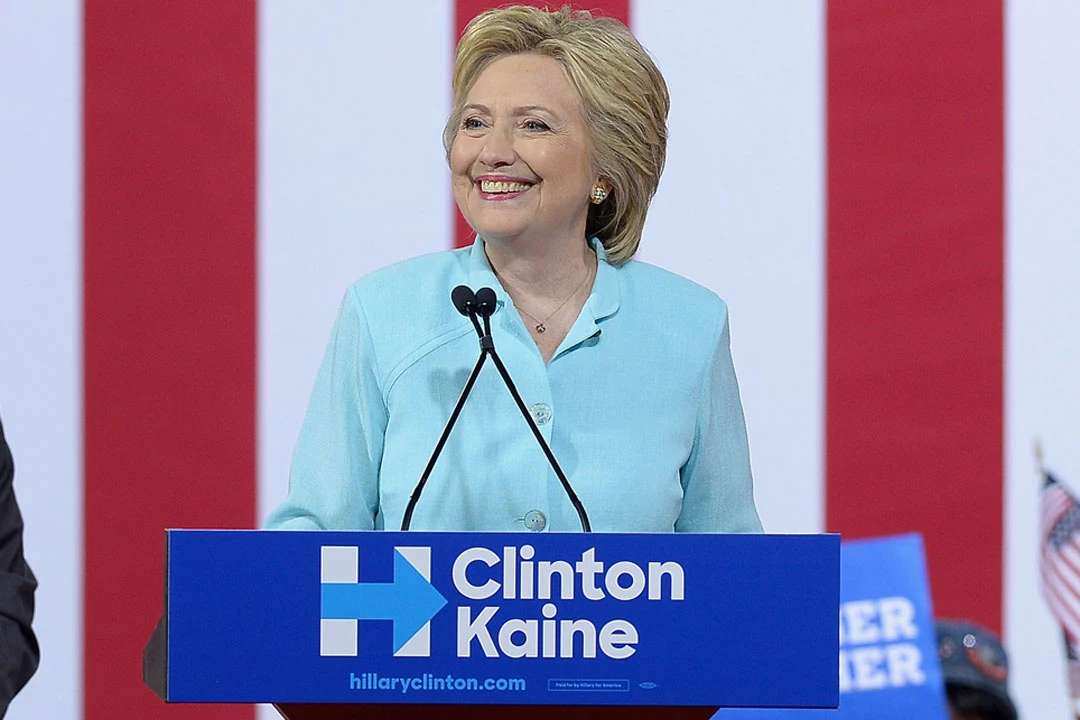 Hillary Clinton made history today (July 26) as she became the first woman ever nominated by a major party to secure the Democratic nomination for the U.S. presidency.
And, as with most major moments in history, social media has been rife with reactions, ranging from non-famous American citizens to big name celebrities and beyond.
Longtime Clinton supporters like Lena Dunham and Amy Schumer were quick to comment directly on Clinton's official nomination. Meanwhile, other celebrities like Aubrey O'Day responded to Bernie Sanders' speech, which has been widely applauded by those either in attendance or watching from home. Check those out below.
Clinton will run against Donald Trump — who secured the Republican nomination just last week — in the fall.
First Lady Michelle Obama delivered an eloquent, impassioned speech at the Democratic National Convention last night (July 25), where she endorsed Clinton for the presidency, while also skewering Trump without mentioning him by name.
"Don't let anyone ever tell you that this country isn't great," she said, invoking Trump's bogus slogan, "that somehow we need to make it great again. Because this right now is the greatest country on earth."
Obama continued, imploring voters to make their voices heard and not fall into complacency.
"In this election, we cannot sit back and hope that everything works out for the best. We cannot afford to be tired or frustrated or cynical," she said. "No, hear me. Between now and November, we need to do what we did eight years ago and four years ago.
"We need to knock on every door, we need to get out every vote, we need to pour every last ounce of our passion and our strength and our love for this country into electing Hillary Clinton as president of the United States of America."
History. pic.twitter.com/1ayWTx8SPH

— Hillary Clinton (@HillaryClinton) July 26, 2016
History made! #ImWithHer @HillaryClinton proud of my boo boos down there @lenadunham @AmericaFerrera @ambertamblyn pic.twitter.com/1nS0qQ97iU

— Amy Schumer (@amyschumer) July 26, 2016
What it looks like when the #DemsInPhilly announce the first female presidential nominee in history #happytears pic.twitter.com/lPMFOSJN1Z

— Lena Dunham (@lenadunham) July 26, 2016
Can you hear that? It's the sound of glass breaking… #History #DNCinPHL

— Alyssa Milano (@Alyssa_Milano) July 26, 2016
Wow @BernieSanders what a CLASS ACT!!!!! History made!! https://t.co/Lwoqlxf3R5

— Andy Cohen (@Andy) July 26, 2016
That is CLASS @BernieSanders #Unity #DemsInPhilly

— Elizabeth Banks (@ElizabethBanks) July 26, 2016
Crying. Amazing history happening tonight. https://t.co/P07pUZpxFm

— Elizabeth Banks (@ElizabethBanks) July 26, 2016
Hillary Rodham Clinton just made Herstory.

— Uzo Aduba (@UzoAduba) July 26, 2016
I have waited this moment since the first time I met @HillaryClinton when I was 21 years old. Maybe I am crying right now. Next up: POTUS.

— Amber Tamblyn (@ambertamblyn) July 26, 2016
First woman to head a presidential ticket. Just happened. Monumental and moving.

— Ingrid Michaelson (@ingridmusic) July 26, 2016
GO @BernieSanders #FeelTheBern STAND UP MAN.

— Aubrey O'Day (@AubreyODay) July 26, 2016
I have all the respect in the world for Bernie Sanders. #ClassAct #inowfeeltheBern

— Estelle (@EstelleDarlings) July 26, 2016
Go head hillaryclinton …. #Officially #imwithher ( disclaimer – #YOURPAGEISFORYOUROPINION ) #DNC https://t.co/wsqfq0ErX0

— Estelle (@EstelleDarlings) July 26, 2016
!!!!!! https://t.co/0zpHJFbJjU

— Tegan and Sara (@teganandsara) July 26, 2016