See Kelly Clarkson's Best Lyrics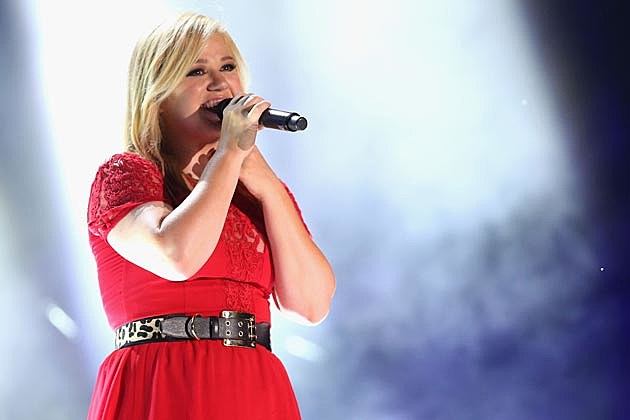 Kelly Clarkson has the distinction of being the original 'American Idol,' something no one else in the pop world can ever lay claim to. She has been filling our ears and our rooms and our stereos with her larger-than-life, slightly raspy, totally powerful and emotionally affecting voice for a decade.
In celebration of her general awesomeness and her ability to outlast the hype of the show, we've picked our favorite lyrical hooks from Clarkson's career.
She sings a lot about love and triumphing over pain, with equal parts sass, pain and empowerment. Whether she is kissing off a bad BF and "so moving on" or taking risks by breaking away or deciding that she will not allow herself to fall back into familiar and comfortable pattens, she does it in such an endearing and memorable way.
Clarkson's lyrical declarations about being strongest on her own too feet or fearing her life might suck without the one she loves in it are prone to embedding themselves in our brains for days at a time, taking up real estate in our craniums and causing us to sing along with her and to pick up what she's putting down.
Don't even try to deny that you cranked these songs at max volume and sang along to every word, be it in a hairbrush or while on a road trip.
So go ahead and indulge in the best lyrics that have tumbled from Kelly Clarkson's mouth since 2003. And here's to many more to come on future efforts!
"Since you been gone / I can breathe for the first time / I'm so moving on / Thanks to you / Now I get, I get what I want."
'Since U Been Gone' (From ' Breakaway')
Here I am, once again / I'm torn into pieces / Can't deny it / Can't pretend / Just thought you were the one / Broken up, deep inside / But you won't get to see the tears I cry / Behind these hazel eyes."
'Behind These Hazel Eyes' (From 'Breakaway')
"Out of the darkness and into the sun / But I won't forget all the ones that I love / I'll take a risk / Take a chance / Make a change / And breakaway."
'Breakaway' (From 'Breakaway')
" Miss Independent / Miss Self-Sufficient / Miss Keep Your Distance / Miss Unafraid / Miss Out of My Way / Miss Don't Let a Man Interfere / No Miss on Her Own / Miss Almost Grown / Miss Never Let a Man Help Her Off Her Throne."
'Miss Independent' (From 'Thankful')
"Always a different song / Playing in your head / Just when you think you've got it down / Out of nowhere / You realize it's different music playing now."
'One Minute' (From 'My December')
"And don't say / You simply lost your way / She may believe you / But I never will / Never again."
'Never Again' (From 'My December')
"'Cause we belong together now / Forever united here somehow / You got a piece of me / And honestly my life (my life) would suck (would suck) without you."
'My Life Would Suck Without You' (From 'All I Ever Wanted')
"Mr. Play Your Games / Only got yourself to blame / When you want me back again / But I ain't falling back again."
'Mr. Know It All' (From 'Stronger')
"What doesn't kill you makes you stronger / Stand a little taller / Doesn't mean I'm lonely when I'm alone / What doesn't kill you makes a fighter / Footsteps even lighter / Doesn't mean I'm over 'cause you're gone."
''What Doesn't Kill You (Stronger)' (From 'Stronger')
"Everybody's got a dark side / Do you love me?/ Can you love mine? Nobody's a picture perfect / But we're worth it / You know that we're worth it / Will you love me? / Even with my dark side?"
'Dark Side' (From 'Stronger')