Louis Tomlinson Installs Car Seat, Fans Still Insist 'Larry' Is Real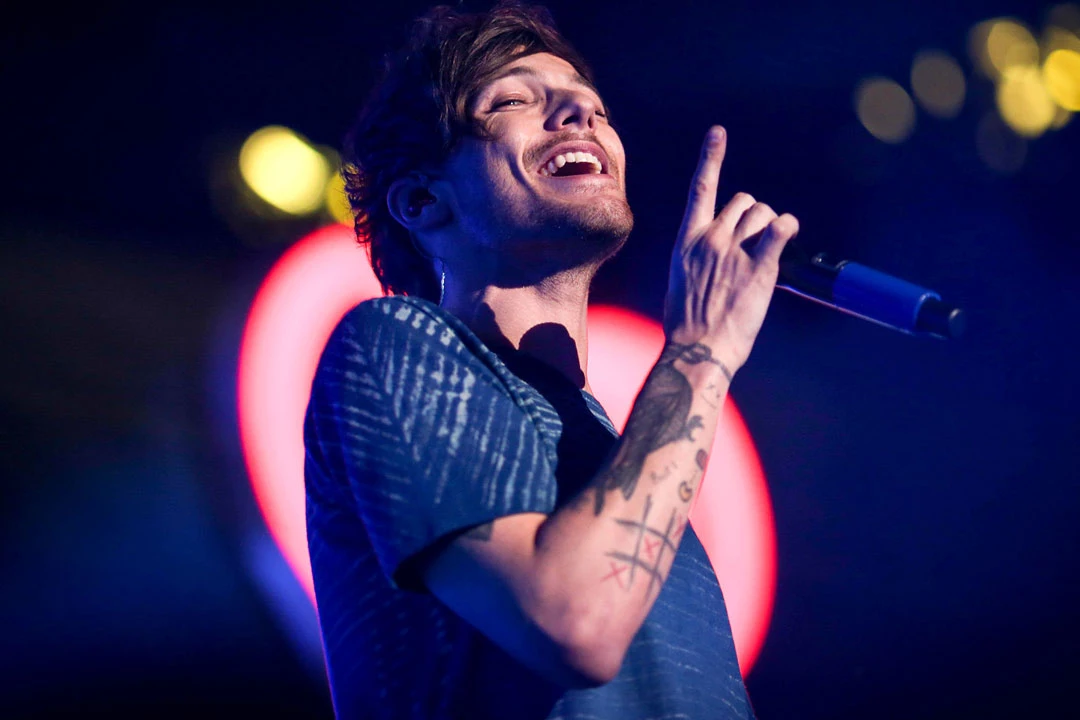 Despite what certain One Direction fans may force themselves to believe, member Louis Tomlinson is a father now. Stylist Briana Jungwirth gave birth to their son last Friday (January 22) — and in case you need minimal proof that the baby is real, Louis has already been photographed doing his due diligence as a dad: Struggling to carry the base of a car seat.
Photos depict the new dad standing barefoot (???) on an L.A.-area street, gripping the seat in an attempt to secure it inside his car. You can check those pics out over at UK tabloid The Daily Mail.
There's still no official confirmation as to the newborn's name, though a report from The Sun indicates Louis and Briana named their kid Sydney Rain. Dissatisfied with this alleged name, the ever-creative One Direction fandom was quick to start its own rumor on Twitter, claiming the new parents had dubbed their child "Conchobar."
Meanwhile, some fans remain unconvinced that the baby exists at all — or, at the very least, that it shares Louis' DNA — despite direct confirmation from the singer himself. Shortly after his baby was born, Louis posted a series of tweets indicating his excitement over the birth:
I'm pleased to say my baby son was born yesterday He is healthy and pretty amazing I'm very happy!!

— Louis Tomlinson (@Louis_Tomlinson) January 23, 2016
Daddy daddy cool

— Louis Tomlinson (@Louis_Tomlinson) January 23, 2016
— Louis Tomlinson (@Louis_Tomlinson) January 23, 2016
To which One Direction fans — particularly those who believe Louis has been embroiled in an intense and secret relationship with fellow bandmate Harry Styles for the past five years — responded appropriately:
@Louis_Tomlinson MY WORLD IS COLLAPSING

— danny (pol trash) (@epDannyEdge) January 23, 2016
@Louis_Tomlinson you're not happy.

— ♡red queen♡ (@eclipsharvy) January 23, 2016
@Louis_Tomlinson larry

— anna (@lgbtharry) January 23, 2016
@Louis_Tomlinson no larry is still real

— selina (@larriefond) January 23, 2016
Still, there were plenty of supportive fans, too:
LOUIS TOMLINSON IS FUCKING HOLDINH A BABY CAR SEAT THIS IS THE CUTEST THING IVE EVER SEEN

— diana (@bottleblnde) January 25, 2016
Louis putting the car seat in his car is by far the cutest thing I've seen today

— shelby☕ // 159 days (@Heavenly_Niall6) January 25, 2016
LOUIS HOLDONH A CAR SEAT MAKES IT REAL CONCHOBAR IS A REAL LIVING HUMAN HE IS BREATHING RIGHT NOW AS I TYPE THIS LOUIS IS A DAD HE HAS OFFSP

— jackie (@strangecatlou) January 25, 2016
Louis first confirmed the news of his impending fatherhood back in August, during an interview on television show Good Morning America just a few weeks after PEOPLE first broke the news.
Do you think Louis named his son Sydney Rain? Is Conchobar a better alternative? Let us know your thoughts!
See Photos of Celebrities Like Louis Tomlinson + More Eating