Questlove Defends Madonna's BBMAs Prince Tribute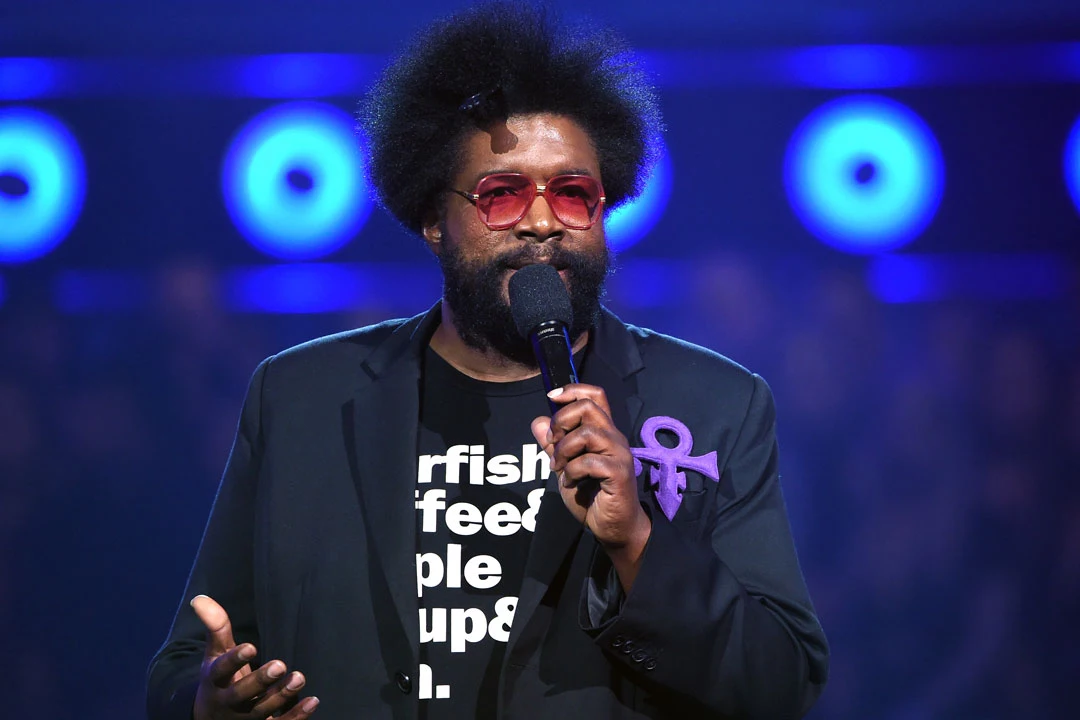 Madonna's Billboard Music Awards tribute to Prince was met with lukewarm reception — most notably from TV network BET, who tweeted some serious shade moments after the performance ended. But musician Questlove — who introduced the tribute with a heartfelt speech about his longtime idol Prince — came to Madonna's defense on Twitter, saying anyone who wants to honor the late icon should be free to do so, however they please.
"For starters it's hard to accept him no longer being here [and] in the upcoming award season for '17 there will be a gang of tributes," he began. "Naturally there will be folded arms & shade thrown because the Purple Standard is hard boots to fill & a lot of us don't wanna come [to] grips [with] the fact that Prince — (an on the surface) face of health & invincible agelessness [succumbed] to something so….friggin basic."
Questlove continued, noting that it's unfair to delegate which artists should be allowed to honor Prince.
"Now anger is in the air w who (in our eyes) is allowed to mourn & how they are allowed to mourn," he wrote. "None of us were prepared for his death. So I know there is gonna be ALOT of 'feel a certain ways' about who you want to see do his music justice—but you gotta put that aside y'all.
"Every Prince rendition will not be a life changing orgasmic experience. Just to SING his work is brave enough," he continued.
Questlove also noted that he wasn't referring solely to Madonna's tribute with Stevie Wonder — he means for his words to include all future tributes to Prince, which will likely span well into 2017.
"Again feeling[s] are on high…and EVERYBODY wants and deserves a chance to say goodbye in their own way," he continued. "But remember: there will be AMAs, SoulTrain, NAACP, mtv, GRAMMYS and a gazillion other tributes. But the point is let's not get ugly w playing the 'Prince would and wouldn't approve' game."
Naturally there will be folded arms & shade thrown because the Purple Standard is hard boots to fill & a lot of us don't wanna come 2 grips

— Questlove Gomez (@questlove) May 23, 2016
—w the fact that Prince–(an on the surface) face of health & invincible agelessness subcomb to something so….friggin basic

— Questlove Gomez (@questlove) May 23, 2016
So w mourning will come sadness & anger. 1st week I cried. 2nd week I tried to atone for his sins w gettin 8-10 hrs of sleep he didn't get

— Questlove Gomez (@questlove) May 23, 2016
Now anger is in the air w who (in our eyes) is allowed to mourn & how they are allowed to mourn.—none of us were prepared for his death

— Questlove Gomez (@questlove) May 23, 2016
So I know there is gonna be ALOT of "feel a certain ways" about who you want to see do his music justice—but you gotta put that aside yall

— Questlove Gomez (@questlove) May 23, 2016
Every Prince rendition will not be a life changing orgasmic xperience. Just to SING his work is brave enough. Again feeling are on high

— Questlove Gomez (@questlove) May 23, 2016
And EVERYBODY wants and deserves a chance to say goodbye in their own way. But remember: there will be AMAs, SoulTrain, NAACP, mtv, GRAMMYS

— Questlove Gomez (@questlove) May 23, 2016
And a gazillion other tributes. But the point is let's not get ugly w playing the "Prince would and wouldn't approve" game.

— Questlove Gomez (@questlove) May 23, 2016
….& this isn't *just about* the Madge/Stevie tribute btw

— Questlove Gomez (@questlove) May 23, 2016
Madonna also responded to the criticism, posting a photo of herself in her BBMAs tribute outfit along with the caption, "Anyone who wants to do a tribute to Prince is welcome to. Whatever your age Gender or skin Color. If you loved him and he inspired you then show it!!!! I love Prince 4 ever."
See Photos From The 2016 Billboard Music Awards Red Carpet