'Pretty Little Liars' Spoilers: Will Alison Face Off Against Emily and Paige in Episode 100?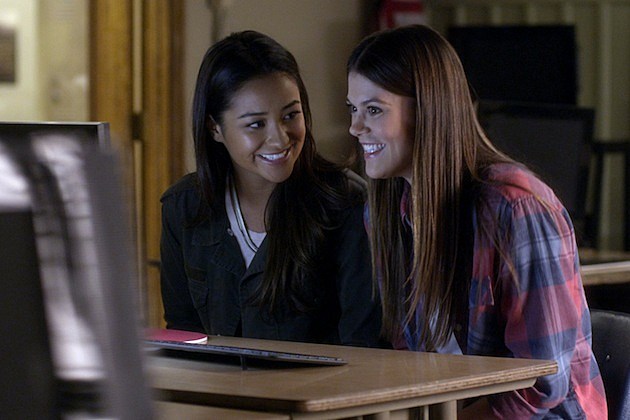 From all we've heard about 'Pretty Little Liars' episode 100, it's sure to be an exciting and explosive one. And the one thing that could make it even more exciting is some Alison/Paige/Emily plot.
So will we be in luck? Read on to be spoiled and find out!
Good news everyone, an Alison and Paige "face off" is on the horizon in episode 100 (5×05, 'Miss Me x 100′) which is currently filming.
As showrunner and executive producer Marlene King told fans:
Oh I meant Paige/Alison face off filming right now. The hear is making me loopy. @pietersely @PaigeLovesEmily

— I. Marlene King (@imarleneking) May 14, 2014
There's plenty of tension for these two to fight about, including Ali's not-too-nice treatment of Paige before she left town and Paige hinting to the police that Ali wasn't dead after all.
Not to mention that Paige and Emily used to be an item and Emily has sort of been obsessed with Ali even before they shared a smooch.
In addition to an Alison and Paige face off, Alison will also share a moment with Emily.
King also tweeted:
Emily and Alison have a face to face today too! @bensomn Everybody wins.

— I. Marlene King (@imarleneking) May 14, 2014
Which begs the exciting question, when will all these ladies have a scene together?
After all, writers have teased that the three of them will have the "most interesting" love triangle of the entire season. Which is pretty impressive for a season full of love triangles.
'Miss Me Times 100′ will air on July 8 at 8PM ET on ABC Family. Season 5 will return on June 10.