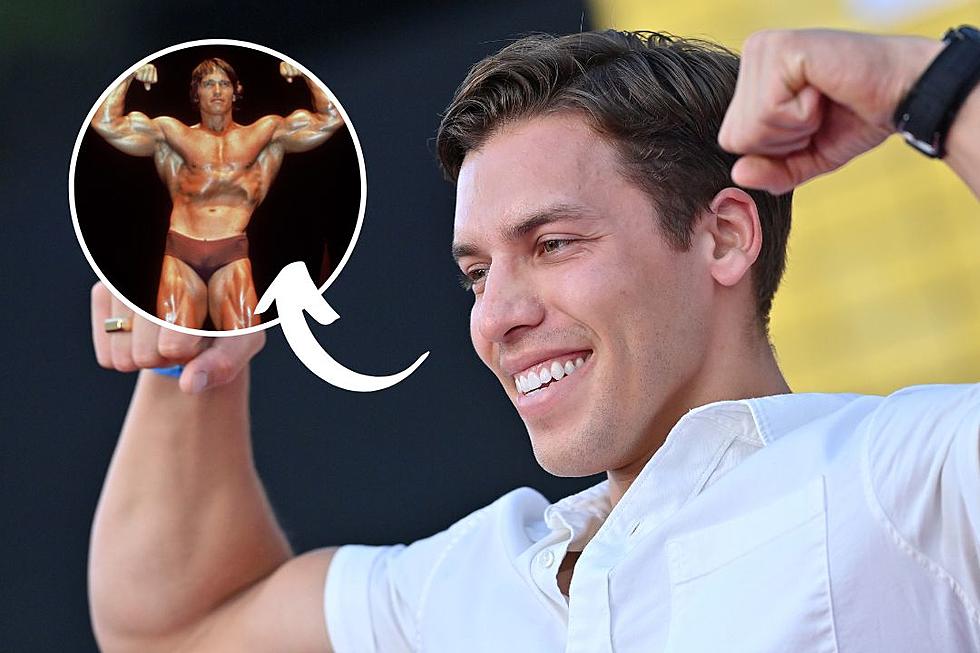 Where Is Arnold Schwarzenegger's Son Joseph Baena Today?
Axelle / Hulton Archive via Getty Images
Several of screen legend Arnold Schwarzenegger's kids have been in the public eye for years, such as his actor son Patrick Schwarzenegger, and his oldest daughter, Katherine, who's now married to Guardians of the Galaxy star Chris Pratt.
But one of his kids has carved his own path separate from the Schwarzenegger surname: Joseph Baena, the Terminator star's 25-year-old son from outside his marriage to ex Maria Shriver.
Below, here's everything we know about Joseph Baena in 2023.
What Does Joseph Baena Do?
Joseph Baena has followed in his father's footsteps in more ways than one.
Just like his famous dad, Baena's an avid bodybuilder. Plus, he's starting to explore the world of acting.
Baena is set to make his film debut in the upcoming action flick Gunner alongside Luke Hemsworth and Morgan Freeman. The film began shooting in March 2023.
In 2022, Baena stepped into the spotlight as part of the cast of Dancing With the Stars during Season 31.
He placed 11th after being the 5th star eliminated.
How Is Joseph Baena Related to Arnold Schwarzenegger?
Joseph Baena is Arnold Schwarzenegger's son with former housekeeper Mildred Baena, whom he had an affair with in the '90s while married to ex-wife Maria Shriver.
In 2011, Schwarzenegger released a statement admitting to the affair and acknowledging the paternity of Joseph.
"There are no excuses, and I take full responsibility for the hurt I have caused. I have apologized to Maria, my children, and my family. I am truly sorry. I ask that the media respect my wife and children through this extremely difficult time. While I deserve your attention and criticism, my family does not," he said at the time, per E! Online.
Baena has four half-siblings from Schwarzenegger's marriage to Shriver: Katherine, Christina, Patrick and Christopher Schwarzenegger.
Do Joseph Baena and Arnold Schwarzenegger Have a Good Relationship?
Despite Joseph Baena's unconventional upbringing and family ties with Arnold Schwarzenegger, the two appear to have a healthy relationship today.
On May 22, Baena supported his dad at the red carpet premiere for FUBAR, Schwarzenegger's new Netflix series.
"Well, I'm glad that he's here today, watching FUBAR. We're supporting each other, and that's the important thing," Schwarzenegger told Entertainment Tonight at the premiere when asked about Baena's appearance.
For his part, Baena has nothing but good things to say about his iconic dad.
"He's an amazing father. He's a great person to look up to, and he's the smartest man I know. It's been a great journey, and he's always been so supportive of whatever I do. So, I'm just really grateful to have a dad like him," Baena told Entertainment Tonight.
Speaking to Extra, Baena said Schwarzenegger has given him some acting advice, too.
"His main piece of advice is: always do the reps. It sounds just like the gym, but it really makes sense because it's all about practice, practice, practice. The more that you practice, the more that you prepare for these roles, the better you will be. I have taken that to heart, and I have taken that in every role that I have been doing," he shared.
Outside of work, in 2022 Baena revealed on Sistine and Sophia Stallone's Unwaxed podcast that Schwarzenegger is always ready to hear the tea.
"I'm so close to my dad, and we joke about everything. He always wants to hear about the drama. He's like, 'Tell me everything! Tell me the drama. Tell me about these girls,'" Baena said, according to E! Online.
Celebrity Kids Who Look Exactly Like Their Famous Parents