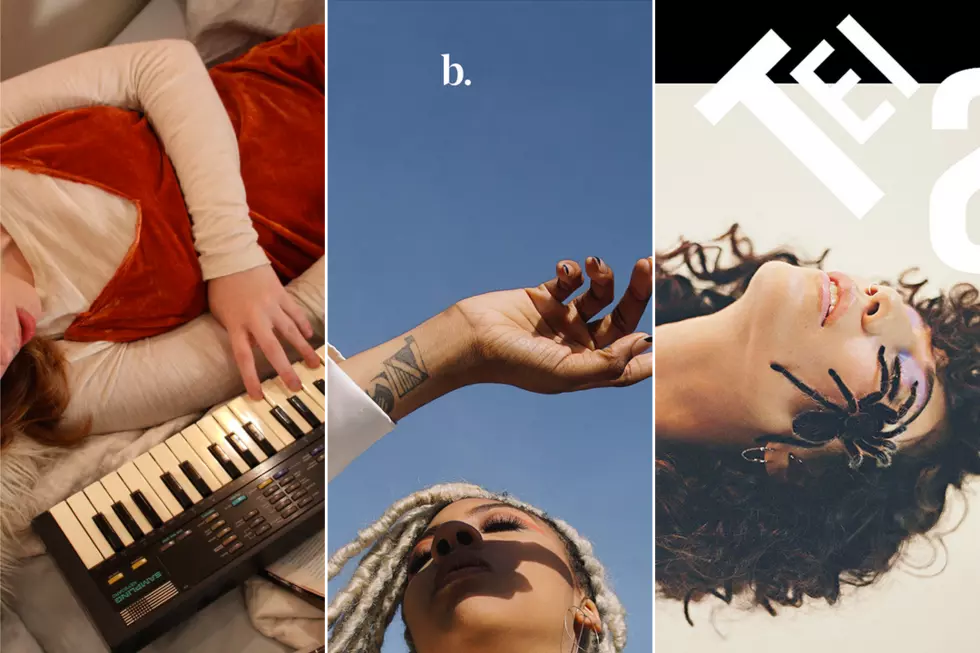 8 Most Criminally Overlooked Albums of 2017
Fat Possum Records / Fool's Gold Records / Interscope Records
This year proved to be a smash success for pop favorites like Miley Cyrus, Taylor Swift and Demi Lovato, all of whom released brand new albums. However, there was an even greater current of records that went more or less undetected in the wave of releases by mainstream artists.
Maggie Rogers soared with her first indie-pop record; Julien Baker won over indie fans with her weighted second go; and Tove Lo's Lady Wood sequel resonated with sex-positive, empowering themes.
Below, find out which 2017 LPs we believe merit more attention than they received this year. Bluntly put: Don't sleep on these!
What's not to love about BOSCO's singular b., the Savannah-bred performer's first solo venture? Steeped in the kind of atmospheric new wave of Kelela and the charismatic vibrancy of Blood Orange, "Free" and "Luv U" are just snippets of an album more than deserving of a year-end ovation. If there's one regret you'll have this year, it's that you didn't join BOSCO's fan club sooner.
Tei Shi came out swinging this year with her first breathy full-length project, Crawl Space. A whisper-noted collection of songs, Crawl Space pronounces the singer's vocal greatness with tracks like the climax-inducing "Baby" to the finely-sharpened "How Far." For its delicacy and tenderness, the record is a sheer display of sophistication with a biting edge.
3. Lovers, Anna of the North
When emerging alt-pop artist Anna of the North previewed her dream pop sound with last year's syncopated la-la-lullaby "Baby," it should have indicated her 2017 takeover. From her fearless sonic experimentation with dancehall and synth-pop grooves to the record's intense ambience, the Norwegian songwriter's soul-bearing debut, Lovers, made a dynamite first impression.
4. Collection, Soccer Mommy
Sadness never sounded so good until we heard Soccer Mommy's lo-fi mini-album, Collection. Singer-songwriter Sophie Allison succeeds at verbalizing the private turmoil of every outsider in the electric guitar-laden "3 AM at a Party," but also holds no qualms about raising the white flag on the aptly-titled cradlesong, "Allison." If this album is any indication of what bedroom pop has to offer, we want more.
5. Turn Out the Lights, Julien Baker
Another up-and-comer who struck a chord this year was Memphis-born musician Julien Baker, whose second album, Turn Out the Lights, became a sensation within the indie-rock crowd. Noted for its fragile commentary on matters of loss and mental illness, the singer does a spectacular job matching the signature wildness of her debut, Sprained Ankle. In spite of her youth, Baker's sophomore album is a well-tuned reminder of her pensive emotional talent.
6. Blue Lips (Lady Wood Phase II), Tove Lo
Did you sleep on Tove Lo's third album? If so, shame on you. Otherwise, let's talk Blue Lips, the sequel to the Swedish pop star's 2016 sonic triumph, Lady Wood. Designating a new epoch of creativity by ravaging the walls of her own castle, Lo's sticky-sweet album remains one of the year's most intoxicating tributes to sexual expression and introspection.
With or without the assistance of The Internet, Syd (sans "tha Kid" this time) is a firecracker and her zealous bass-heavy album, Fin, is a testimony to the chill rap&B artist's solitary staying power. On her stand-alone debut, the LA local performs every trick in the cool kid book, from keeping her chill amid a crowd of haters on "All About Me," to calling to memory the '90s with Aaliyah-like reverberated murmurs on staple tracks "Know" and "Body."
8. Now That the Light Is Fading, Maggie Rogers
Esteemed as the woman responsible for bringing Pharrell to tears, Maggie Rogers' music was a blessing this year. Just along the outskirts of the mainstream pop market is where you'll find Rogers, chiming away with her impressive debut, Now That the Light Is Fading. Beaming with an aura drawn straight from the sun and with the delicacy of a freshly-picked flower petal, Rogers' first EP is a marvel.