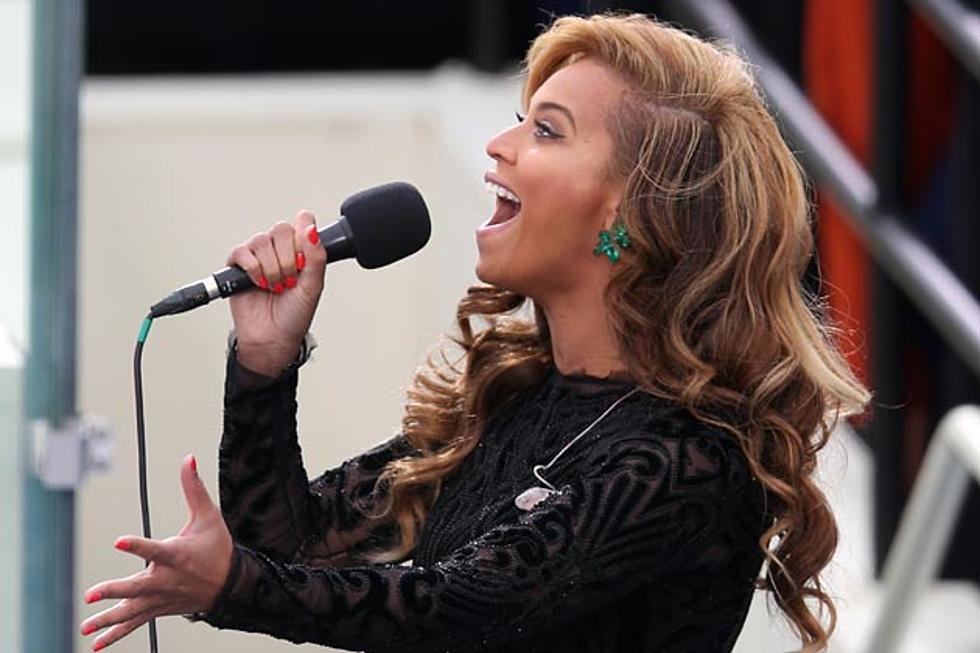 Beyonce Lip-Synced the National Anthem at Obama's Inauguration
Mark Wilson, Getty Images
No wonder Beyonce's performance of the National Anthem at the second inauguration of President Barack Obama (Jan. 21) was so perfect. Turns out the singer was lip-syncing the entire time, so there was no room for error since it was pre-recorded.
Bey tore out her earpiece during her rendition of 'The Star-Spangled Banner,' which made us think that she was having some equipment issues. Now, we're curious as to why she did that if she was merely lip-syncing.
The Washingtonian claimed that those in close proximity to Bey during the perf said she was not singing live. The assemblage of press seated in front of the band could tell that the Marine Corps Band wasn't performing live, either. However, band director Colonel Michael J. Colburn acted like he was, conducting animatedly as the band mimicked playing their instruments.
While pre-recording music is customary for "just in case" reasons, it was not the original plan to lip sync at the ceremony. But Bey changed her mind. The Times of London also confirmed that Bey did indeed lip sync.
And the Marine Corps band issued a statement via a rep saying Beyonce made the gametime decision and that the band did play live at other moments. "We don't know why Beyonce decided to use prerecorded music," the spokesperson said. "All music [for inaugural ceremonies] is pre-recorded as a matter of course, and that's something we've done for years and years. The Marine Band did perform live throughout the ceremony but we received last-minute word that Beyonce wanted to use the recording."
The idea that Bey faked it was confirmed before the statement by the Marine Corps Band. The singer posted on Instagram the day before -- she was in the studio, holding the sheet music to the song in front of a microphone and a recording device. In another shot, she is in front of recording equipment while the band is behind her with sheet music. Again, that's customary but it's all evidentiary.
Why Bey opted to forego a live rendition in favor of a pre-recorded one is beyond us. Was she terrified of messing up, as is often the case at these events? Apparently, no singer has ever lip-synced the national anthem during the inauguration.
While we get the fact that using the studio tools and digital means available to us in 2013, it's disappointing to think someone with a belter's voice like Bey would opt to "fake" it. Maybe the freezing cold air was wreaking havoc on that beautiful voice of hers?
Still, she deserved an Oscar, since she faked it so well.
Watch Beyonce Lip Sync the National Anthem at the 2013 Inauguration