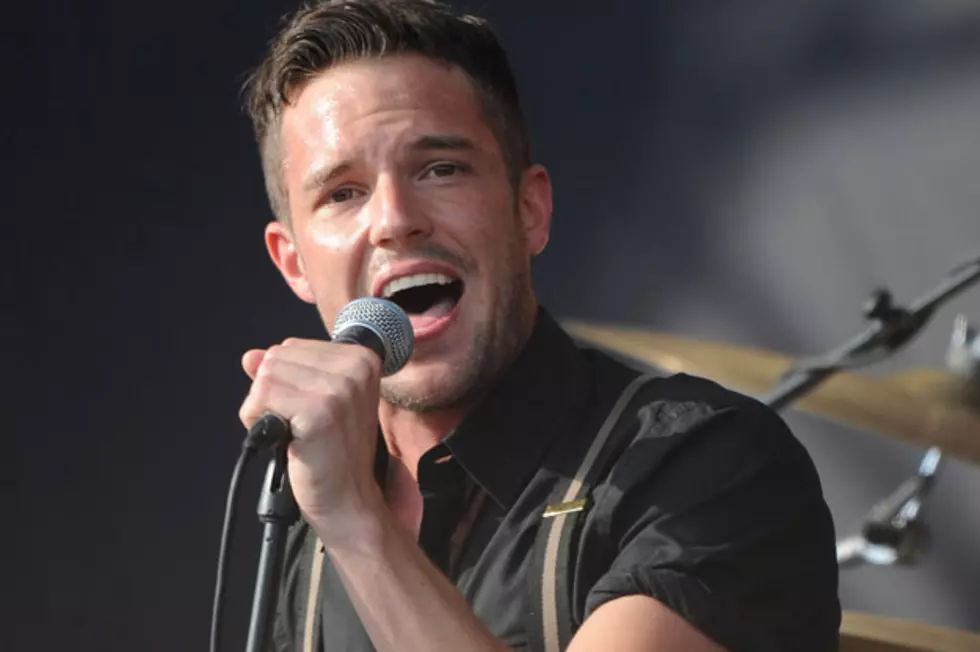 Brandon Flowers Endorses Mormon Faith
When you think of Mormonism, Mitt Romney, 'Big Love,' and a certain Broadway play probably come to mind. Now you can add eyeliner, synthesizers, and soaring melodies to the list. The Church of Jesus Christ of Latter-Day Saints featured solo star and Killers frontman Brandon Flowers as a spokesman in a new 'I Am Mormon' video promoting the religion.
While the video avoids playing songs by or mentioning The Killers, it strategically opens with 'Crossfire' (the chorus of which includes the lyric "Caught in the crossfire of heaven and hell") from Flowers' solo debut, 'Flamingo.' The video features Flowers in a practice space talking about his music career and family life -- and which is more important to him. "A lot of it is based around starting a family and realizing that that's what's important to me," Flowers said. "In a lot of ways I guess it's surpassed the music now for me."
Flowers is well aware that his family man life style makes him an anomaly in the rock world, but it doesn't bother him. "There are a lot of connotations that come along with popular music or rock music, and it's usually very sex-driven or money-driven, and I realized early on that that wasn't the road for me," Flowers said. "Maybe because of the foundations laid for me in my life by my mom taking me to church. I wanted to take a different road."
Flowers' different road sometimes takes him on the road too much, and he misses his wife and children a great deal. "It's hard booking tours," Flowers admitted. "I get in arguments every now and then with our booking agent if he puts us out on the road too long. I don't want to miss things!"
The church hasn't just affected Flowers' tour schedule, but also his music itself. "I've definitely been a lot more cautious about lyrics," Flowers said. "I want to be a positive force in the world and uplift people." This may explain why the theme of "having a boyfriend who looked like a girlfriend that he had in February of last year" hasn't popped up in his records after 'Hot Fuss.'
The theme of this video, and of Brandon Flowers' life, is made crystal clear at the very end. "My name is Brandon Flowers," he announces. "I'm a father, I'm a husband, and I'm a Mormon."
Watch Brandon Flowers' 'I Am Mormon' Video