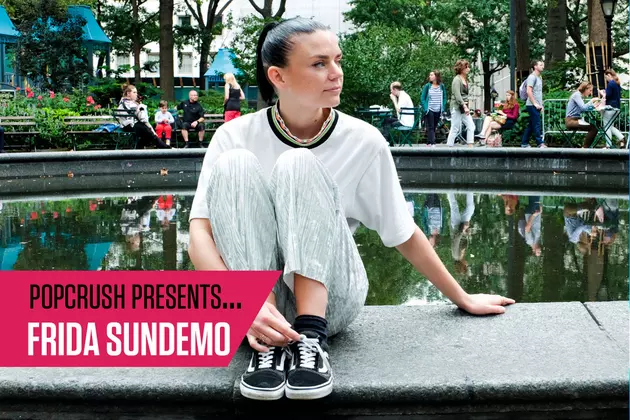 Frida Sundemo Will Take You Out of This World With 'Gold': PopCrush Presents
Emily Tan for PopCrush
Most folks are either left-brained or right-brained. Frida Sundemo is both.
While excelling at mathematics in medical school, the 31-year-old Swede from Gothenburg began producing her own futuristic pop sounds. Although she had every intention to become a doctor, Sundemo eventually put her studies aside to pursue music full-time, releasing a number of singles including her most recent track, "Gold."
Ahead of her brand new album, we caught up with Frida to learn more about her multiple talents, love for film scores and dream gig.
What's your first musical memory?
Sitting by myself at the piano [and] trying to play with notes.
Aside from being an artist, you're also a big math whiz and self-taught electrician. How did you go from math to pop music? Do they ever intersect?
Both have always been a part of my life. I've always loved math and also music. I was born into a musical family, so it's a natural part of my life. I never know what direction to take. I studied medicine for three and a half years, and that was when I really started to produce and write music a lot. So after the three years, I decided to take a break and move to Stockholm and pursue music. I still want to do both. I'll finish the med school studies at some point, but right now, I'm focused on the music and love it.
And I also think when you write music and produce it, there is math in that in some kind of way. There are patterns when you structure the music.
What influences your sound? What do you listen to?
I've been watching a lot of space and sci-fi movies over the last two years while I've been writing the album. And I really like space. So sometimes, I YouTube space travel video clips and write music to it. I also love Hans Zimmer, Thomas Newman and other composers, but I also love French producers like Daft Punk. So I guess [my sound] is some kind of mixture with some pop music thrown in.
Talk about what inspired the song "Gold."
It's about getting yourself out there, forgetting about those routines and things that are outside of your normal. It's about getting out of your comfort zone and exploring life.
A few of your songs have been featured on Teen Wolf. How did it feel to hear your music on an American TV show? And would you be more open to writing music for TV and film?
That would be a dream come true. I always wanted to write film music. So this feels like a really good start. One day, I would love to do a soundtrack for a film.
So what's next?
The album is coming out on October 6. Also, there will be another single coming up soon. Hopefully I'll come back here [to America] and do some shows.
Meet the Alt Girls of Pop: