10 Hottest Summer Songs of 2014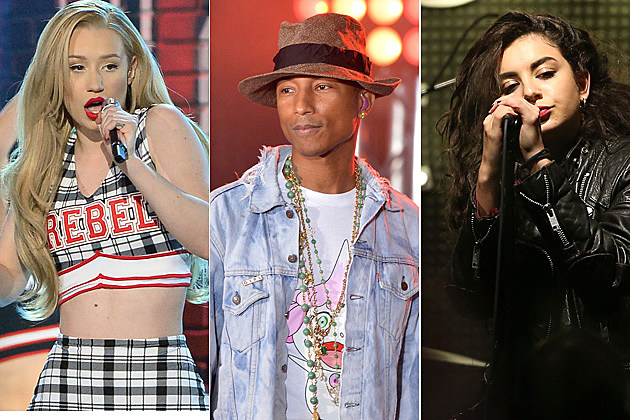 Summer is usually the time when artists will release their most upbeat, fun songs of the year. Every singer or band wants their tune to be the one played at all the summer beach parties, the one played at outdoor events and the one used in summer blockbuster movie trailers. In other words, every musician dreams of having "the" summer song of the year.
We take a look at the candidates for the hottest summer songs of 2014. Be sure to check out these tracks on our Beats Music playlist!
The Canadian band Magic! has been one of this year's best success stories. Their unique fusion of reggae, rock and pop made 'Rude!' a standout hit. The lead single off their forthcoming debut album, 'Don't Kill the Magic,' became an international success when it became a Top 10 hit in New Zealand, Australia, the United States and Canada. The song's lyrics tell the story of a boy dealing with the difficult father of his girlfriend. "Can I have your daughter for the rest of my life? / Say yes, say yes 'cause I need to know / You say I'll never get your blessing 'til the day I die / Tough luck, my friend, but the answer is 'No.'"
Iggy Azalea, 'Fancy' (Feat. Charlie XCX)
Iggy Azalea is one of music's hottest rising stars, and there's no signs that she's slowing down just yet. The Australian rapper's single, 'Fancy,' has already reached No. 1 on radio charts, and it continues to be a best-seller on iTunes. The upbeat dance tune about celebrating a glam life has been covered and parodied over and over again — a sure sign that it's a favorite summer song.
Ariana Grande, 'Problem' (Feat. Iggy Azalea)
Ariana Grande's 'Problem' (featuring Iggy Azalea) has been a rousing success for the 20-year-old Nickelodeon star. Within 45 minutes of its midnight release on iTunes, it reached No. 1 faster than any other song in iTunes history. Grande has been performing her song about tortured feelings for an ex-love at several major awards shows already, including the Billboard and iHeartRadio Music Awards. It continues to be a radio and download hit, and its celebratory party nature will be have people blasting the song all summer long.
'Maps' is the lead single off Maroon 5's forthcoming album titled 'V,' and even though it's an up-tempo pop tune, the sound is noticeably different from what Maroon 5 usually releases. The lyrics tell of a lost love and the need to find it again, saying, "All the roads you took came back to me / So I'm following the map that leads to you." The song's guitar riff throughout gives it a retro sound and feel, making it a breezy summer love tune.
What says summer song more than a song that's called 'Summer'? Calvin Harris' new single 'Summer' is one of the few tracks by Harris in which he also does his own vocals. But even if he's not well-known for his singing ability, 'Summer' has proven to be a success, as it's already hit the Top 10 on the radio charts. The electro house song's lyrics tell of a summer love, saying, "When I met you in the summer / To my heartbeat sound / We fell in love / As the leaves turned brown."
Pharrell Williams, 'Come Get It Bae'
After 'Happy' was on top of the charts for most of the first half of 2014, Pharrell is ready to dominate the summer of 2014 with 'Come Get It Bae.' The track, which features uncredited vocals of Miley Cyrus singing 'Hey!' repeatedly, is an up-tempo funk pop song that talks about sex using motorcycles as metaphors. The sexually charged lyrics and the use of handclaps and a catchy guitar riff make 'Come Get it Bae' one to watch this summer.
Demi Lovato, 'Really Don't Care' (Feat. Cher Lloyd)
Demi Lovato has done pretty well with her singles off her 2013 album 'Demi,' so we have no doubt that this summer, her latest one, titled 'Really Don't Care' (featuring Cher Lloyd), will be another hit for the 21-year-old star. The song is a celebratory pop tune about saying goodbye to an ex-lover, with Lovato singing, "Said we were done, then met someone and rubbed it in my face / Cut to the part, she broke your heart, and then she ran away." There's no room for being sad in a summer song, so be sure to add 'Really Don't Care' to your summer playlist.
Ed Sheeran fans have no doubt been waiting for 'x,' Sheeran's follow-up to his '+' album. 'Sing' was the lead single off 'x' and has been well-received by critics and fans alike. The song was co-written by Pharrell Williams and mixes elements of funk and hip-hop into Sheeran's songwriting. The upbeat, playful nature of the tune will have fans willing to 'sing' out loud to the track this summer.
5 Seconds of Summer, 'Don't Stop'
5 Seconds of Summer won the hearts of teens everywhere with their hit 'She Looks So Perfect,' and this summer, they're looking to duplicate their success with 'Don't Stop.' The Australian band revives the pop punk genre with 'Don't Stop' and has drawn comparisons to blink-182 with the track. The song is about falling for that special someone, making it a potential hit as a summer love song. "And everybody wants to take you home tonight / But I'm gonna find a way to make you mine."
Charli XCX helped make Icona Pop's 'I Love It' and Iggy Azalea's 'Fancy' into hits, and we think it's time that the 21-year-old British singer has her own. 'Boom Clap,' a song off the 'The Fault in Our Stars' soundtrack, features Charli XCX in her first hit as a single artist. The catchy rhythm and chorus will resonate with fans of 'Fancy' and 'I Love It' and we predict that this summer, Charli XCX will step out and stand on her own thanks to 'Boom Clap.'