'The Voice' Recap: Top 6 Revealed, Sheryl Crow Performs 'Easy'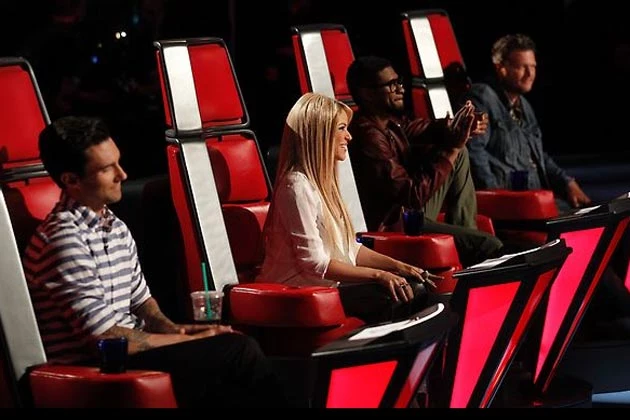 It's getting down to the wire, folks! The Top 6 contestants were revealed on 'The Voice' tonight (May 28), and since it's out of the coaches' hands at this point, Adam Levine, Shakira, Usher and Blake Shelton were on the edge of their seats right along with us as the live elimination ep unfolded.
The night kicked off with Sheryl Crow taking the stage alongside Team Blake to perform her new country single, 'Easy.' Danielle Bradbery, Holly Tucker and the Swon Brothers each sang a verse of the catchy tune and sounded completely in their element.
Subscribe to PopCrush on
Judith Hill (Team Adam) and Michelle Chamuel (Team Usher) delivered a rocking performance of Calvin Harris' 'Sweet Nothing.' The duo really gave it their all, showcasing their soulful vocals and charming stage presence (while Michelle worked the crowd with her passionate fist pumps).
Subscribe to PopCrush on
Team Blake and Team Shakira then joined forces as the Swon Brothers and Sasha Allen graced the stage with an ear-catching rendition of Jason Aldean/Kelly Clarkson's 'Don't You Wanna Stay.'
Subscribe to PopCrush on
The penultimate performance of the night featured a beautifully haunting duet by Team Adam's Sarah Simmons and Team Blake's Danielle Bradbery. If we know one thing from this season so far, it's that these two ladies know how to sing, and their talent-packed performance tonight only helped reinforce that fact.
Subscribe to PopCrush on
Amber Carrington (Team Adam) and Holly Tucker (Team Blake) wrapped things up with their own heartwarming version of 'Does He Love You,' wowing the audience with their rich, powerful voices.
Subscribe to PopCrush on
Check out the results from tonight's live elimination show below:
CONTESTANTS WHO ARE SAFE:
Team Usher:
– Michelle Chamuel
Team Blake:
– Danielle Bradbery
– The Swon Brothers
– Holly Tucker
Team Shakira:
– Sasha Allen
Team Adam:
– Amber Carrington
GOING HOME:
Team Adam:
– Sarah Simmons
– Judith Hill
It was a surprisingly sad night for A. Lev, who was forced to say goodbye to two of his beloved singers. What will next week have in store for 'The Voice'? Be sure to tune in next Monday (June 3) to watch the Top 6 perform for America's vote!