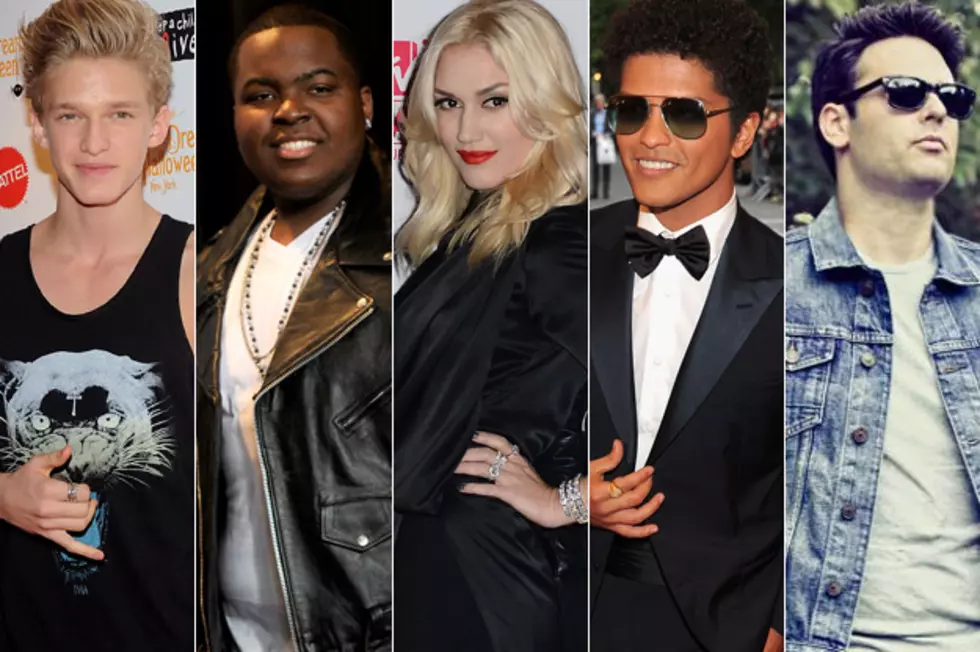 About to Pop: Cody Simpson, Sean Kingston + More Singles
Brad Barket / Ethan Miller / Ian Gavan / Larry Busacca, Getty Images / Dan Gotti
Way to go, Directioners! All of your votes landed One Direction in first place for last week's About to Pop competition. You know what that means! The super cute quintet's nominated ballad 'Little Things' will receive 20+ spins on PopCrush's radio show this weekend -- check out a list of stations where you can tune in by clicking here.
This week, Cody Simpson and Sean Kingston are both nominated with fresh singles. Simpson's breathy vocals go down smoother than honey on his feel-good, electropop track 'Wish U Were Here,' for which he also recruited pint-sized rapper Becky G for a sassy verse. Meanwhile, Kingston brought on Becky G's 'Oath' collaborator Cher Lloyd for his latest single 'Rum and Raybans.' The uptempo, Reggae-twinged dance track is packed with pounding snares and urgent synthesizers, and also features an awesome breakdown verse from Ms. Lloyd.
Meanwhile, further down the list, we've got nominated tracks from No Doubt, Bruno Mars and Outasight. Gwen, Tony, Adrian and Tom are in the running with their 'Push and Shove' single 'Looking Hot,' the video for which found the band in some hot water. However, don't let the controversial clip overshadow the tune itself, which really packs a punch with pulsing synth, heavy guitars and rockin' drums, as well as a Reggae breakdown.
But ND might have a hard time beating out Bruno Mars, whose second 'Unorthodox Jukebox' single 'Young Girls' is a semi-symphonic, midtempo track warning against the perils of "young, wild girls." Once again, Mars keeps to his signature blend of soulful R&B and pop while showing off his unbelievable vocals. Finally, Outasight's 'I'll Drink to That' is another one to watch out for, as it is ridiculously catchy and will work its way into your brain in no time. The crooner almost has a Jason Mraz-type sound on the midtempo party song, which speaks to the tough times Americans are now facing and how laughs, friends and a bit of booze can help soften our hardships, if only temporarily.
So, who will you vote for this round? Listen to all of this week's nominated About to Pop tracks below and vote for your favorite one per hour until Monday, Nov. 19 at 3PM EST.
Watch the Cody Simpson 'Wish U Were Here' Video Feat. Becky G
Listen to Sean Kingston, 'Rum and Raybans' Feat. Cher Lloyd
Listen to No Doubt, 'Looking Hot'
Listen to Bruno Mars, 'Young Girls'
Listen to Outasight, 'I'll Drink to That'