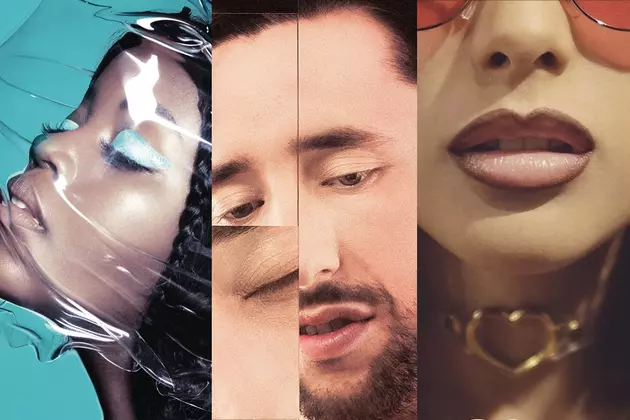 Best Songs We Heard This Week: Tkay Maidza, How To Dress Well, Cruel Youth + More
Interscope / Domino / Disgrace
Happy Wednesday, PopCrush readers.
Just as we do every week, the PopCrush editors have selected their favorite new songs for your listening pleasure from #NewMusicFriday and beyond, ranging from up-and-comers to tried-and-true superstars.
We hope that you all have a happy rest of your week! And for more playlists, be sure to follow us on Apple Music.
Don't overthink it: The 20-year-old neo-soul act's newest track is exactly what the title suggests. With a voice that rests somewhere between CeeLo and Sam Smith, London's Mullally has managed to uncover a seasoned sound only three songs into his career, and "Wonderful" shines. Its tone is old-school quaint, its production delivers complementary modernity and its chorus can only be described as delicious. It's Passion Pit with a proper R&B education, and something you should hear if you've ever wanted to like "Can't Stop the Feeling" but couldn't get past how irritating it is. — Matthew Donnelly
Tkay Maidza, "Carry ON (feat. Killer Mike)"
Zimbabwean-Australian Tkay Maidza is an artist who, unfairly, seems constantly "on the rise"—but with "Carry On," how she can possibly get any higher? Featuring Killer Mike, the colorful, club friendly jam is a fiery electro-rap banger that bubbles and gurgles like a tea kettle left on the stove too long, and the rapper knows it: "Nothing left to lose I'm stepping with the same attire / And I know you feel the heat because I'm nothing less than fire," she rattles off as the beat pops. Carry on, Tkay. - Erica Russell
How To Dress Well, "Can't You Tell"
How To Dress Well's previous offerings were often a shade too Electro Sad Boy for me, with catchy exceptions like 2012 lo-fi house banger "& It Was U". But singer-songwriter Tom Krell's new Care album puts forth some of the slickest, most unabashedly pop songs of his career to date, and opening track "Can't You Tell" makes that clear immediately. The bubbly "consent pop sex positivity anthem," as Krell called it in a tweet, would be a worthy playlist counterpart to the lighter than air '80s-esque bops of Carly Rae Jepsen's Emotion Side B. – Samantha Vincenty
UK electronic producer Gemini was on the up and up back in 2010, remixing for everyone from Lana Del Rey to Kelis and playing radio festivals. Then, he disappeared. Facing a bout of writer's (producer's) block and creative frustration lasting four years, he traveled the world instead, drawing inspiration from the natural world. The result is Wanderlust, a refreshingly inspiring collection of electronica-infused, hook-heavy songs that smartly avoid EDM cliché. "Trascender" is just one of the LP standouts, playing like a cross between Donkeyboy and Kylie Minogue. If it works for you, get into the album as a whole for the full experience. — Bradley Stern
Will Joseph Cook, "Sweet Dreamer"
Will Joseph Cook's latest, "Sweet Dreamer," is a colorful addition to the pop realm, with percolating guitars and a driving bass line layered beneath rows of chugging percussion. The track is about losing touch with your own idealism and the bounding defeat that comes with it, but Cook offers up the kind of shimmering, buoyant vocal melody that successfully deflects from all that doom and gloom, making for a spirited soundtrack instead. — Ali Szubiak
Green Day, "Still Breathing"
Green Day have gone punk, slickly political and trashcan garage-band across a 30-year career, but "Still Breathing," the latest off of forthcoming Revolution Radio, launches the three-piece rock group into uncharted territory: early-aughts pop rock. The chorus is a page out of Lifehouse's journal, "My Life Without You" could have bred its verses and the track's sentiments are soaked in down-but-not-out optimism — even Green Day's own 2004 American Idiot wasn't as commercial. "My head's above the rain and roses / Making my way away" Billie Joe Armstrong asserts in the band's most marketable tune yet. Get ready to party like it's 2006-ish. — Matthew Donnelly
STRFKR's latest is as reliably dreamy as I've come to expect from the Portland indie rock group, but possesses a driving, cinematic quality that might make it their best and most substantial song to date. – Samantha Vincenty
Cruel Youth — aka Teddy Sinclair, aka Natalia Kills, aka Verbalicious -- has made a habit of constructing a new persona with each album cycle, adopting several fresh names along the way. This has made for some truly confusing, endless re-branding but the music has stayed consistently good enough to warrant the forced re-familiarization with every era. So it is on Cruel Youth's latest +30mg and particularly with album track "Hatefuck"— a moody, methodical slow-burner, all tepid percussion and introspective lyrics. The track's slight retro lean melds well with Sinclair's expertly emotive, smokey vocals, sounding equal parts familiar and new. — Ali Szubiak
Best Albums From the First Half of 2016: