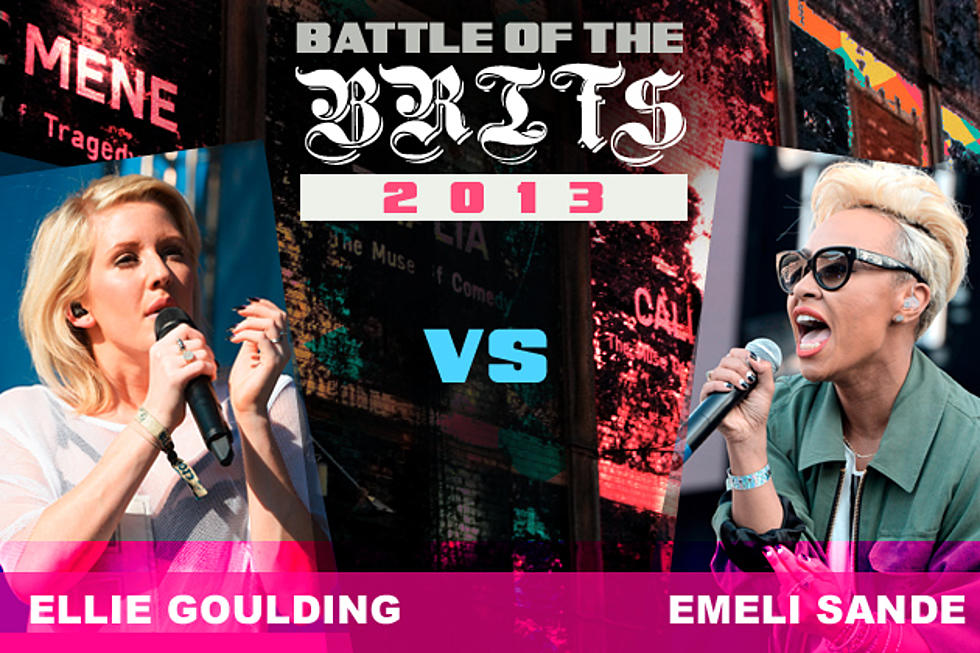 Ellie Goulding vs. Emeli Sande – Battle of the Brits
Theo Wargo / Kevin Winter, Getty Images
Here's another match-up that's going to make choosing the best British pop solo act even more difficult! We've got the Battle of the 'E's in this poll, specifically Ellie Goulding and Emeli Sande, who are both indie singer-songwriters at heart, but have made significant splashes in the Hot 100.
The adorable and breathy Ellie Goulding was already a household name in the U.K. when she was asked to perform her Elton John rendition of 'Your Song' at Prince William and Kat Middleton's wedding reception. Not too long after, she won us (Americans) over with her infectious and unique synth pop sound, mainly driven by the single 'Lights,' which stayed on the Hot 100 charts for an astounding 33 weeks. She has continued to stay true to her sound with the release of her second album 'Halcyon' (her first being 'Lights'), on which she collaborated with U.K. rapper Tinie Tempah, EDM producer Calvin Harris and ex-flame Skrillex.
Then there's Scottish-born Emeli Sande, who has only one album under her belt, but has proven that she's here to stay. Plus, she's already penned tunes for Alicia Keys, Cher Lloyd and Rihanna, among others. Her third single 'Next to Me,' off 'Our Version of Events,' is a soul-driven number about a righteous and loyal man, and is currently dominating the airwaves on every U.S. pop radio station. She may be as cool as a cucumber on stage, but her oozing confidence and pompadour 'do only make stars like Miley Cyrus envious. We're so anxious to hear her sophomore release, which is expected some time in 2014.
So, who deserves the pop solo crown? Vote in the poll below, which will close on Tuesday, July 17, at 2PM EST. You can vote up to once per hour until then!