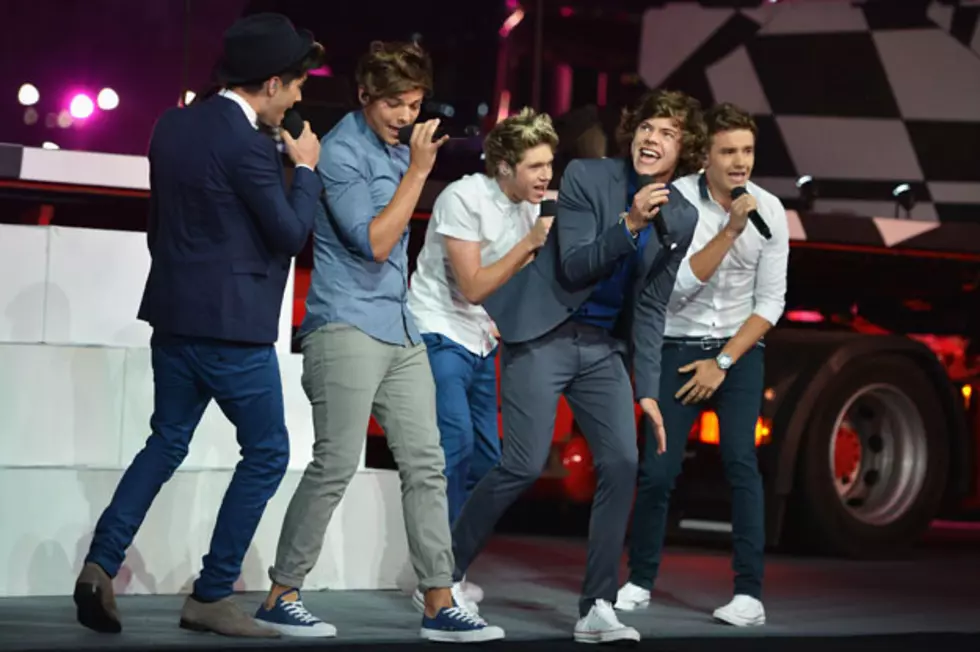 One Direction, Spice Girls, Jessie J + More Close Out 2012 Olympics
The London Olympics wrapped up Sunday night with a closing ceremony that paid tribute to the best of British music over the years, featuring performances by iconic classic rockers, the reunited Spice Girls, and current superstars like One Direction and Jessie J.
Titled "A Symphony of British Music," the two-hour segment included Rock and Roll Hall of Famers and even a few acts forgotten on this side of the Atlantic, but for young pop music fans, One Direction's performance may have been the highlight. The boys arrived on the back of a flatbed truck and played an abbreviated version of their global hit 'What Makes You Beautiful.'
The Spice Girls turned back the clock to 1997 when they sang their smash hits 'Wannabe' and 'Spice Up Your Life,' looking every bit as gorgeous as they did 15 years ago. The ladies stood atop moving cars lit up like video screens and shouted, "People of the world, spice up your life!," to the millions watching around the globe.
Jessie J performed 'Price Tag' and joined Tinie Tempah for his hit 'Written in the Stars.' Both performers teamed up with Taio Cruz for a Bee Gees tribute. Jessie also got to stand in for Freddie Mercury on vocals when Queen members Brian May and Roger Taylor played 'We Will Rock You.'
Ed Sheeran sang the Pink Floyd hit 'Wish You Were Here' with members of Floyd backing him up. Comedian and Katy Perry ex Russell Brand somehow found his way into the ceremony with a performance of the Beatles' 'I Am the Walrus.' Annie Lennox, Fatboy Slim, the Pet Shop Boys and George Michael also performed, and the Who closed out the show with some of their classic hits.
Check out more pics of One Direction and other pop stars at the 2012 Summer Olympics closing ceremony.