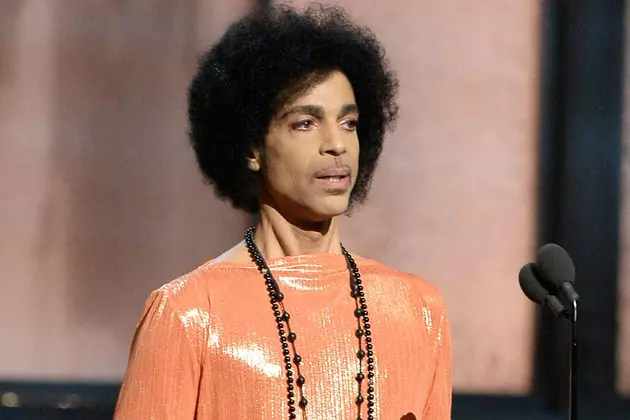 Prince Nabs Spots on Hot 100 Top 10 for the First Time in 22 Years
Kevork Djansezian, Getty Images
Prince has, understandably, been thrust back into the current pop cultural conversation in the kind of way that only an untimely death can manage. And while the surrounding discourse -- which has mostly been one tempered with respect, mourning and awe -- has done its duty in solidifying his legacy for generations to come, it's also done something else: Inspire quite a few people to actually pay for his music.
Two of Prince's most popular tracks have landed on Billboard's Hot 100 Top 10 for the first time in 22 years. "Purple Rain" is currently at No. 4 while "When Doves Cry" jumped up to No. 8 on the chart. In fact, the last time a Prince track placed in the Hot 100 was back on April 30, 1994, when his single "The Most Beautiful Girl in the World" took the No. 3 slot, staying in the Top 10 until June 18, 1994.
Further, this marks the first time in almost 32 years that Prince has had two songs in the top 10 at the same time. The last time was on October 27, 1984, when both "Purple Rain" and "Let's Go Crazy" charted in the Top 10 and No. 4 and No. 8, respectively.
Sales for "Purple Rain," meanwhile, have skyrocketed. Over 282,000 downloads were sold the first week after his death, which marks the biggest week-long sales since Adele's "Hello" moved 327,000 copies in January.
Of course, Prince isn't the first artist to top the charts posthumously. David Bowie's final album "Blackstar," -- which dropped two days before his death earlier this year -- earned the late artist his first No. 1 album according to Billboard.
Prince's 10 Most Infamous Lovers, Friends and You'll-Never-Comprehends