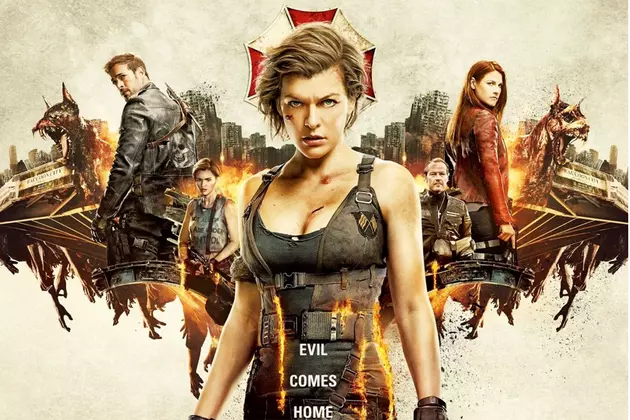 The 'Resident Evil' Movie Franchise Is Getting Rebooted Because Why Not?
Constantin Film
You can't keep a good zombie franchise down. With Resident Evil getting rebooted, it turns out you can't even keep a mediocre one down either.
Earlier this year, the final installment of the Paul WS Anderson-helmed Resident Evil franchise came to a close with Resident Evil: The Final Chapter. The film pulled in more than $310 million worldwide, even though it was the least popular entry here at the box office in the US. That hasn't deterred franchise rights holder Constantin Film from pressing on with a reboot of the series.
According to Variety, Constantin Film's chairman Martin Moszkowicz announced the company's plan to reboot Resident Evil at Cannes Film Festival this weekend. Resident Evil: The Final Chapter seemingly closed the loop on Milla Jovovich's character Alice, and her journey through the years to put an end to the Umbrella Corporation's devious machinations. Since there are no details on just what this rebooted version will cover, it's likely to move on from the story in the original six-film story, which began way back in 2002.
Though no director, writer or casting information was included in Moszkowicz's statements, it's unlikely Paul WS Anderson will return as he's busy prepping another Capcom video game franchise for the big screen in Monster Hunter. That's in addition to the idea that he's already spent six films covering his vision for Resident Evil, so Anderson might not have a lot left to say regardless. It's also unlikely we'll see Jovovich return, though as they've shown by their support of the original sextilogy, fans of the series wouldn't be averse to another zombie-killing female lead.
As the box office returns have indicated, even an average plot with some outrageous action can turn a zombie film into a record-setting franchise. Here's hoping that the reboot at least attempts to include a more coherent and engaging plot alongside all that undead combat.
Pop Stars and the Superheroes They Remind Us Of: