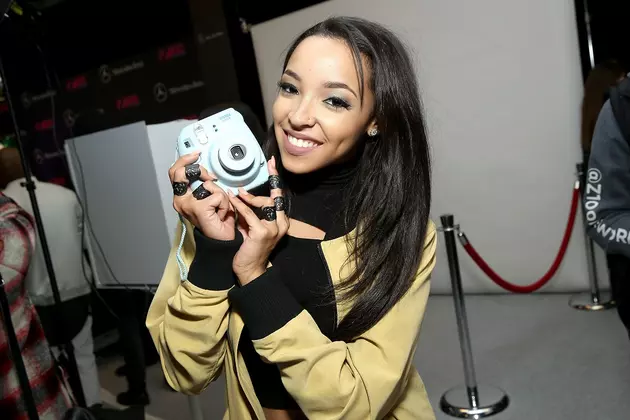 Tinashe Hits the Brakes on 'Joyride,' Postpones International Tour
Cindy Ord, Getty Images
Just a little over a month after Tinashe began her world tour, the artist has announced that she has hit the brakes on her Joyride, cancelling the remainder of show dates.
On Tuesday night (April 5) the R&B-pop singer posted on Facebook that "due to unexpected recording commitments," she is postponing the upcoming international tour dates that would have taken her to cities like Stockholm, Sydney, and Tokyo. On April 10 Tinashe will perform in Vancouver, marking her last date of the tour. Originally, she would have hit Copenhagen on April 26, and the international leg of the tour would have wrapped in Perth a month later on May 26.
Tinashe added that another reason for scrapping the tour relates to the fact that the album it was meant to promote, Joyride, which was first announced back in September, has not yet been released.
"My two biggest loves are music and my fans, and it is never my intention to disappoint anyone," the artist shared on her Facebook page. "I know there has been some confusion in regards to my album's release date. Trust me, I am as eager to get it out to you as you are to hear it. I will be wrapping up the finishing touches on Joyride by the end of May, and will be back on the road shortly thereafter to see all of you. If you know anything about me, you know this was the last thing I would ever want to do."
It is with a heavy heart that I come with the news that due to unexpected recording commitments I need to postpone my...

Posted by Tinashe on Tuesday, April 5, 2016
Additionally, Tinashe promised fans that in order to answer any lingering questions fans may have about the album and the tour postponement, she would host a live Q&A on Facebook, which went live early this morning (April 7). To a fan who said that they thought the album was already finished and was just waiting on a release date, the pop star implied that the label may not have been completely satisfied with the album she recorded, stating, "It was finished, but 'we' felt it needed a couple more songs."
Who Let the Aughts Out? 16 Signs the 2000s Are Back: