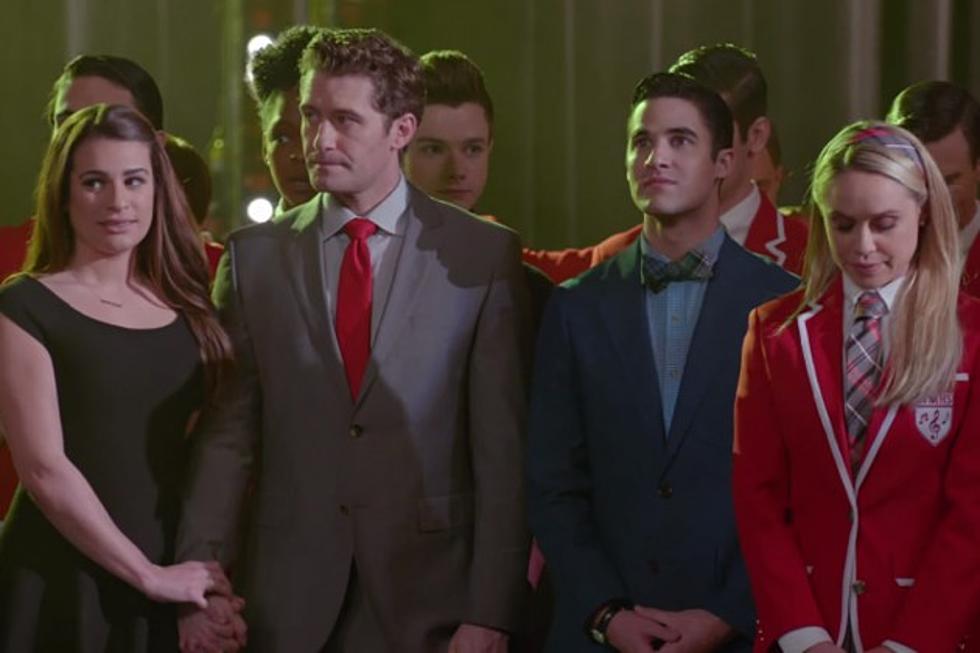 Warbler Ramblings: 'Glee' Singer Rilan Recaps 'We Built This Glee Club'
FOX
"Chemical" singer Rilan – who's also part of the Warblers on Glee this season — is watching Glee every week and writing recaps of each episode exclusively for PopCrush! Below is his take on the latest episode of 2015. Stay tuned to PopCrush for more Glee guest columns from the rising pop artist.
"We Built This Glee Club" begins with the new New Directions rehearsing a dance number in the choir room. The Warblers go off on the McKinley students for choreographic difficulty. To end the argument, Roderick and Spencer agree to stay hidden in the back row. The two plan to ask Kitty for extra choreography help.
In the auditorium, Sam tries to convince Rachel that she should return to NYADA before going back on Broadway. He assures her that he supports her decision, but asks her to think about the importance of going back to school. Rachel reflects by singing Roxette's hit "Listen to Your Heart" with a surprise from Jesse St. James himself. The notes are obviously stratospheric. Jesse informs Rachel that if she chooses to accept her role in Russell Simmons' musical, she will play opposite him, and they will be the show's two leads. Rachel confides in Jesse, and Jesse tries to convince her to stay out of school and go where she belongs, inferring that their chemistry would prove to be something special, on and off the stage.
Back in the choir room Kitty and Will start helping Roderick and Spencer when Spencer suddenly sprains his ankle. What a lucky duck! In the locker room, Sheldon informs Spencer that he will not be able to perform at sectionals. Spencer goes berserk at the news and refuses to leave his team alone on stage. Kurt advises Rachel to enjoy the present, including her time at McKinley and how special being in college can truly be.
In the choir room, the new New Directions are violently glitter-bombed by Sue Sylvester. Additionally, Sue poisons the school's water system, causing all students to projectile vomit, and lights Will's car on fire. To get revenge, Will poses as Sue's hairstylist and shaves her head bald.
We arrive at sectionals. The performances begin with a new show choir from a rehabilitative bird institute appropriately singing "Broken Wings" by Mr. Mister. It is quite uncomfortable, speaking as they have live (and injured) birds on stage. Next comes rival team Vocal Adrenaline, singing and flawlessly dancing to "We Built This City" by Jefferson Starship and "Hey Mickey" by Toni Basil, with a big finish featuring a color guard team, stilt walker, and human cannonballs. The New Directions look crushed. Before taking the stage, the McKinley show choir circles up as always, but this time Rachel leads the pep talk, which is heartfelt and nostalgically melancholic.
The New Directions take the stage. They first perform Hozier's song of the year "Take Me to Church," sung soulfully by Roderick. Rachel is near tears. The crowd screams as the show choir takes home the last chorus. Next Madison and Kitty sing Sia's epic "Chandelier" while the Warblers slay the choreography. Myron surprises the crowd and his show choir alike by rushing into the audience dressed as Sia's iconic child dancer, complete with blonde wig and nude unitard. The crowd goes bonkers. The cherry on top of the extravagant performance comes when Spencer literally swings onstage from a suspended chandelier (Roderick's genius idea to save his friend's ankle). Thunderous applause fill the auditorium as the show choir sings their final number, Styx's "Come Sail Away" lead by the dynamic duo that is Mason and Madison. They nail it, as told by the standing ovation they receive.
The award ceremony arrives, and the tension is palpable. The new Falconers take third place. As expected, the New Directions win first place at sectionals. They did it. The arts at McKinley is saved, and Kurt and Rachel are to thank for it.
In the halls, Sue actually congratulates Will by thanking him for standing up for her during her Geraldo interview. She informs Will that to repay him for his kindness, her set list for Vocal Adrenaline was specifically designed to put off the judges based on their extensive background checks. Oh, Sue, you never change.
Back in the auditorium, Rachel and Jesse reminisce about their love of high school show choir. Rachel tells Jesse that she turned down the part on Broadway and plans to attend NYADA once again in the fall. Jesse supports her with a sweet, small kiss. Can we see a Broadway power couple in the near future? I vote "yes."
The next day, the New Directions place their 2014 sectionals trophy on display in the choir room for the school to see. Will assures his students of his pride in their abilities and their bright, beautiful futures. A nostalgic Rachel eyes the trophies from years past. Kitty notices, and in true Glee montage fashion, the New Directions place all of their trophies together and hug it out, ready for their road to regionals and next week's series finale.
There is only one more episode of Glee left … ever. Return to PopCrush and hear the final summary from yours truly next week. Thank you again for reading and viewing, Gleeks. All of us cast members, new and old, sincerely appreciate it. We all hope we made you proud. This is your inside Warbler, signing off.
Watch Rilan Perform His Song "Chemical" Acoustic