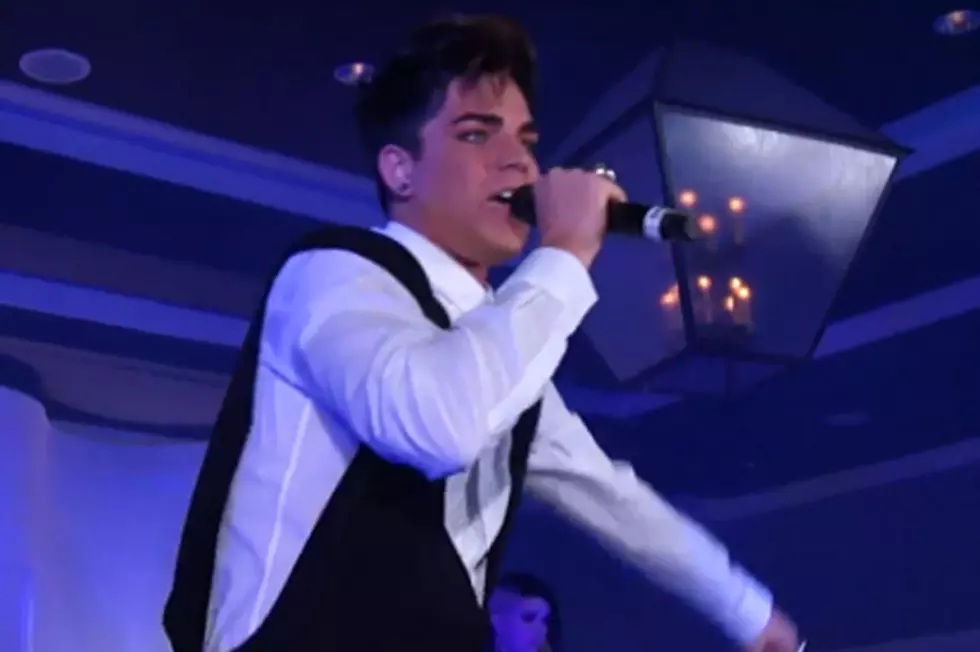 Adam Lambert Performs Three New 'Trespassing' Tracks
'American Idol' alum Adam Lambert premiered three new tracks from 'Trespassing' at a radio event this week. So, are his new songs a return to 'Glambert'-style posturing or are they along the lines of the softer, more toned-down 'Better Than I Know Myself'? Turns out, there's a bit of both in the mix.
Dressed like a high-end waiter in black pants, a white shirt and a black vest, Lambert gyrates and swivels his hips to 'Cuckoo,' an ode to getting crazy. What's not crazy is Lambert's eye makeup: his typically kohl-lined blue eyes are nearly bare, and his hair is coordinated in a similar tame style as well.
'Cuckoo' has a danceable beat, and Lambert's vocals are impeccable -- especially when he sings the title, "cuckoo," in his signature falsetto. It's an uptempo dance rock song that'll probably get stuck in your head for days when it inevitably hits Top 40 radio.
'Chokehold' is next, a midtempo song that wouldn't have been out of place on his last record, 'For Your Entertainment.' While it's not the most distinct or memorable track he's ever performed, he closes out with a few crescendos before his fading vocal, leading a girl in the crowd to repeat, "Oh my gosh. Oh my gosh! Oh. My. GOSH!"
Lambert really hits his stride with the title track, 'Trespassing.' He dances to the hard drum beat, rife with breakdowns, while he gets some hand clap accompaniments from his keyboard player and guitarist.
You can tell Lambert is happy with his new material, and his performances bode well for the rest of 'Trespassing.' If the performer and the crowd both love what they hear, it can only mean great things! Now we just have to wait til "Mapril" to hear all of them.
Watch Adam Lambert Perform 'Cuckoo'
Watch Adam Lambert Perform 'Chokehold'
Watch Adam Lambert Perform 'Trespassing'