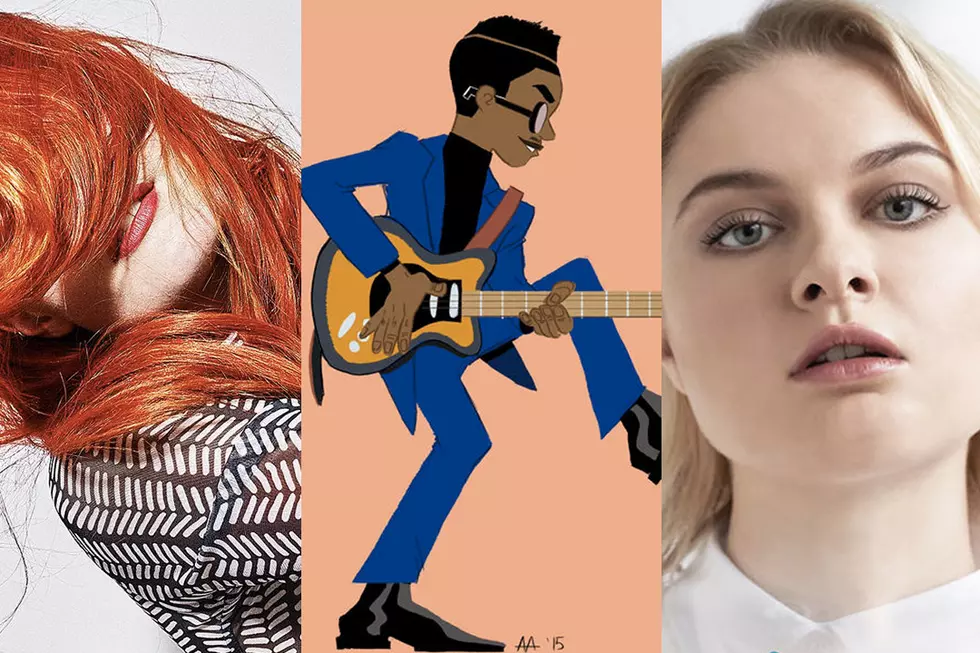 Best Songs We Heard This Week: Icona Pop, Texada, The Knocks + More
iTunes
It's New Music Friday, which means we've got a whole lotta — you guessed it, new music — at our disposal once again.
Check out our picks for this New Music Friday, and for more, make sure to subscribe to us on Apple Music.
Texada is, to quote her own bio, a "one woman band created, written, performed and produced by Hayley McLean," and her Blue EP is finely-crafted electro pop (it also offers a moody take on The Police's "Walking on the Moon"). I've had ultra romantic EP opener "All My Life" on repeat all week — it's a warm bath of emotion, literally what falling in love sounds like. Well, to me, anyway. Falling in love might sound like Michael Jackson's "Thriller" to other weirdos for all I know, but I highly recommend "All My Life" for your next intense face-touchy makeout session. – Samantha Vincenty
Lapsley, "Operator (He Doesn't Call Me)"
The majority of Lapsley's debut album, Long Way Home, deliberates on heartbreak with minimal accompaniment. The tracks are largely stripped down and stark, echoing that blankness that often comes with losing someone. That isn't to say there aren't musical nuances here, but it takes a few listens to fully appreciate the album's flourishes. "Operator (He Doesn't Call Me)" does away with all that subtlety, opting for a funky, disco-inspired feel instead. "He doesn't call me / So put me through, operator / Maybe I'll leave him / Fall in love with you, operator," Lapsley offers, with a half-hearted wink. But there's resignation there, too, skillfully delivered between the lines with her smoky full-bodied vocals, and it somehow stings in spite of itself. — Ali Szubiak
Icona Pop, "Someone Who Can Dance"
Finally, someone's talking some sense around here: Enough with the love songs. Enough with the break-up songs. You know what I need? Not someone who I can talk to — I need someone who can dance, and so do the fiery, feisty Swedish twosome known as Icona Pop. After supplying us with inescapable banger after banger ("I love it!"), the girls return with a fierce, strut-ready club anthem for blowing off steam with a hottie who knows how to move. It feels like something of a cross between CSS and The Knife. All eyes on Icona — or else. "If you look away, I'll make out with someone else." You've been warned. — Bradley Stern
Should you sleep through church this Sunday, absolve yourself of sin with a listen to the London trio's latest, which has got the chilling potential of a 13th-century Gregorian chant. The group's "Anacrusis," released ahead of forthcoming EP Hex, expands like a cloud from serenely celestial to overwhelming and thunderous. South by Southwest is bound for a bit of ensoulment when Mt. Wolf makes its way to Austin's Tiniest Bar in March. — Matthew Donnelly
The Knocks feat. Powers + Fetty Wap, "Classic"
The Knocks' original incarnation of "Classic" has been around for nearly two years now, and they further lifted it with an added feature by the superb Fetty Wap mid-2015. But the production duo's debut album 55 dropped today, and "Classic" -- a track well worth a re-listen — mercifully made the cut. With its glittery production, bounding pianos and clean guitars, "Classic" is a bright and colorful closer to an already stellar album overrun with enormous pop hits. It also happens to be the perfect nod to the kind of hooky, deliriously fun tracks that put The Knocks on the map in the first place: Well done. — Ali Szubiak
Spree Wilson, "Counterfeit"
Just when I thought I didn't have room in my heart for yet another music video spoofing Robert Palmer girls, Nashville-raised singer-songwriter turns the concept on its head in his self-directed "Counterfeit" clip. Not that I need the video's gorgeous pink and mustard hues to sell me on the song; it's a smooth, melody-rich three-and-a-half minutes produced by Malay, the man behind the boards on Frank Ocean's channel ORANGE. Let the hipster easy listening that is "Counterfeit" wash over you, and soon you'll be stepping side to side like an O.G. Robert Palmer girl. – Samantha Vincenty
Madeline Juno, "Stupid Girl"
There's a severe lack of German pop stars on the market. Luckily, Madeline Juno might just lead the charge for a sonic shake-up coming in straight from Berlin. "Stupid Girl," one of the many gems from her newest record Salvation, finds the singer falling in love (albeit mostly unrequited) and shaking her damn head at herself time and time again. "I'm such a stupid girl!" Think the fluttery sparkle of Ellie Goulding mixed with the inner strife and unapologetic messiness of Tove Lo. And look at that pop star-worthy hair hue. Let's make her a thing, yes? — Bradley Stern
PopCrush favorites Paperwhite put the abstract sense of longing into layman's terms through the new lo-fi synth single, a preview of forthcoming EP Escape. "On My Own," which offers sped-up hints of "Whole Lotta History" by Girls Aloud, takes the sprawling fantasy of previous offering "Get Away" and reduces it to enchantment you can fit in your pocket. Yet again, Katie Marshall's voice proves it can simultaneously soothe and enkindle. — Matthew Donnelly
Most Anticipated Albums of 2016