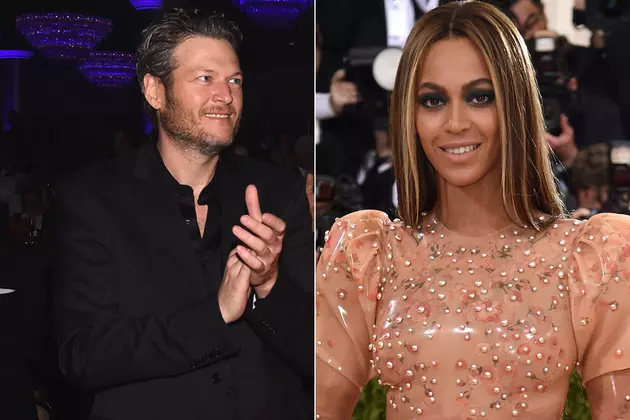 Blake Shelton Defends Beyonce's 'Daddy Lessons,' Shouldn't Have To
Larry Busacca, Getty Images
From its semi-unexpected arrival to several of its key themes, Beyonce's Lemonade was full of surprises — the song "Daddy Lessons" among them. The track, co-written by singer-songwriters Wynter Gordon and Kevin Cossom and producer Alex Delicata, is a bona fide country jam that's already been covered by the Dixie Chicks in concert. Regrettably, Bey's genre crossover doesn't sit too well with some who consider themselves the gatekeepers of what is and is not "country," as evident in headlines like "Dixie Chicks Defend Beyoncé Against Criticism with Scorching Cover of "Daddy Lessons." But one titan of contemporary country, Blake Shelton, wants you to know that he's a vocal fan.
"People that criticize can kiss my ass. That's what I say," the Voice judge told Entertainment Tonight backstage at the show on Monday (May 2). "I can't believe people that don't contribute to music that criticize music, it just blows my mind and Beyonce -- tell them to kiss that ass, is what I would do."
One of the most high-profile criticisms from the country community came by way of a dismissive review on Country Music Television's site. In an April 25 post titled "What's So Country About Beyonce?," the critic bashed Bey's "Daddy Lessons" for being not country enough. Given how pop and hip hop have bled into country hits for several years now, and the fact that the genre's so overwhelmingly white, it's hard not to read the review as a racially-coded argument against the pop star who first rose to prominence in R&B group Destiny's Child.
"Sure, Beyoncé's new album Lemonade has a song with some yee-haws, a little harmonica and mentions of classic vinyl, rifles and whiskey. But all of the sudden, everyone's acting like she's moved to Nashville and announced that she's country now," wrote Alison Bonoguro. "If you ask me, this song is no more country than her 'Single Ladies (Put a Ring on It)'."
The CMT writer also deemed the song not-country because "she didn't cut it at a studio in Tennessee, and it certainly wasn't written by a group of Nashville songwriters." Two of of "Daddy Lesson"'s African-American songwriters, Gordon and Cossom, have a catalog rooted in R&B and hip hop, which apparently excludes them from ever being able to pen an authentic country song? And according to Bonoguro, any song not recorded outside of Tennessee is NOT the real deal, just as any sparkling wine produced outside a certain region of France isn't champagne.
Do CMT's stated rules also apply to celebrated genre-blurrers like Sam Hunt and Shelton himself? If so, it's a good thing Shelton's ready to dismiss them as nonsense — but he shouldn't have to. Nor should it take a Dixie Chicks cover to legitimize Beyonce's (successful) foray into country: #DaddyLessonsonCountryRadio or bust.
Watch the Dixie Chicks take on "Daddy Lessons" live in Manchester below.
25 Stars Who Are Proud Members of the Beyhive