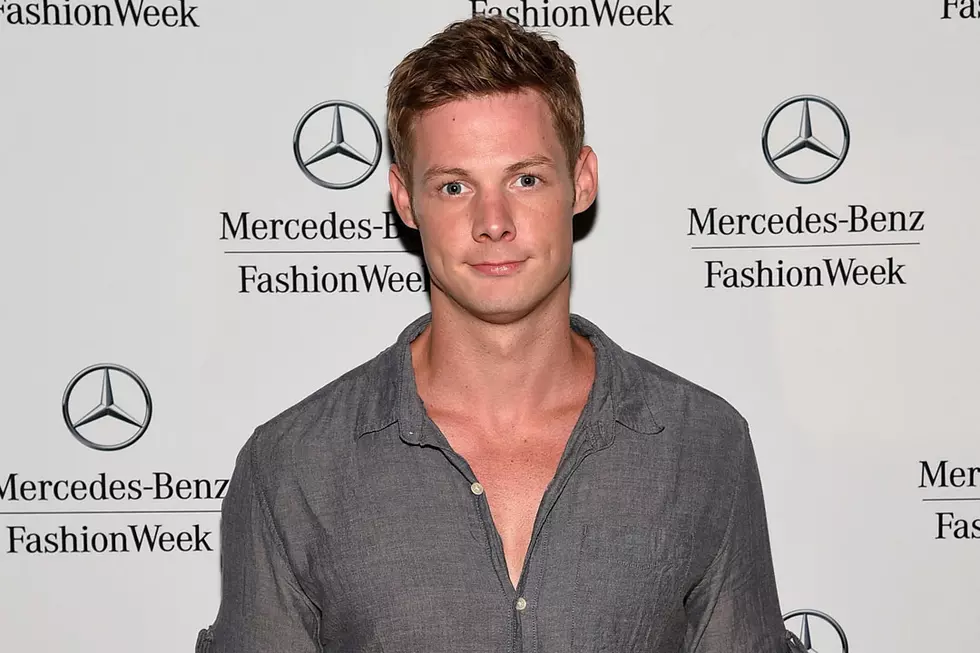 Brandon Jones Talks 'Courting Des Moines,' Playing Andrew on 'Pretty Little Liars' + More: PopCrush Interview
Mike Coppola, Getty Images
If you're a fan of ABC Family — now known as Freeform — you likely already know (and love) Brandon Jones' work. As the mysterious Andrew Campbell on Pretty Little Liars and predatory Liam Olmstead on The Fosters, the 27-year-old actor won fans even while they shook their fist at the TV. You may also recognize him from a memorable guest role on Netflix comedy Unbreakable Kimmy Schmidt, on which he played a former kidnapping victim's boyfriend with a not-so-secret secret.
Now, as we inch ever closer to the November presidential election, Brandon's latest role follows suit: He plays ambitious political intern Damian in Courting Des Moines, a drama that follows a fictional congresswoman's dark horse bid for the White House. Set in the state where real-life 2016 hopefuls are currently gearing up for the often make-or-break Iowa Caucus votes, the film intercuts its action with interviews from candidates including Bernie Sanders and Hillary Clinton. Primary season is rife with theater, and art certainly imitates life.
We wanted to get to know Brandon in real life, so we had a chat about the film, his time on Pretty Little Liars, the awesomeness of Tina Fey and more.
PopCrush: I want to hear about your role in Courting Des Moines (which I always pronounce wrong).

Brandon Jones: I play a guy named Damian Rice, and he's an Ivy League-educated guy that wants to get into politics. Gina Belafonte played a character named Gina Piccolo, who was an Illinois senator. So Damian, my character, played her intern in the film.
Are you [Damian] an ambitious person with higher plans? A pivotal role?

Yeah, Damian has kind of, you know, higher aspirations I guess you could say, with politics and interning as kind of his way in. Damian's part of a love-interest type of thing happening in the film as well.
In the trailer there seems to be a lot of footage interspersed from the current election, appearances by Martin O'Malley and Ted Cruz. Did you shoot that on location? Did you see anyone? Were there any political sightings? Interactions?
I wish there were! We were actually in Des Moines kind of like tourists are in LA. Just kind of keeping our eyes out for celebrities — which there, you know, are politicians — and we never saw any. Brent Roske, who directed the film, I believe interviewed politicians kind of intermittently. But we were never there, unfortunately, to see. But I was excited when I saw the trailer and saw who all he got. It was great.
How familiar are you with how the whole Iowa caucus process and how it works?I know it's foreign to me. It seems complicated.

It IS complicated. I knew absolutely nothing about it before the film. And basically what I came out of it learning is that it's more confusing than I ever imagined it to be. I'm kind of on your page, with that, I know a little bit more about it. A big part of it is meeting the local people and kind of making fans. Besides that, the political part: I'm lost. [laughs]
Are you politically engaged at all in real life? Do you have a favorite in the current race?
I try to stay out of it. Especially as an actor, I just...kind of you know,sit back and watch and listen, but...
You're not an amateur political pundit.
No. [laughs]
I also know you're returning to Unbreakable Kimmy Schmidt again. Does that mean Kimmy's returning to Indiana, or is Brandon coming back to New York?
I can't tell you that, but I can tell you the reason I am coming back to the episode is super-duper exciting and super-duper fun. And I will say — here's my hint, but it's only going to make it more confusing: We shot the episode at the Rachael Ray studio in NY. That's my hint. It makes it completely more confusing, but it's good.
Do you have a favorite person that you work with on the Kimmy Schmidt cast?
They're all awesome. They're all so cool. [Show creator] Tina Fey is wonderful. She's one of the most amazing women I've ever met. Being a mom, all the stuff she has on her plate, she never stops. One thing that impresses me is, when I'm working with her — I first met her doing a pilot for FOX and it didn't get picked up. But she thought of me, and kept me in mind for Unbreakable Kimmy Schmidt. So that's why I went back there. She is probably one of my favorite people around, because she's always just — I don't know. Always there, very present and very a part of the creative process. She's just a genuinely sweet person. So out of everyone, I always look forward to seeing her.
Were you a 30 Rock fan as well?
I never got into actually watching it, but I've seen a few episodes and it's hilarious. Pretty much anything she touches turns to gold, so.
Agreed...so, I am a grown-ass woman who loves Pretty Little Liars.
Awesome.
You started as Andrew Campbell in Season 3, but then you became a major player in Season 5. The writers definitely wanted viewers to think you were Charles by a certain point — Charles / A. Did Marlene [King] make you think the same thing, or did you just take the script at face value?
I learned that everyone on that show has no choice but to take the script at face value. It is constantly changing, even for the cast, what we thought we knew we didn't know. They're very super secretive with the scripts there. I believe one year some scripts got leaked, so they started this whole thing where we're emailed the script, and we can only read them for a few hours and then they'll disappear.
Like, self-destruct?

Pretty much, yeah! It was one of those things where, you get the script and you're like "Oh, I want to be A!" But you never know.
At what point did you find out?
I did not find out who A was until it actually aired. I think there were people who knew, but I was not one of them, unfortunately. [laughs]
So you watch the show?

I watched the end pretty regularly, because I kind of got pulled into the whole 'finding out who A is' thing. It's kind of addictive.
Any plans for Andrew to return? Even though he wasn't A, he still came off like someone with a hidden agenda. He claimed he was trying to be a hero.
As of now, I don't think Andrew is going to be around. I'll say that, unfortunately.
Fair enough. Pretty Little Liars fans are...passionate, which I'm sure you have thick skin from because Andrew dated Aria after Ezra. Were you harassed by fans?

Constantly, yeah. [laughs] But in a super good way. They would harass me but in a way where it just shows how strong the fan base is. They call it the PLL Army, and that's a really good term for it. The fans are so passionate, whether they like one couple or another couple, whether they think one episode sucked and next week's was great, they always stick around and show love — which is great. So I did get harassed, but it only proved the power of Pretty Little Liars.
Do you still experience it a lot, both through Twitter and in real life?

I do, yeah! All the time, which is crazy. Malls are a place I try to avoid. I'm a tall guy too — I'm 6'3"— so that paired along with Pretty Little Liars makes it tough, because so many people watch it. Like you, you're an adult and you watch it! Then I have my 10-year-old cousin who watches it. It's such a big age range of people, it's hard to go out without least someone who goes, "Oh, you're that guy." [laughs] Twitter has calmed down a lot though, not a whole lot of harassment lately.
Last Liars question. Do you have a favorite Liar? Either character or actress.
I don't have a favorite. I will say, I love talking to Troian. Troian Bellisario is so, so intelligent. She can hold up a conversation with anyone. It's awesome. In real life, she's just an awesome person and can really speak well and she's fun to talk to. She's a joy. But they're all awesome.
She does seem to be the de facto spokesperson in a group situation. Do you have a favorite actor in general?
It'll be a little cliche, but I'll say it: I've always loved Brad Pitt. Always. Ever since I was a kid, like, that guy. If I could have someone's career ,I feel like I would love to mirror his career. A good reputation, he's a family guy, his career went so well his whole life, he has the longevity that everybody wants. That's the guy I look up to, I think.
You've been on a bunch of cult-favorite TV shows: Supernatural, The Fosters, Pretty Little Liars. Do you have a show you're most obsessed with currently?
I normally just watch documentaries and cartoons, because I'm pretty much a dork. If I had to pick a favorite show right now...it's been my favorite since I was a kid: I love The Simpsons. I've watched The Simpsons since I can remember. My parents watched it.
So you pretty much don't remember a world when The Simpsons wasn't around.
No, that's the thing. There was a world before The Simpsons?! That's weird. It's sad. [laughs]
Finally, you're IMDB page tells me you are a "big paranormal enthusiast." Is this true?

It is true, and I don't know who wrote that.
So you didn't slide into the IMDB page?

No — but I am absolutely a big paranormal fan! I've had a lot of...interesting experiences in my life, which has led me to this interest. But, yeah the whole ghost thing, the whole UFO thing I think is cool. Anything you would see on X-Files, I'm pretty much a fan of.
You might say, you want to believe?
Oh,I want to believe.
Courting Des Moines will screen in Des Moines, New York and Los Angeles beginning January 31.
'Pretty Little Liars' Stars: Season 1 and Now