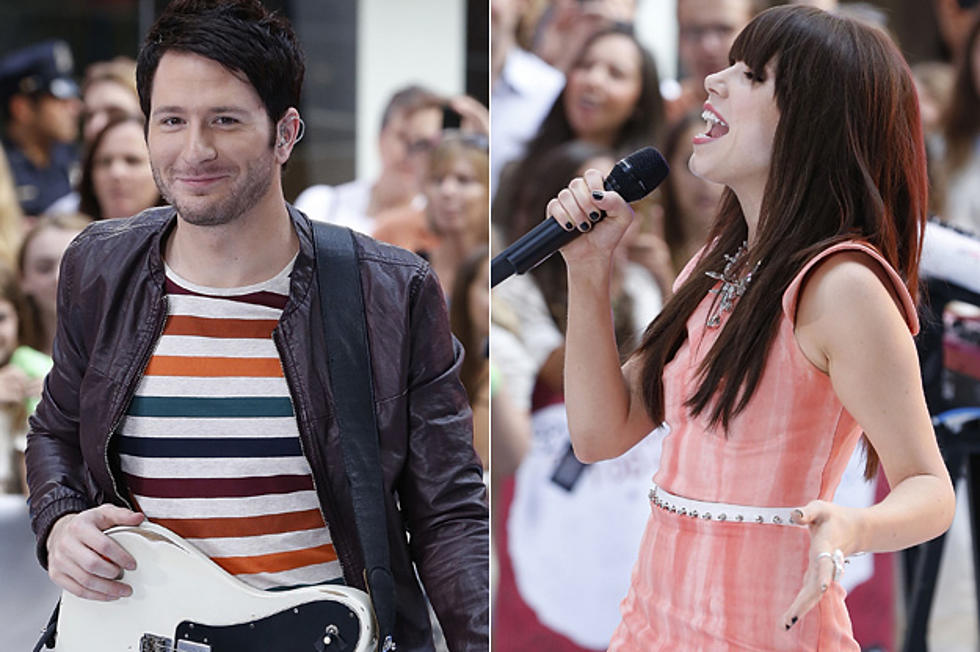 Carly Rae Jepsen and Owl City Perform 'Good Time' on 'TODAY'
Carly Rae Jepsen and Owl City were up bright and early this morning (Aug. 23) to perform their latest single, 'Good Time,' on 'TODAY.'
The two singers hit the stage before a packed crowd at New York's Rockefeller Center, where they treated fans to a live rendition of their summery track. Jepsen and Adam Young have been quite busy lately, as they just performed their tune on 'America's Got Talent' on Wednesday (Aug. 22.).
Oh, but that's not all. The pair are also scheduled to perform the song on Aug. 26th at Arthur Ashe Kids Day on CBS; 'The Tonight Show' on Aug. 28; and 'Conan' on Aug. 29. Talk about a stacked schedule!
The promotional appearances benefit both artists, as Young is prepping for his Midsummer Station World Tour, kicking off on Sept. 5 in Nashville, Tenn., and Jepsen is getting ready for the release of her highly anticipated debut album, 'Kiss,' on Sept. 18.
"These are lyric and song ideas that I have been collecting over the years," the Canadian star said of her forthcoming LP. "I can't tell you how lucky I feel to be able to collaborate with some of my dream producers. It has been the most fulfilling experience. The record is pop. It's inspired by Robyn, The Cars, Madonna, and believe it or not, James Taylor. I can't wait to share it with everyone! Kiss."
Watch Carly Rae Jepsen and Owl City Perform 'Good Time' on 'TODAY'
Watch Carly Rae Jepsen and Owl City Perform 'Good Time' on 'AGT'