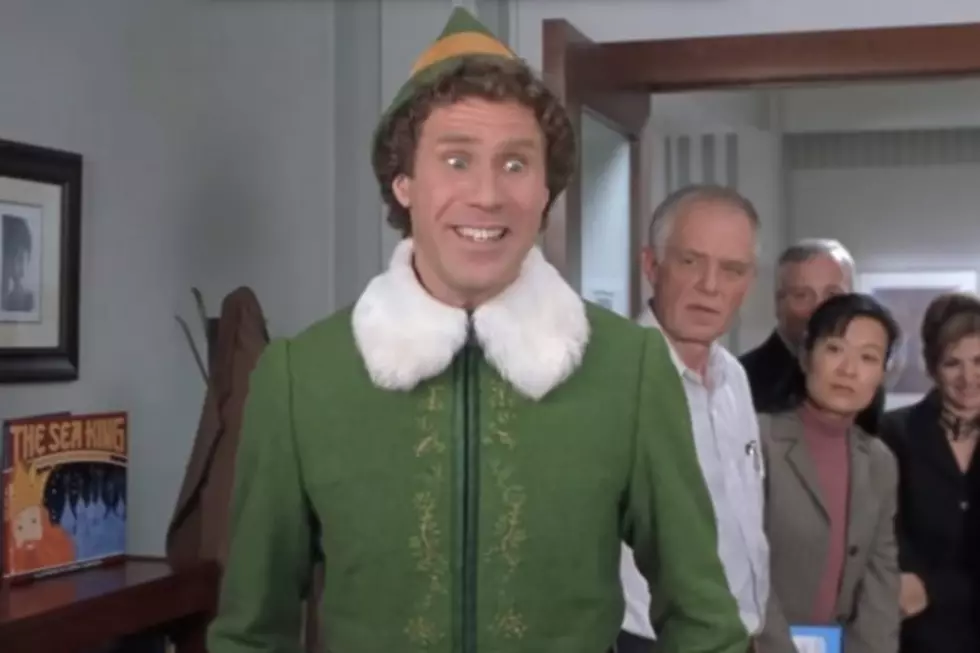 Then + Now: The Cast of 'Elf'
YouTube
Elf is one of those holiday feel-good movies you can't help but watch every time you catch in on TV. It's funny and heartwarming, with just the right amount of slapstick comedy. It kind of blows our minds that the movie came out way back in 2003!
Our favorite part? The fact that so many of the movie's cast members were either already esteemed actors, or they went on to become household names. Check out some of our favorite characters from Elf to see what they've been up to since then.
Will Ferrell (Buddy the Elf)
Then: Then one of SNL's leading cast members at the time, Will Ferrell took on the role of Buddy Hobbs, an endearingly misguided yet well-meaning human who was raised by elves. After being taken in and cared for as a baby by Santa Claus, Buddy was unceremoniously forced to fend for himself in the streets of New York once the time came for him to meet his father. At the time, Will Ferrell was already a prominent movie actor, with movies like Zoolander and Old School under his belt.
Now: Will Ferrell's movie success continued after Elf with Anchorman: The Legend of Ron Burgundy alongside Steve Carrell and Paul Rudd, Talladega Nights: The Ballad of Ricky Bobby and Step Brothers. Ferrell's also returned to SNL periodically over the years, appeared on TV shows like Last Man on Earth, Drunk History and The Spoils of Babylon. He also co-founded comedy site Funny or Die in 2007, and has three children with wife Viveca Paulin.
Zooey Deschanel (Jovie)
Then: It's hard to remember a time when Zooey Deschanel wasn't sporting her signature full bangs, long brunette waves and heavy false lashes. But when Zooey played the part of Buddy's love interest, Jovie, she was a short-haired blonde singing in the shower. She previous roles in films including Almost Famous and The Good Girl, but it was Elf that really kick started her mainstream movie career.
Now: Zooey went on to star alongside Joseph Gordon-Levitt in romantic dramedy 500 Days of Summer' and has played Jess on the FOX sitcom New Girl since 2011. She was married to indie musician Ben Gibbard from 2009-2013, and has a daughter with second husband Jacob Pechenik, a movie producer. Deschanel has also released six albums — including two Christmas albums — with musician M. Ward as part of duo She & Him.
Ed Asner (Santa Claus)
Then: Ed Asner, a Golden Globe and Emmy-winning actor, played Santa Claus in Elf -- making him the vehicle through which Buddy's travel to the North Pole was made possible. The former Screen Actors Guild president was a hugely respected actor long before taking on the role of Santa Claus, as he played the iconic Lou Grant on the Mary Tyler Moore Show. He was also an acclaimed voice actor at the time, working on many live-action TV shows and cartoons.
Now: Ed has continued to act in a very long list of projects -- from voicing characters on The Cleveland Show to appearing as himself, he remains an incredibly prolific actor. Within the past few years he's guested on shows including Criminal Minds, The Good Wife and The Boondocks.
James Caan (Walter Hobbs)
Then: The part of Walter Hobbs, Bubby's long lost father, was played by veteran actor James Caan. He was already well-known at the time for his work since the 1960s, particularly as Sonny Corleone in The Godfather.
Now: Caan played Ed Deline on Las Vegas from 2003-2007. He has continued to appear in many TV series and movies, and in 2016 he played the titular role in thriller The Good Neighbor.
Mary Steenburgen (Emily Hobbs)
Then: Mary Steenburgen played Emily Hobbs, stepmom to Will Ferrell's Buddy, and was the only character who had enough patience and understanding to tolerate Buddy at first. Before her role on Elf, Mary won an Oscar for Best Supporting Actress for Melvin and Howard in 1981. She's been married to fellow actor Ted Danson since 1995.
Now: Steenburgen played Amber Tamblyn's mother on the acclaimed Joan of Arcadia from 2003-2005, reunited with Ferrell in Step Brothers and appeared as herself several times on HBO's Curb Your Enthusiasm. She's also had recurring roles on popular series including 30 Rock, Orange Is the New Black and Last Man on Earth. 
Daniel Tay (Michael Hobbs)
Then: Daniel Tay played the part of Buddy's half-brother, Michael. He was in the movie American Splendor that same year.
Now: Daniel has stepped away from the Hollywood spotlight in recent years; his last film endeavor was in the role of Bobby Canzoneri in the 2007 movie Brooklyn Rules. He also voiced Billy Blue in the video game expansion Grand Theft Auto IV in 2009.
Peter Dinklage (Miles Finch)
Then: Peter Dinklage played the role of Miles Finch -- a children's author who Buddy mistakes for an elf. At the time, Peter was a relatively unknown actor, with bit parts on shows like Seinfeld and The $treet, but shortly before Elf's premiere he had won acclaim for his lead role in The Station Agent with Michelle Williams and Patricia Clarkson.
Now: Peter went on to act in movies and TV shows including Nip/Tuck, but he's best known for playing clever antihero Tyrion Lannister in the insanely popular Game of Thrones series based off the books by George R. R. Martin. He has won two Emmys for his work on the show, out of six nominations. In 2016 he also co-starred in Melissa McCarthy comedy The Boss and voiced the Mighty Eagle in the The Angry Birds Movie.
Bob Newhart (Papa Elf)
Then: Bob Newhart joins the long list of actors who had plenty of prestige before joining the cast of Elf. Before he played the role of Papa Elf, Bob was well-known as a comedian and actor. His sitcom, The Bob Newhart Show was a huge success in the '70s, as was the eight-season series Newhart — and he continued to work steadily until Elf.
Now: Now in his late 80s, Bob is still very much involved in acting. He made a cameo in the 2011 movie Horrible Bosses and appeared on three episodes of The Big Bang Theory as Arthur Jeffries. He's also guest-starred on The Librarians and Hot In Cleveland.
Think You Know 'Elf'? Test Your Knowledge!