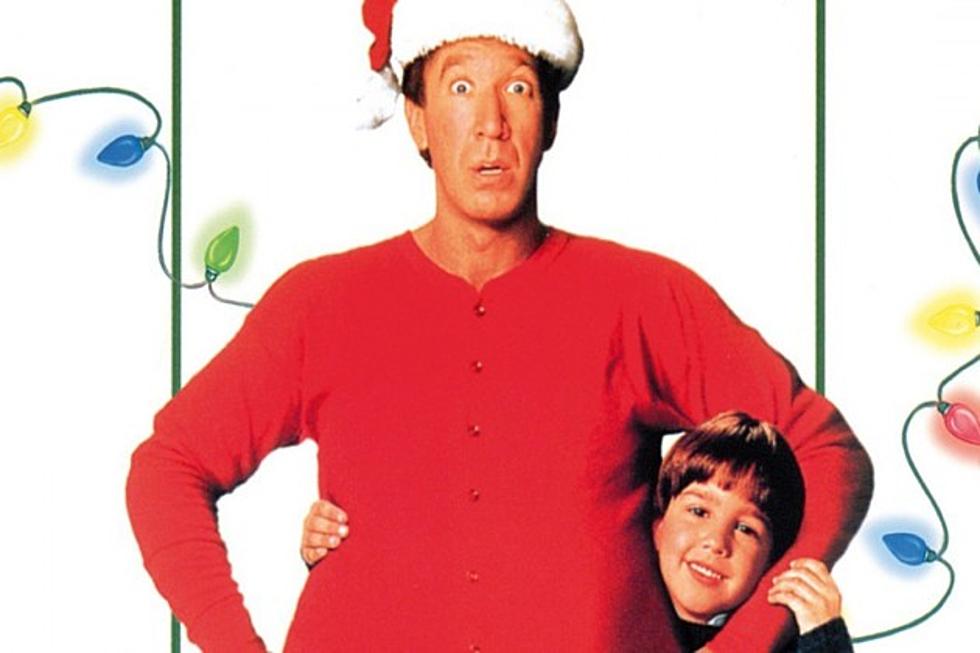 Then + Now: The Cast of 'The Santa Clause'
Disney
Our holiday season just isn't complete without multiple viewings of The Santa Clause. From Tim Allen's sarcastic one-liners to Judge Reinhold's colorful sweaters, the iconic Disney film never fails to make us believe in the magic of Santa. (Not to mention the fact that it's just about the only movie to make us want to go to Denny's on Christmas Eve.)
Whether it's the holiday season in real life or just in your heart, we suggest you pop in the DVD, stream it or catch the movie on TV when it's on — then break out the milk and cookies and take a look at the cast of The Santa Clause then and now.
Tim Allen (Scott Calvin/Santa)
Then: With several crazy successful seasons of 'Home Improvement' under his (tool) belt, Tim Allen tackled the role of 'The Santa Clause's' Scott Calvin, a sarcastic single father who becomes Santa Claus after accidentally knocking the original off the roof. As if he wasn't lovable enough as Santa (or in other '90s faves like 'Jungle 2 Jungle' and 'Galaxy Quest'), Allen went on to voice Buzz Lightyear in 'Toy Story,' officially cementing him a place in our childhoods forever.
Now: In addition to portraying the big guy in the entire 'The Santa Clause' franchise -- and voicing Buzz Lightyear in all of the 'Toy Story' films -- Allen returned to television in 2011, once again starring in his own sitcom, 'Last Man Standing.' And in 2019, he'll once again take us to "infinity and beyond" by reprising his role as Buzz in 'Toy Story 4.'
Eric Lloyd (Charlie Calvin)
Then: Mop-topped Eric Lloyd played little Charlie Calvin in 'The Santa Clause,' Scott's son and pretty much the only one who believed in him throughout the entire movie. (The feels!) The '90s were good to Lloyd, who continued to act throughout his childhood, starring in films like 'Dunston Checks In' and the TV series 'Jesse.'
Now: Though Lloyd went on to reprise his role as the (much older) Charlie in the rest of 'The Santa Clause' trilogy, he mostly left his acting career to focus on other passions, including school and his band. According to his official website, after graduating from college, Lloyd set his sights behind the camera, working as both an assistant director and assistant production coordinator on low-budget films and commercials. He last appeared in the mini-series 'True Perfection,' which you can watch on YouTube here, though he'll appear in the upcoming 'The Onyx of Wall Street.' Welcome back, Eric!
David Krumholtz (Bernard the Elf)
Then: David Krumholtz portrayed Bernard the Elf -- the head elf, we might add -- in both 'The Santa Clause' and the film's sequel. Just a few years after the original 'Clause' came out, Krumholtz portrayed a pretty different -- but equally as beloved -- '90s character as the nerdy Michael Eckman in '10 Things I Hate About You.'
Now: In 2005, Krumholtz struck gold with his portrayal of mathematical genius Charlie Eppes on 'Numb3rs,' a role he played for the series' entire five-year run. In addition to his success on TV, Krumholtz has also gone on to nab roles in raunchy comedy films like the 'Harold & Kumar' franchise, 'Superbad,' 'This Is the End' and more.
 Judge Reinhold (Dr. Neil Miller)
Then: When Judge Reinhold signed on to play the festive sweater-wearing psychiatrist Dr. Neil Miller (Charlie's step-father) in 'The Santa Clause,' he was already well-known for his roles in 'Fast Times at Ridgemont High' and the 'Beverly Hills Cop' franchise. Fun fact: Reinhold's real first name is Edward, but his dad apparently gave him the nickname "Judge" as a baby. And just in case we weren't the only ones who thought this when we were younger, he's not actually a judge. (It may have just been us.)
Now: Much to our delight, Reinhold went on to reprise the role of Neil in both 'The Santa Clause 2' and '3.' More recently he appeared in 'Broken: The Musical' and the series 'The Detour.' Reinhold made headlines in December 2016 for his arrest at Dallas Love Field airport following an alleged disagreement with TSA agents.
Wendy Crewson (Laura Miller)
Then: Wendy Crewson portrayed Charlie's mom (and Scott's ex-wife) Laura in all three installments of 'The Santa Clause.' Her desperate yearning for the Mystery Date Game was felt by us all.
Now: After 'The Santa Clause,' Crewson went on to star alongside more of Hollywood's leading men, including in 'Air Force One' (opposite Harrison Ford), 'Bicentennial Man' (opposite Robin Williams) and 'The 6th Day' (opposite Arnold Schwarzenegger). In the 2000s, Crewson developed a knack (and serious skill!) for playing doctors on television, with starring roles on 'ReGenesis' and 'Saving Hope,' as well as recurring parts on '24' and 'Revenge.'
Paige Tamada (Judy the Elf)
Then: Not to be confused with Judy the Waitress, Judy the Elf (played by Paige Tamada) not only handed Scott Calvin his red silk pajamas and made him an insane cup of hot cocoa, she also delivered one of the film's best lines: "Seeing isn't believing, believing is seeing."
Now: Before Tamada stopped acting in 1999, she appeared on a wealth of popular TV shows, including 'Full House,' 'Seinfeld,' 'The Fresh Prince of Bel-Air,' 'Ally McBeal' and even Tim Allen's sitcom, 'Home Improvement.' Though we scoured every corner of the Internet to see what the silver speckle-cheeked elf was up to now, Paige Tamada has virtually no online presence -- except for this photo that J-14 magically unearthed. While we can't confirm the identity of the person in the pic, it certainly looks a whole lot more like the actress than this one.
Peter Boyle (Mr. Whittle)
Then: Peter Boyle had a bit part in 'The Santa Clause' as Scott Calvin's hard-hitting boss, later appearing in both 'The Santa Clause 2' and 'The Santa Clause 3' in a totally different role -- as Father Time. Of course, by the time Boyle was cast in 'The Santa Clause' he was already an incredibly successful actor, most well-known for his turns as the Monster in 'Young Frankenstein' and as the crotchety Frank Barone on 'Everybody Loves Raymond.'
Now: Boyle portrayed Frank Barone on 'Raymond' for close to 10 years, playing Ray's fan-favorite cranky dad until the series concluded in 2005 -- even bringing the character to one-off episodes of 'Cosby' and 'The King of Queens.' Sadly, the veteran actor passed away from cancer in 2006, just one month after the release of 'The Santa Clause 3.'
100 Fascinating Movie Trivia Facts