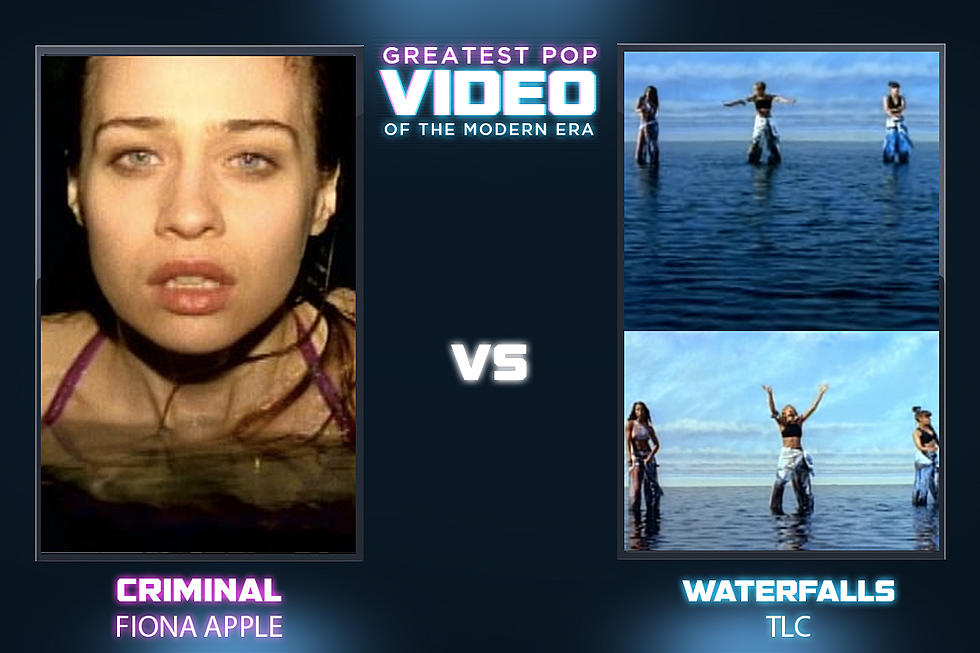 Fiona Apple, 'Criminal' vs. TLC, 'Waterfalls' — Greatest Pop Video of the Modern Era [First Round]
YouTube
Last year, we ran a super-sized competition to determine the greatest pop song in modern history, from the '80s to today. And now, we're back — and this time, it's all about honoring the best and boldest in music videos.
The '90s edition of our Greatest Pop Video of the Modern Era poll has a new matchup to consider...and it's a tough one. This time, we ask you to choose which is the more worthy video: Fiona Apple's "Criminal" or TLC's "Waterfalls"? We know — both are i for such different reasons, and both songs can still inspire group sing-alongs as soon as the first few bars strike up. Let's take a closer look at their respective merits (or if it's not even a choice for you, vote now below!)
Fiona Apple's body of work has earned her a devoted following over the years, but "Criminal" remains her biggest commercial hit. Peaking at No. 21 on the Billboard Hot 100, the Tidal single won a Grammy for Best Female Rock Vocal Performance in 1997. Listeners were taken with Apple's piano playing and her distinctive, often low-ranging vocals — but these were the days when MTV still frequently played music videos, and that's exactly how many fans first met Fiona. "Criminal" was directed by Mark Romanek, who also helmed Taylor Swift's "Shake It Off" video and another contender in the Greatest Pop Video poll, Michael and Janet Jackson's "Scream." The clip put Apple's big-eyed face front and center, as she sang earnestly into the camera, writhed in bed and a bath with a male friend, and lounged in her underwear.
The 70s-ish aesthetic and the pale, model-pretty cast was reminiscent of Calvin Klein's controversial ad campaign shot by Steven Meisel two years prior (Buzzfeed has some examples here), but 18 years later the video's in a class by itself.
Like Fiona, TLC had a string of hits and albums to their name, but "Waterfalls" made the biggest, er, splash. Three parables focused around a central theme:"don't go chasing waterfalls / please stick to the rivers and the lakes that you're used to." The video, shot at Universal Studios Hollywood, had a budget of [Dr. Evil voice] one MILLION dollars; a gargantuan sum for a music video back then (and nothing to sneeze at now). Scenes depicting serious issues such as urban violence and the AIDS epidemic drove the song's message home, and those CGI water versions of T-Boz, Left Eye and Chilli were state of the art...back in 1995, anyway.
It's time now to decide: Which video moves on the next round? Place your vote in the poll below. We'll reveal the winner right here on Nov. 20 at 5 PM ET. Go, go, go!
Don't forget to vote in the other rounds...