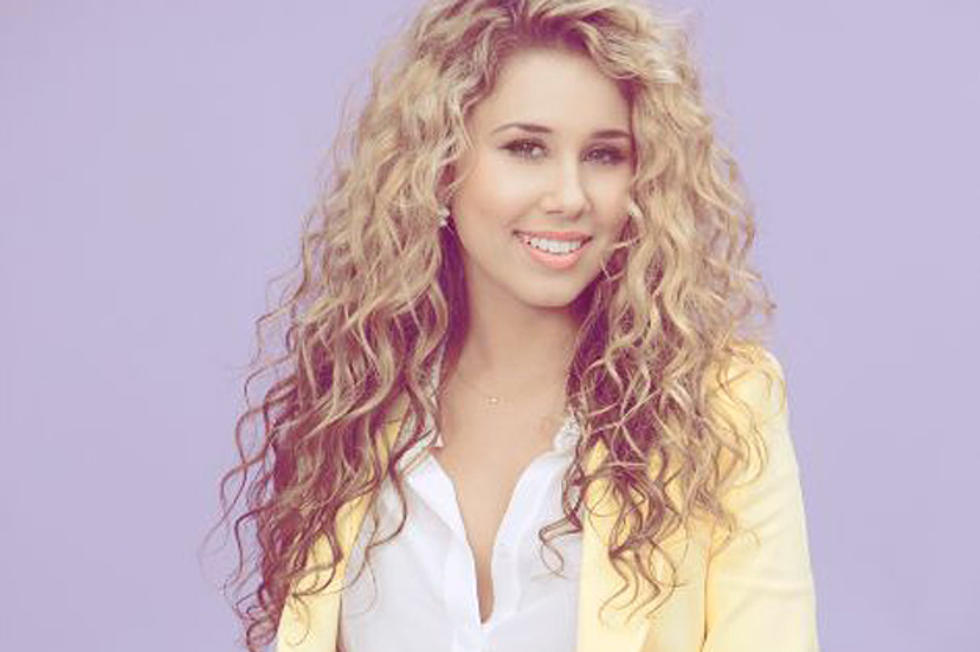 Haley Reinhart Talks 'American Idol,' 'Sultry' Debut Album + Dream Collaboration
Even though she didn't win her season of 'American Idol,' Haley Reinhart is on her way to becoming a superstar in her own right. The bluesy songstress is getting ready to release her debut album 'Listen Up!' on May 22, and she's already seeing a lot of success with her lead single, the retro-inspired jazzy pop tune 'Free.' 
PopCrush recently caught up with the former 'Idol' contestant to chat about her upcoming album release, including her songwriting process for the LP, what songs are her favorites, and her collaborative track with rapper B.o.B. Check out our interview below to find out more details on 'Listen Up!' in addition to Reinhart's dream duet partner, the best advice she's received from her musical parents, and her love for acting.
So you originally auditioned for Season 9 of 'American Idol,' but didn't make it. What advice would you give the other hopefuls who didn't make it the first time around?
Yeah. Well you know, if it's something that you think you should do and if it's your dream and you figure why not -- especially for me, I had no intention of going back actually and I had some people contact me and give me some words of advice, and then they coaxed me into it. I was like, 'Alright well if I'm getting this call, I better just do it. I mean, why not?' And it's new judges and just a complete new thing. I thought maybe Season 9 would be here, but everything happens for a reason, so you have to just go off your gut. You know?
You really stuck to your musical roots while you were on on 'Idol.' Looking back now, do you think not winning was a blessing in disguise in some ways since you really get to do your own thing now?
Well sure. You take what you get from the show. The show gave me an amazing platform, the show gave me a fan base, the show gave me the experience of a lifetime -- I mean, I'm so thankful, but when I walked away, I felt like it was the right thing. I felt like it was happening for a reason. I knew that I wasn't gonna stop there. The whole point of 'American Idol' is to start your career, and what you do after that is up to you.
Do you still keep in touch with your pals from 'American Idol'? You've been working with Casey a bit...
Yeah. We're all pretty much based in L.A., so I've seen a lot of them. I've seen Casey and Stefano and Paul and Pia, I've seen her. Naima, I've seen her too. So yeah, I see them all mostly and I've talked to a few of them on the phone just to keep up. I'm really proud of everybody that eight of us have gotten signed you know. So it's really great to see everybody do their own thing.
You're getting ready to release your debut album and you've already released the lead single 'Free.' Can you talk about the songwriting process for 'Free'?
Well, actually 'Free' is the only song on the album that I didn't co-write. I actually had heard it while I was on tour. A lot of the 'Idol' contestants banged out a whole album while we were touring -- you know, like Scotty and Lauren. But for me, I wanted to completely involved with the whole writing process, so I agreed to listen to all these songs coming in and 'Free' was that one that I knew I had to do. It had my name on it! It sounded like my direction and like what I wanted to do. It has a very sultry yet modern feel and there's hints of jazz in there, and yeah, it just spoke to me so I couldn't look away.
We also just saw the video for 'Free.' How did you come up with the concept?
When I thought of the song, I wanted to do something playful, but I wanted the relationship between me and the boy to be like this kind of haunting yet mature thing. I wanted it to come across and have it kind of spunky and all that. But at the same time [I wanted to] have him like, at least by the end of the video, understand why I'm trying to tell him we need to be free from each other in order to be truly happy. Even though we love each other and everything, it's done.
Watch the Haley Reinhart 'Free' Video
Does the acting thing ever feel weird for you?
I had so much fun with it actually! I mean I just love getting into character. I was joking around with that guy the whole day and it was just a blast. I love acting too -- the only thing that can get a little awkward is having a room full of eyes on you. Sometimes I'm better with hundreds of people rather than 20, you know what I mean? But it was cool. Nothing could stop me that day! I was very happy to be doing my first music video. It was very surreal, like everything coming true in real life.
What can fans expect from 'Listen Up!' once it's released?
It's great that 'Free' definitely has the elements incorporated into it, because throughout the rest of the album, it has soul in it. That sultry aspect is the way I like to go about music as a whole, but it has a very retro vibe yet maintains this modern twist and a freshness that comes from deep down inside me. I like to stick to my roots like you said before, and at the same just create this new sound that's not really out. So it's just a mashup of a lot of different elements and genres.
You said before that you co-wrote almost every song on 'Listen Up!' Have you always considered yourself a songwriter first and foremost?
Well as far as co-writing, I totally jumped in, but I've always been a songwriter myself -- I mean, poetry, poetry slam, melodies. Things have always come to me very easily, and if I'm inspired or if I just actually take the time to sit down and write, it's very easy for me. So it was really pretty easy to get so many songs so quickly because I was actually given every day to get down in the studio with a different person and create something different. But I actually wrote and recorded each song on one day -- it was very quick. Most of the demos I kept the vocal on, even if we just thought it was a scratch for the day, I actually ended up keeping them because I liked capturing the energy and the vibe of the song as I wrote it.
Do you have a track on the album that you feel particularly attached to?
A lot of different ones for different reasons honestly. I have my dad playing on four of them, playing guitar. It's really cool! So all those four tracks that he played on I absolutely love. There's one that me and him and the producer who I wrote it with, Rob Kleiner, we all loved that one. There's just different songs with different vibes to them, but that's one of those that just has something really, really cool about it. We talk about a lot of different subjects, but I really like the ones that take you somewhere and are relatable. There's a song called 'Wonderland' that it feels like it's from a different time, like new age Motown. It's just a lovey dovey tune that listeners can easily relate to.
I also read that you worked with B.o.B on the song 'Oh My.' What was that like?
Yeah! I actually haven't met him yet, but we put down that track and we were looking at what we might want and filled him in on it and he was all about it. It sounds great! I love it, it has a very rompy kind of Motown sound again. And I just needed somebody so cool and slick to fill that little spot, and he did such a great job.
Are there any other collaborations on the album?
No, the rest is just me and most of the backgrounds are me, too. I love like super harmony and everything. There's a couple that I have busbee and another writer, John Green, just doing some little like background vocals, like on the song 'Wasting Tears.'
You're very close with your parents. Can you share some helpful advice that they've given you in the past, since they are musicians themselves?
I've learned about the business from them, aside from the production end, because they're all about live music. They've been playing for 40 years now, they're still doing it. I mean, pretty much the biggest part that I've learned is, aside from all the technical stuff, is how to sing and what music is great. Also, just to go with your passion and to go with your gut and listen to them! They've been doing it their whole lives and haven't stopped because why? They're not rich and famous but they love it! You know?
In the past, you've said that you feel like you were supposed to be born in a different generation. So, if you could collaborate with any artist, living or dead, who would it be and why?
Ugh! Wow. Well, nobody's every asked me that before. I've been saying Paul McCartney just because I'm the biggest Beatles freak and I actually grew up, John Lennon was always my favorite and I've such gained such a big respect for Paul, so it's hard to pick a favorite. I mean, I would say John Lennon, alive or dead. It would be incredible. Yeah but there's plenty of people from that era because I'm so into that time, you know '60s and '70s.
And last but not least, you have such a great sense of style. Do you have any fashion icons to you look up to?
You know the direction I'm kinda going in is a mashup between -- I wanted to go with how I usually dress -- I try to go between the '50s and '60s. So like a classy pin-up look? And then you can even look at somebody like, Marilyn Monroe or Audrey Hepburn or just the iconic beauties of the pin-up world -- just the classy, sexy look. And then to mash it up with the funky patterns and psychedelic coats and vibrant colors of the '60s. I just like both so very much that to be able to mix those two together is really cool to me.