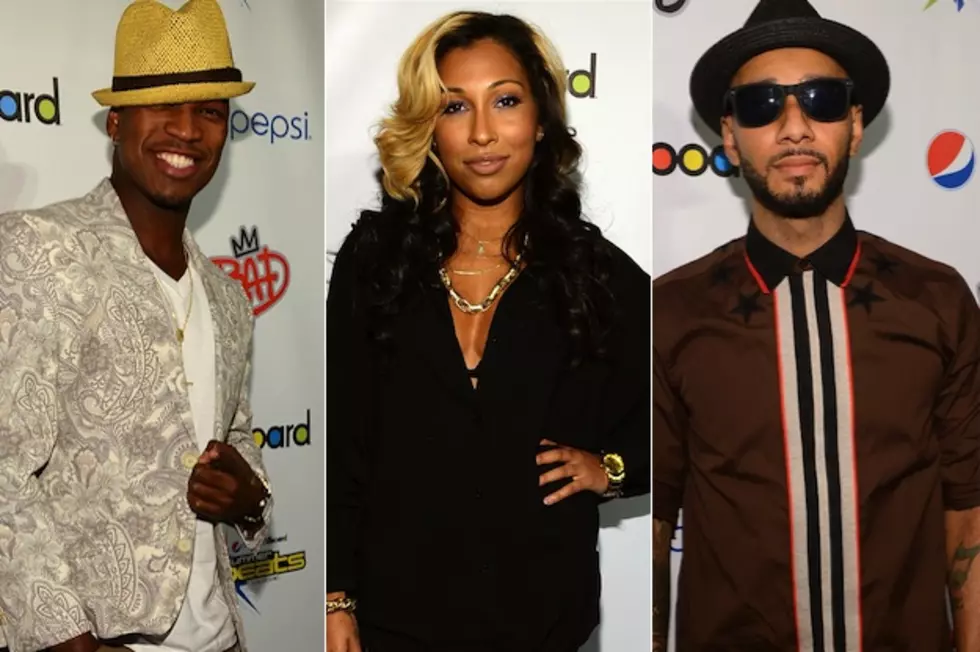 Ne-Yo, Melanie Fiona + Swizz Beatz Perform Michael Jackson's Hits at 'Bad 25′ Concert
Michael Jackson was remembered with a birthday celebration fit a king -- the King of Pop, that is. R&B superstars Ne-Yo and Melanie Fiona, along with Swizz Beatz, performed at a star-studded event on Wednesday (Aug. 29) to celebrate what would have been Jackson's 54th birthday.
The concert also coincided with Pepsi's yearlong celebration of the 25th anniversary of Jackson's 1987 album 'Bad.' Canadian songbird Melanie Fiona kicked off the concert with a medley of hits from the 'Bad' album, including the title track and the guitar-charging 'Dirty Diana.' "How many bad M-Fers I got in this house tonight?" she asked the crowd.
Ne-Yo, who is often compared to Jackson for his light falsetto vocals and dancing abilities, followed Fiona with a stellar performance as well. Dressed in an all-white suit and tie with a burgundy dress shirt, he performed 'Smooth Criminal' as the classic video played in the background. The crooner also sung 'Bad''s chart-topping ballads 'I Just Can't Stop Loving You' and 'The Way You Make Me Feel.'
Producer Swizz Beatz ended the night with a 45-minute DJ set of Jackson's classic songs.
Meanwhile, Michael Jackson's children were in the late crooner's hometown of Gary, Ind., to participate in a weeklong birthday celebration. Jackson's two oldest children, Prince and Paris, attended a press conference where they were given T-shirts and buttons from the city mayor Karen Freeman-Wilson, reports the Chicago Tribune. Jackson's youngest son, Blanket, and his mother, Katherine Jackson, stayed inside an SUV and didn't participate in the event.
"Miss Jackson came to me and said, 'I want to be integrally involved,'" Mayor Freeman-Wilson told the crowd of reporters and fans in attendance. "[She wanted Michael Jackson's children] to know where their dad grew up."
Events celebrating Jackson's birthday will continue in Gary during the next three days, including a baseball game and a concert honoring the King of Pop, which will take place on Saturday.
Watch Ne-Yo Perform Michael Jackson's 'Smooth Criminal'
Watch Ne-Yo Perform Michael Jackson's 'The Way You Make Me Feel'
Watch Melanie Fiona Perform Michael Jackson's 'Bad'
Watch Melanie Fiona Perform Michael Jackson's 'Dirty Diana'