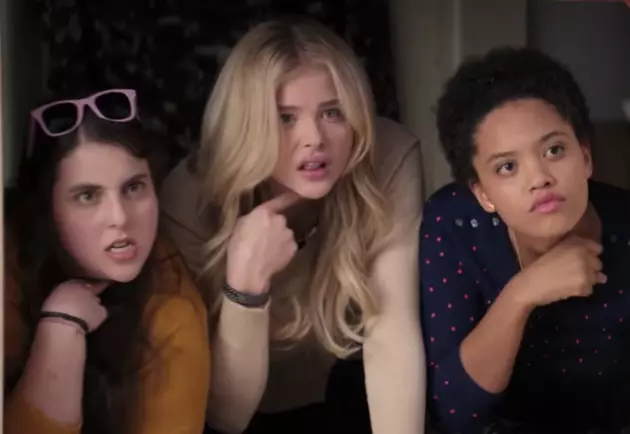 Selena Gomez + Chloe Grace Moretz Wreak Greek Havoc in 'Neighbors 2′ Trailer
YouTube
Selena Gomez and Chloe Grace Moretz are two of the freshman-class additions to the Neighbors 2: Sorority Rising cast, and the trailer is extremely promising.
In the sequel to 2014 comedy, Seth Rogen and Rose Byrne return as new parents who made an unfortunate location choice when they purchased their home — but Zac Efron's alpha frat boy is no longer their biggest menace. This time it's Moretz's Shelby and her friends (played by Beanie Feldstein and Kiersey Clemons) who, upon learning of an absurd rule that prohibits sororities from throwing their own parties, decide to form a sisterhood of their own called Kappa Nu.
Gomez's role seems the dullest of the bunch judging from the trailer, in which she plays a by-the-book sorority president who scolds Moretz's pledge character for smoking weed. Hopefully Gomez won't be limited to playing the straight man — but she's happy to be on board either way. Watch the trailer in her tweet below.
According to this New York Times op-ed, the "no sorority keggers allowed" rule cited in the premise is actually real. SERIOUSLY? As a graduate of a mostly-female liberal arts school, my knowledge of the Greek system is limited to Scream Queens and their ancillary role in movies like Revenge of the Nerds. So this rule seems shockingly retrograde — yet ripe for parody, I guess?
Vine star Cameron Dallas and comedian Billy Eichner also join the cast, with Dave Franco, Lisa Kudrow and The Mindy Project's Ike Barinholtz returning. Neighbors 2 is due out this summer — just in time to horrify the parents of prospective undergraduates!
Here's What You Missed At the 2016 Golden Globes