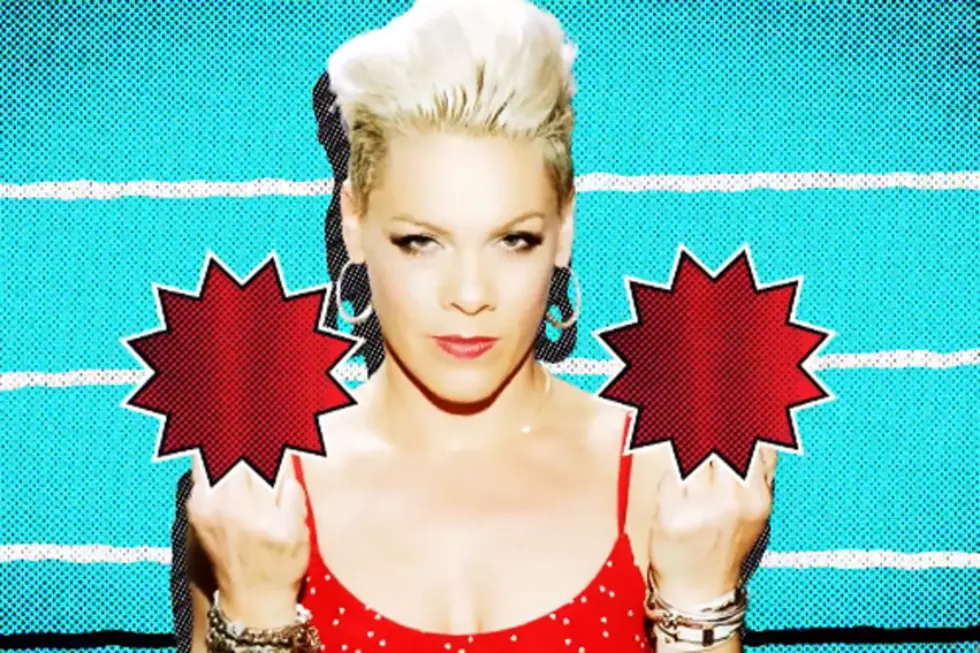 VEVO
Pink has made a career out of not taking herself nor anyone else seriously. Her sense of humor presents itself in her music videos, whether she's poking fun at dimwitted starlets ('Stupid Girls') or herself and her own relationships ('So What').
With clips featuring cameos from everyone from her own family to future 'Avengers' stars and subject matter ranging from divorce to drugs to drunken shenanigans, Pink really does have something for everyone. Here are Pink's 10 best music videos, ranging from the super dramatic to the super silly -- just like the 'Missundaztood' singer herself.
10

Back when Pink's name matched her hair in a big way for her debut, 'Can't Take Me Home,' she was the queen of R&B breakup and kissoff jams. She showed off her impressive dancing skills, but what nabs this video a spot on Pink's best music video list is the visual of her with her hot pink hair among hot pink rose petals. It's, well, hot Pink.

9

'Trouble,' from Pink's much-forgotten 'Try This,' was a video with a storyline: Pink brings the trouble to an old Western town. Simple enough, right? And also a ton of fun to watch -- especially considering it stars Jeremy Renner!

8

'I Don't Believe You' is possibly Pink at her most vulnerable. In the black and white video, Pink is a beautiful bride with a broken heart. Considering she's typically a tough girl, it's a revealing look at the wounded woman beneath the hard shell -- and it's lovely.

7

One of Pink's funniest and best music videos, 'Stupid Girls' poked fun at the height of Paris Hilton, Nicole Richie, Lindsay Lohan and the like's infamy. The orange tans, the implants, the pigtails and Pink's mocking laughter combine to make both a witty and poignant parody of the perils of Hollywood. Thank goodness she's famous for a reason: She's amazingly talented and incredibly smart.

6

'Get the Party Started' was a fun video, and that was the point. Pink showed that getting ready to go out can be almost as -- if not more -- fun than actually going to a party. Especially when you can sing into a hair dryer!

5

'True Love' Feat. Lily Allen

'True Love' (the song) features Lily Allen. 'True Love' (the video) features Pink's real-life true love, Carey Hart, as well as their too-cute daughter, Willow Sage. Aren't they the most adorable family ever?!

4

'Family Portrait' describes Pink's broken home growing up. Before her parents divorced, she was surrounded by screaming and drama. It helped a lot of fans through problems, and it also helped Pink herself. "For us as a family, we used to sweep things under the rug and act like things were OK, and act like I didn't run away and I wasn't on drugs and it was all a dream," Pink has said of the video and song. "We opened up communications as a family and now, when we sit at the dinner table, we really ask each other how we are and we really answer and it's beautiful."

3

'Just Like a Pill' is one of the best Pink videos. The dark nature captures the struggles and horrors -- as well as highs -- of drug addiction and abuse. And somehow Pink still manages to look stunning while depicting some of the darkest times anyone could face.

2

'So What' is one of Pink's best music videos because it perfectly captures her essence: Sassy, funny, tough and heartfelt. Her portrayal of her own broken heart during her split with husband Carey Hart was hilarious -- and even led them to rekindle their relationship!

1

In her first ode to being a misfit off of 'Missundasztood,' Pink shows off her sense of humor as well as her own insecurities about her upbringing and rise to fame. Especially fun to watch? Her portrayal of L.A. Reid ... check out that chalkboard!