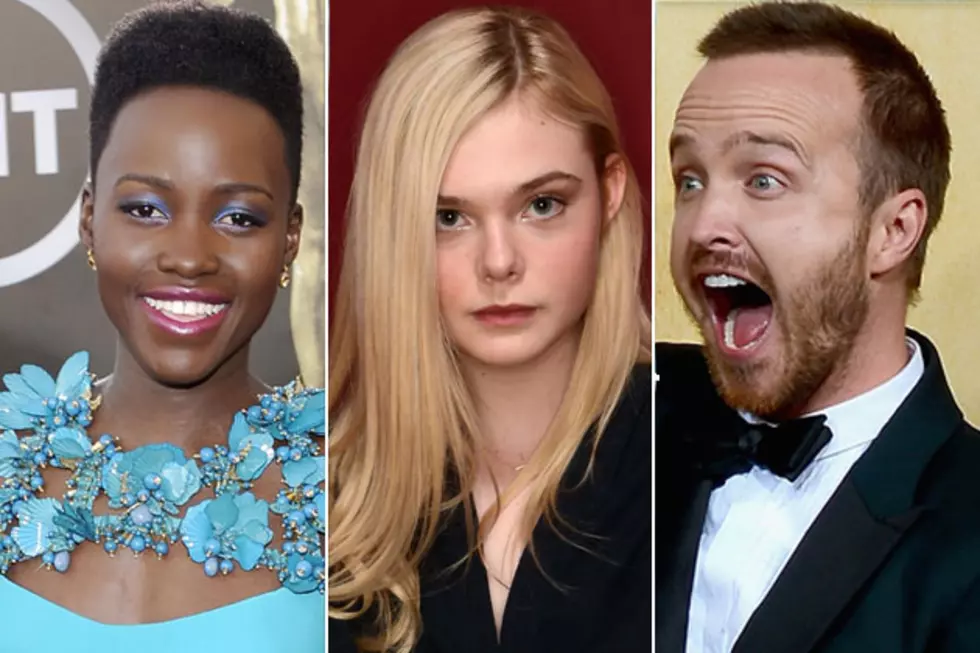 14 Actors to Watch in 2014
Kevork Djansezian / Larry Busacca / Ethan Miller, Getty Images
Between the red carpets of award season, the summer's upcoming tent poles and a selection of buzzed about indies out of Sundance, we've looked high and low to assess who is ready to breakout and go from promising new talent to Hollywood elite. We've got a list -- in no particular order -- of critical darlings, British beauties and TV actors primed to take the film world by storm.
After winning rave reviews for the enchanting coming-of-age drama 'The Spectacular Now' and the Academy Award-winning comedy 'The Descendants,' Shailene Woodley is ready to be launched as a major star with a one-two punch of promising pics.

First up, she'll shoulder 'Divergent' as a teen heroine who possesses an incredible ability that could change the dystopian world she lives in for the better. Like many before it, this YA novel-inspired action-adventure hopes to start a franchise as alluring as 'The Hunger Games.' Even if it's half as successful as that record-breaking film series, 'Divergent' could mean big things for Woodley, especially coupled with 'The Fault in Our Stars.' Based on yet another beloved teen novel, this romantic drama, in which she co-stars with Ansel Elgort, is guaranteed to make us weep, but it also might make Woodley a box office force to be reckoned with.

'Divergent' hits theaters on March 21. 'The Fault in Our Stars' opens on June 6.

Funny enough, this charming ingendude has twice played co-star to Woodley, first in 'The Spectacular Now,' then in 'Divergent.' But the latter of these is only one of five films Teller is expected to unleash on theaters this year.

Earning wild praise and distribution at this year's Sundance Film Festival is 'Whiplash,' a drama that has Teller as a drummer struggling to become a top jazz musician. After 'Divergent' debuts, he has got a trio of comedies coming. 'That Awkward Moment' and 'Get A Job' are R-rated laffers that could acquaint older audiences with this young funnyman who has been building his rep with hilarious turns in 'Footloose' and '21 & Over.' The third is a romantic-comedy called 'Two Night Stand' about what happens when a snowstorm traps a pair of one-time lovers together the morning after, forcing them to actually get to know each other. Basically, Teller is all over the place this year, and guaranteed to gain tons of attention.

'That Awkward Moment' opened on Jan. 31 The rest of Teller's 2014 slate is currently awaiting release dates.

Bubbly British ingénue Imogen Poots also boasts a crowded 2014 calendar. Aside from co-starring with Teller in 'That Awkward Moment,' she's set to appear in a dramedy based on Nick Hornby's novel 'A Long Way Down,' the street race thriller 'Need for Speed,' as well as the mysterious Terrence Malick movie 'Knight of Cups,' which also stars Christian Bale, Cate Blanchett and Natalie Portman.

What's so fantastic about this lineup is that it doesn't really matter if any or all of these features do well. Poots has been given the rare opportunity to show a great deal of range in just one year. In 2014, we -- along with filmmakers, producers and casting directors around the world -- will get to see how she is at tackling raunchy comedy, a blend of humor and dark content, the action genre, and the delicate aesthetic of Malick's brand of art house entertainment. In short, she's poised for a major, major year.

'Need For Speed' follows on March 14th.

After five seasons on 'Breaking Bad,' the world knows Aaron Paul as Jesse Pinkman. But with the acclaimed series all wrapped up, Paul is moving into movies, unfurling four this year, two of which co-star Poots. It's crazy how so many of these up-and-coming movie stars are pulling along together.

Paul co-stars in 'A Long Way Down' and fronts 'Need for Speed' as a street racer driving cross-country for his freedom and his very life. After pitch-black comedy and high-octane action, Paul will go full on biblical for Ridley Scott's 'Exodus,' a Christian Bale-led account of how Moses guided the Israelites out of slavery and to salvation. Then look for his indie drama 'Hellion,' which drew praise at Sundance and provided a solid kick off to Paul's 2014.

'Exodus' opens on Dec. 12.

Little sister to Mary-Kate and Ashley, Elizabeth Olsen got her start appearing in bit parts in her sisters' TV movies. But rather than following them into child stardom, she stepped backed, studied drama and then broke into films in 2011 with a chilling debut in the mind-bending indie 'Martha Marcy May Marlene.' After building her reputation up with roles in 'Liberal Arts' and 'Oldboy,' Olsen is gunning for mainstream stardom with a big and bombastic monster movie.

Along with Aaron Taylor-Johnson and Bryan Cranston, Olsen is set to star in Warner Bros' 'Godzilla' reboot. It's directed by Gareth Edwards, who drew buzz for his unconventional alien-invasion indie 'Monsters' back in 2010. So expect something smarter than the nonsensical 1998 attempt fronted by Matthew Broderick. The gargantuan lizard is back to wreak absolute destruction on any city unfortunate enough to cross its path, and Olsen will be right in the fray, working her way to becoming a household name. It won't hurt that her 2015 follow-up is 'The Avengers: Age of Ultron,' which is guaranteed to be a massive blockbuster.

'Godzilla' opens on May 16.

Elle Fanning made her first film appearance as the younger version of her sister Dakota Fanning's character in the Academy Award-nominated 'I Am Sam.' But the 15-year-old actress has been steadily carving out a career of her own with stunning turns in J.J. Abrams' sci-fi thriller 'Super 8,' Francis Ford Coppola's trippy 'Twixt' and Sally Potter's delicate and brilliant coming-of-age drama 'Ginger & Rosa.' This year, Elle is readying for some major attention.

She hit Sundance with two dramas. 'Young Ones' is a post-apocalyptic tale of survival from writer-director Jake Paltrow, while 'Low Down' is a biopic about pianist Joe Albany, told from the perspective of his daughter. However, Fanning's big play comes in May when Disney's 'Maleficent' opens. There she stars as Princess Aurora opposite Angelina Jolie's titular villainess. With a fat budget of $200 million, this pic is expected to be a huge for Disney. If these predictions prove true, this fairy tale could do for Fanning what 'Alice In Wonderland' did for pretty blond ingénue Mia Wasikowska, who is now one of Hollywood's most sought after young talents.

'Maleficent' opens on May 30.

You might know Belfast-born actor Jamie Dornan from his recurring roles on TV's fairy tale series 'Once Upon a Time,' or the chilling crime drama 'The Fall.' But who cares when he is going to play Christian Grey in the 'Fifty Shades of Grey' movie?

OK, so technically the adaptation of E.L. James' bestselling novel of BDSM and erotica isn't hitting theaters until 2015. But we all know that one of the best things about pleasure is the anticipation of it. Already Focus Features has teased how Dornan will look in that iconic grey tie opposite co-star Dakota Johnson. Then they played on the worldwide crush women have on the fictional hunk that is Grey, unveiling a tantalizing yet subtle poster. 2014 will be the year of awaiting Mr. Grey, and all along the way Dornan will be sold as Hollywood's next Sexiest Man Alive.

'Fifty Shades of Grey' opens on Feb. 13, 2015.

Paris-born actress Eva Green has co-starred with serious A-listers, appearing opposite Daniel Craig in 'Casino Royale' and Johnny Depp in 'Dark Shadows.' Yet this fiery leading lady hasn't stepped out of the role of supporting starlet. But that may about to change, thanks to a trio of titles set to stir up Green's career.

First up is the long awaited sequel '300: Rise of an Empire' in which Green joins the fray of a historical battle of Artemisia, which saw Greek general Themistokles facing off against the villainous Xerxes and his fearless navy commander Artemisia. Green will unleash fury as one of the world's most renowned female warriors, before Showtime unveils their hotly anticipated horror-miniseries 'Penny Dreadful,' which has Green starring with Timothy Dalton and Josh Hartnett. Next, she'll make summer even hotter, playing the titular femme fatale in another much anticipated sequel, Robert Rodriguez's 'Sin City: A Dame to Kill For.' At long last, this could be the range and exposure Green needs to get her the notice her go-for-broke gusto and captivating talent truly deserve.

'300: Rise of an Empire' opens on March 7. 'Sin City: A Dame to Kill For' follows on Aug. 22. 'Penny Dreadful' kicks off on May 11 on Showtime.

With a string of bit parts in TV shows and an appearance in the little-seen 2009 baseball drama 'The Perfect Game,' California-born Tony Revolori is this list's least known performer. But the world will soon know his name thanks to the whimsical wonder of Wes Anderson.

The writer-director behind such beloved comedies as 'Moonrise Kingdom,' 'The Royal Tenenbaums' and 'Fantastic Mr. Fox' has selected Revolori to be at the center of his latest sprawling ensemble piece. Titled 'The Grand Budapest Hotel,' the film boasts such big names as Ralph Fiennes, Edward, Norton, Tilda Swinton, Bill Murray and many, many more. But this virtually unknown actor sits at its core playing a bellboy named Zero, who is the narrator and thereby tour guide to this madcap murder mystery. If Revolori lands Anderson's endearing aesthetic, we'll see 'The Grand Budapest Hotel' launch him the way 'Rushmore' did Jason Schwartzman.

'The Grand Budapest Hotel' opens on March 7.

You'll be seeing a lot of Lupita Nyong'o in the coming weeks! The actress (who was born in Mexico, raised in Kenya, then educated in the US) has taken the awards season -- and let's not forget the red carpet -- by storm with her absolutely electrifying performance in Steve McQueen's critical darling '12 Years a Slave.'

The gorgeous ingénue incredibly made her film debut in the devastating biopic, playing a young woman who was born into slavery and has known nothing but abuse. For her impeccable and heartbreaking portrayal, she's already won a slew of critics' awards as well as a SAG honor. But the big race is Oscar night, where many count her as a front-runner for the Best Supporting Actress award. While we can't get enough of her dazzling smile and glamorous gowns at all these glitzy award circuit events, this is not the only side Nyong'o is showing us this year. Next month, she'll appear opposite Liam Neeson in the terror-on-a-plane thriller 'Non-Stop.' And from there, we suspect the hits will just keep coming.

'Non-Stop' hits theaters on Feb. 28.

Australian actress Margot Robbie has also become a recurring presence on red carpets this award season, courtesy of her eye-catching turn in Martin Scorsese's controversial biopic, 'The Wolf of Wall Street,' which unravels the life story of deplorable white-collar criminal mastermind Jordan Belfort.

Opposite Academy Award-nominee Leonardo DiCaprio, Robbie played a trophy wife who wields sex as a weapon to get what she wants out of her wealthy but out of control husband. Compared to castmates DiCaprio and Jonah Hill, Robbie's role has been a bit overlooked on the awards circuit. However, she's been grabbing headlines with thoughtful and entertaining interviews that show there's some real brains and moxie behind all her beauty. Look for her later this year in the romantic drama 'Suite Francaise.' Of course, with her scene-stealing in 'Wolf of Wall Street' and its press events, we're betting you'll see a lot more of her before then.

Former Disney kid Gregg Sulkin was appearing on 'Wizards of Waverly Place' not so long ago. But a recurring role on the sultry hit series 'Pretty Little Liars' has led to a film that might prove his tipping point to stardom.

Sulkin will appear in 'Affluenza' with a slew of TV stars looking to make their mark in film, including 'Boardwalk Empire's' Ben Rosenfield, 'Bates Motel's' Nicola Peltz, 'Glee's' Grant Gustin and 'As The World Turns'' Valentina de Angelis. This feature from 'Holly Rollers' writer and director Antonio Macia and Kevin Asch uses 'The Great Gatsby' as inspiration for this modern-day coming-of-age drama. Its cast will play upper class Long Island teens whose carefree summer days of luxury are doomed to come to an abrupt end as the financial crisis of 2008 looms on the horizon. If this tale of wealth, love and loss catches on to even an quarter of the degree Baz Luhrmann's 2013 'Great Gatsby' did, Sulkin could see his star and pay scale rocketing. First thing's first, 'Affluenza' needs to settle on a release date.

Welsh actor Craig Roberts broke through on the art house scene in 2010 with his starring role in the quirky coming-of-age dramedy from Richard Ayoade, 'Submarine.' But despite critical praise, Roberts didn't really catch on in Hollywood… until now.

The first of three features Roberts has coming this year is the Zac Efron/Seth Rogen comedy 'Neighbors,' which has him cast as one of Efron's frat house minions waging war against Rogen's suburban family man. After that comes 'Premature,' a teen comedy written and directed by Dan Beers that is essentially 'Groundhog Day,' but where the repeated day is one where a young man tries (again and again) to successfully lose his virginity. Then Roberts will co-star with Charlotte Richie in a comedy called 'Benny & Jolene,' about the trials and tribulations of becoming a folk music star. And all this before Roberts buckles in for 'Just Jim,' a teen comedy that he will write, direct and headline. So basically, this Welsh entertainer isn't just landing promising pictures, he's also making his own. Look out.

'Neighbors' opens on May 9.

Lastly, we're looking to the lovely English actress Gabriella Wilde, who got her start in movies with an eye-catching supporting role in Paul W.S. Anderson's wild take on 'The Three Musketeers.' Since then, she snagged the coveted part of Sue Snell opposite Chloë Grace Moretz in Kimberly Peirce's 'Carrie' remake. Next up, she's the one and only leading lady in a remake that could launch her, if history repeats.

Scott Spencer's novel 'Endless Love' focuses on teen lovers whose parents disapprove of their relationship. Its first film adaptation premiered in 1981, and it made beautiful, young Brooke Shields famous. For this reason, roles in the remake from 'Country Strong' writer-director Shana Feste were highly craved by actresses looking for their film breakthrough. But last spring, Wilde won the female lead over out the likes of Sophie Lowe, Sarah Bolger and Olivia Cooke. All that remains is to see if she'll following in Shield's footsteps all the way to stardom.

'Endless Love' opens on Feb. 14.