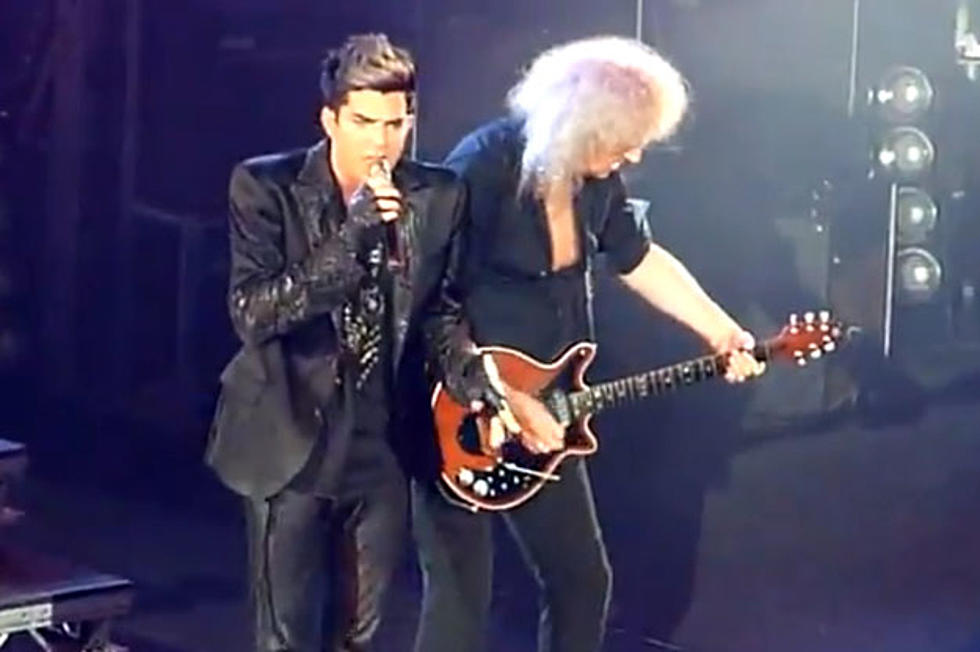 Adam Lambert Does His Best Freddie Mercury Performing With Queen in London
YouTube
Adam Lambert took over the role of Freddie Mercury at Queen's concert at the Hammersmith Apollo in London yesterday (July 11), capably filling in for the late frontman on the classic rock band's biggest hits.
Fan videos have surfaced on YouTube, giving viewers a taste of the live show. For 'Dragon Attack,' Lambert wore a bright red jacket with furry fringe. By the time he got to 'Another One Bites the Dust,' he was barefoot in a black leather suit.
According to the setlist posted on Queen's Facebook page, Lambert led the group on hits like 'I Want It All,' 'Radio Ga Ga,' 'We Will Rock You' and 'Bohemian Rhapsody.' Drummer Roger Taylor and guitarist Brian May took over the vocals on a few songs, and Lambert and Taylor dueted on 'Under Pressure.' No one can match Mercury's showmanship, but by all accounts, Lambert's performance was well-received.
After the concert, Lambert tweeted, "GREAT show in London!!" He told ABC News Radio (via Ace Showbiz), "For me, personally, I think I'm gonna look back on this in years to come and kind of think, 'Wow, what a treat. What an honor to be able to be asked to sing with legends.'"
This isn't the first time Lambert has performed with Queen. A few weeks back, he took on vocal duties for the classic rockers for a performance in the Ukraine.
Watch Adam Lambert Perform 'Another One Bites the Dust' With Queen
Watch Adam Lambert Perform 'I Want to Break Free' With Queen
Watch Adam Lambert Perform 'Dragon Attack' With Queen