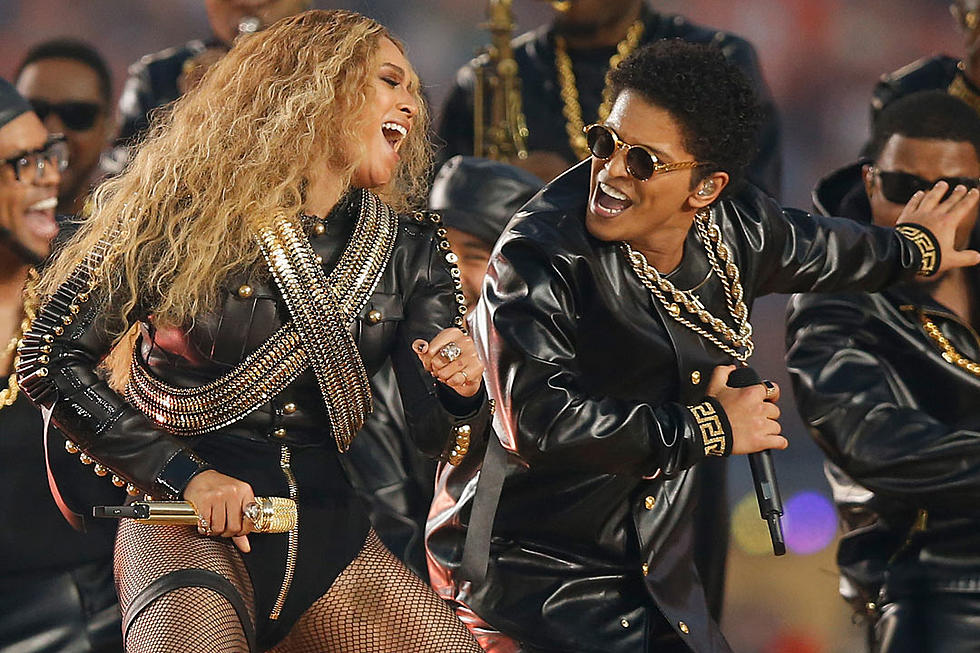 Beyonce Stress Eats Cheetos Just Like the Rest of Us, Says Bruno Mars
Ezra Shaw , Getty Images
Beyonce's status as pop's larger-than-life emblem of immortality just got injected with a mild dose of relatability, as Bruno Mars revealed the single most life-affirming tidbit of all time: Beautiful, immaculate, perfectionist Beyonce stress-eats just like the rest of us.
"Me and Beyoncé were both working on our diets, stressing out," he told the publication. "Then the day before, we're watching playback backstage, and she's eating a bag of Cheetos. I'm like, 'That's what you're doing?'"
Beyonce offered the "24K Magic" singer some words of wisdom, then: "She's like, 'There's nothing more we can do these last two days. It's gonna be what it's gonna be. So I'm gonna enjoy this bag of Cheetos.'"
Mars also noted the performance almost failed to come together entirely. When Coldplay frontman Chris Martin initially reached out to the "Locked Out of Heaven" singer to request he share the Super Bowl halftime stage with his band, Mars declined the offer.
"I told him I don't think so," he said. "I just felt like I'd just done it."
But Martin refused to take no for an answer: "I drove out there [to Martin's studio] and he pitched it, 'You and Beyoncé, doing "Uptown Funk" – I want to be responsible for giving that gift to the world.' That's what he said, in his sweet, charming, English way."
Still, Mars was hesitant.
"You've got to be careful with those [multi-artist] performances," he continued. "They do it a lot on award shows, where you've got so many cameos but nothing solid."
But Beyonce's participation ultimately convinced Mars to agree, and he admits watching the "Hold Up" singer rehearse was a revelation.
"She's not f---king joking around," he says. "She's going to get onstage and show everybody why she's the best every single time. She's got that monster in her."
Head over to Rolling Stone to read their full Bruno Mars profile.
Check Out Bruno Mars' Best Live Vocals Ever