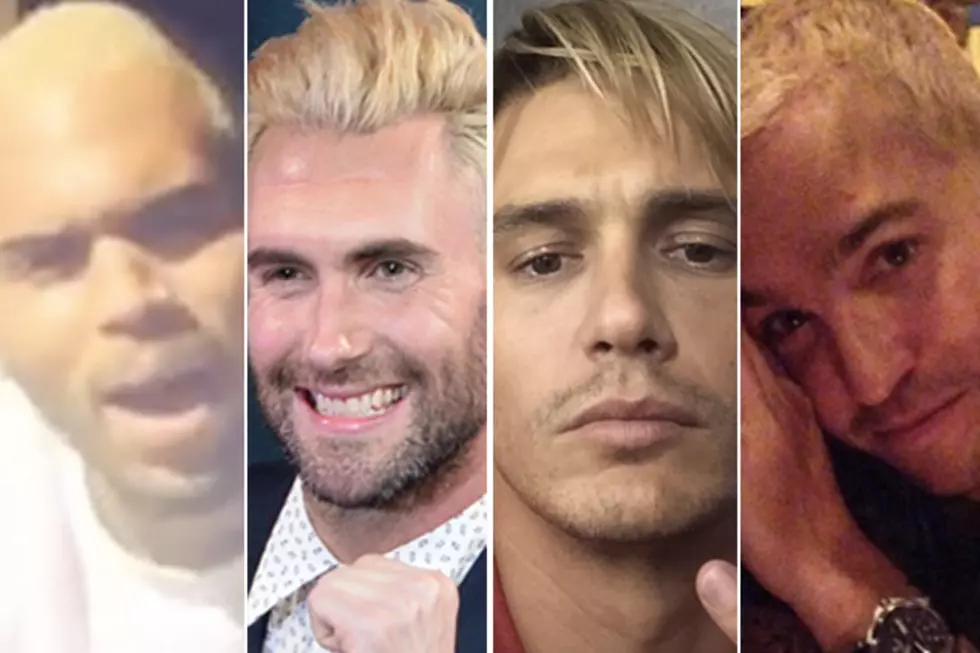 Chris Brown vs. Adam Levine vs. James Franco vs. Pete Wentz: Who Rocks the Platinum Blonde Best? – Readers Poll
Instagram / Kevin Winter, Getty Images / Instagram (2)
Do blondes have more fun? It seems like that's the theory that so many male celebs are testing out right now, dying their locks platinum blonde. Who rocks the look best?
This is not the first time that Chris Brown dyed his hair platinum blonde -- but we're guessing that he liked the look so much he decided to give it another go! Chris' bright hair color stands out against his caramel skin, and it's just shocking enough to suit the controversial singer.
Adam Levine has since gone back to his roots, but we'll never forget the period of time that the Maroon 5 frontman was blonder than blonde. Adam has longer hair than any of the other guys in this poll, and it definitely made his platinum color shine even more. Plus, there is a pretty significant contrast between his golden hair color and his darker stubble -- and we're loving the juxtaposition, which gives him kind of a punk-rock edge. Hot!
OK, so James Franco's platinum hue seems to be more of a wig than actual hair dye -- but we definitely wouldn't put it past him to go super blonde. The eccentric actor is known for breaking the rules (and going by his own), so we wouldn't be surprised at all if he decided to throw some sunny highlights in his brown locks.
Pete Wentz is the latest celeb to go the platinum route, and it seems that his choice of hair color may have a deeper meaning. "Prepared for new art on the horizon," he captioned his Instagram photo debuting the new look, purposely choosing two yellow heart emojis. Hmmm...
Which male celeb rocks the platinum blonde hair best? Cast your vote below!
See Chris Brown, Adam Levine + More Celebrities' Yearbook Photos!