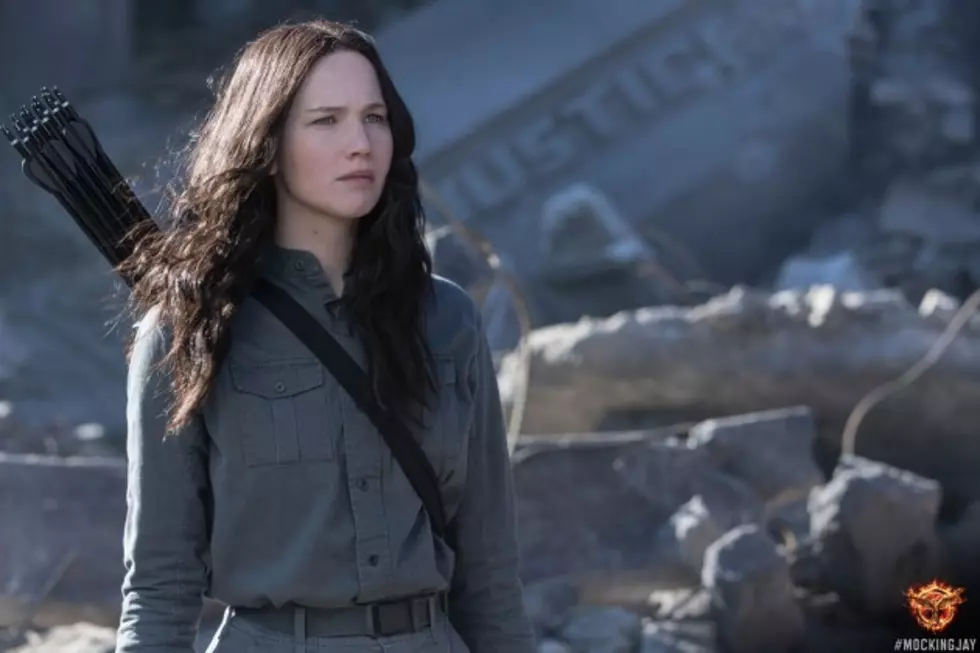 10 Things We Learned From 'The Hunger Games: Mockingjay – Part 1′ Special Features
Lionsgate
This week sees the release of The Hunger Games: Mockingjay - Part 1, and we've gotten an advance look at all the goodies that lie within its special features. There is a commentary track from director Francis Lawrence and producer Nina Jacobson, deleted scenes featuring Jennifer Lawrence, Liam Hemsworth and Josh Hutcherson, featurettes on the soundtrack and the late Philip Seymour Hoffman, and a feature-length documentary on all kinds of behind-the-scenes goodies. We break down the best bits below.
Finnick's breakdown was Sam Claflin's audition scene.

Though Finnick Odair first appears in The Hunger Games: Catching Fire, the scene Claflin performed in his audition was his first in Mockingjay - Part 1. It was equally important to the filmmakers that whoever was cast as the brawny beefcake from District 4 be as believable in his bravado as he was in his heartbreak. In the DVD/Blu-ray's audio commentary, producer Nina Jacobson recalls, "There were actors who could do the heartbreak. There were actors who could do the cockiness. Sam was the one we found who could do both with equal conviction."

Effie Replaced Fulvia with Suzanne Collins' blessing.

Elizabeth Banks' performance of Effie Trinket made the character a fan favorite, which inspired The Hunger Games filmmakers to include her in Mockingjay 1 & 2, even though its book did not. But they met with reluctance when The Hunger Games author was told of their plans to ditch Fulvia Cardew -- Plutarch Heavensbee's assistant -- to expand Effie's role. However, Jacobson happily recounted how Collins changed her mind after seeing Catching Fire.  "She said, 'Fulvia who?'" Jacobson remembered with a smile.

From there, the team considered how Effie might fit in the world of District 13. Jacobson explained, "It was a big decision to figure out what to do with Effie. We knew we wanted to see her again because we're so attached to her. And what we thought was most interesting was to see her forced into this role of rebel, forced to leave behind the Capitol and the things that she holds dear, but which she's clearly questioning by the end of Catching Fire. I think you see here her commitment to Katniss supersedes her politics and her own agenda had really just become to be a good friend to Katniss."

District 13 doesn't know how do makeup.

There's a bundle of deleted scenes in the special features, including clips with Beetee, Gale, Peeta, President Snow, and even one where Haymitch and Katniss bitingly blame each other for Peeta's fate! But our favorite is this short and sweet clip where Effie learns the true incompetency of District 13 when it comes to glamor. "This is the face of a revolution!" will be added to her growing this of catchphrases. ("That is mahogany!")

Elizabeth Banks took over one of Philip Seymour Hoffman's big scenes.

In the book, it was Plutarch who showed Katniss the designs Cinna had created for her ultimate Mockingjay transformation. But Hoffman's unexpected death during production necessitated Effie taking Plutarch's place here. 80% of his scenes had been shot, but not this one. "This is one of two scenes left that Phil had with dialogue," France Lawrence says, explaining how the scene became Effie's reunion with Katniss, "Liz very nicely accepted taking on the scene."

Now being between Katniss and Effie, the scene has a tragic irony as the characters discuss a dearly departed friend, the pain of which Jennifer Lawrence and Elizabeth Banks could freshly relate.

Jennifer Lawrence feared "The Hanging Tree."

In most movies, musical numbers are recorded ahead of production then lipsynced on set. But despite having a crippling fear about her abilities to sing the book's ballad "Hanging Tree," Jennifer Lawrence performed it live on location in a gorgeous rock quarry, just ten minutes from downtown Atlanta. "Singing is my absolute biggest fear, my worst nightmare," Lawrence shares in a behind-the-scenes interview, recalling how she broke into tears in fear before shooting this scene.

Her sceen-mates couldn't understand her anxiety. "And she's good too!" Elden Henson, who plays the mute Pollux, said remembering this, his first day on set. "She's a good singer. And it's like damn it, man. Is there nothing she can't do?"

Bonus fun fact: the song's melody was created by Jeremiah Fraites and Wesley Schultz of the Lumineers.

Peeta's reveal was shot three different ways.

In between Catching Fire and Mockingjay - Part 1, about two weeks has passed without Katniss seeing Peeta, who is still prisoner of the Capitol. In the book, she sees his first television address post-Quarter Quell from a war room, surrounded by District 13's President Coin and her advisers. Director Francis Lawrence revealed this scene was originally staged this way, but felt wrong. The war room version was "scaled down" to a meeting room with a smaller band of District 13's higher ups. "It just didn't seem to work," Lawrence shared in the commentary track.

The final version in the dining hall was the third shot. This one -- the director felt -- was strongest, allowing a place where Katniss could still be "reeling" from seeing the carnage of District 12. "She's such an outsider in this world of 13," he explained, and this scene, where she watches Peeta while surrounded by the jeering civilians of District 13, underlines that.

Make-up was crucial to the making of 'Mockingjay - Part 1'

There's a rich featurette on the make-up and costumes of Mockingjay - Part 1. Unlike the previous Hunger Games movies, Katniss has no glitzy moments in Mockingjay - Part 1. But make-up proved crucial in a number of places. For one, a bald-cap and effects make-up made the recently rescued Johanna Mason (Jena Malone) look suitably emaciated. Similarly, effects make-up -- in conjunction with some visual effects tweaks -- was employed to create the withered look that Peeta (Josh Hutcherson) undergoes under Capitol torture.

Then of course there is the assymetrical look that caught the world of real world fashion on fire. Check out this clip above to see how Natalie Dormer's Cressida took shape in the hands of Oscar-winning make-up artist Ve Neill.

Josh Hutcherson took some real hits in Peeta's final fight scene.

A great deal of care was taken into making Peeta's assault on Katniss as safe as possible for its actors. In postproduction, visual effects were employed to make it look like Peeta's fingers are digging into her neck, where Hutcherson wouldn't dare in real life. But Hutcherson reveals in a behind-the-scenes featurette that he earned a "massive" bruise on his shoulder, courtesy of Mahershala Ali, who played Boggs.

What looked like a thick metal tray, was actually just made of foam. Nonetheless, after repeated takes of Boggs knocking Peeta out with it, Hutcherson was feeling it. "Intensity was what I felt the whole time, and tired afterwards. Physically so sore." Hutcherson recalled, laughing. "Oh my god. It hurt much!"

Lorde's "Yellow Flicker Beat" was inspired by Katniss's final moment.

"That is terrifying and so exciting," Lorde said of the task of curating The Hunger Games: Mockingjay - Part 1's soundtrack. "There are some quiet songs. There are some sad songs. But they're all strong," Lorde said, explaining how strength was key to her choosing of artists like Grace Jones, Kanye West and Charli XCX. Being asked to create the film's end credits song felt like a special honor and important task for The Hunger Games fan.

In "Songs of Rebellion: Lorde on Curating the Soundtrack," the singer/songwriter shared, "There's this super intense scene at the end, where Peeta tries to strangle Katniss. And you definitely feel like you're almost in her head ... and I knew I needed to start (the song) with these really creepy hums that were kind of flawed and cracked sounding. Because she's unstable at that point ... But she knows that what the Capitol has done to her friend is so not okay... It felt like she had crossed a line in her head. Like, 'They've done this to me. It's real now.'"

The movie could have caused a riot.

You know that blackout that happens right after Peeta chokes out Katniss? Nina Jacobson reveals, "We considered ending the movie right there."

Director Francis Lawrence explains that the crew had been watching a lot of Breaking Bad at the time, and such an abrupt ending appealed to that sensibility. But he realized, that ending Mockingjay - Part 1 that way  "would have been a bit manipulative," and "people would just riot." Instead, the filmmakers decided to provide the moment after, allowing Katniss to see that Peeta is rescued but not safe. Plus, it allowed the setup of President Coin, come into her own as a leader, teasing where that might lead in Mockingjay - Part 2.