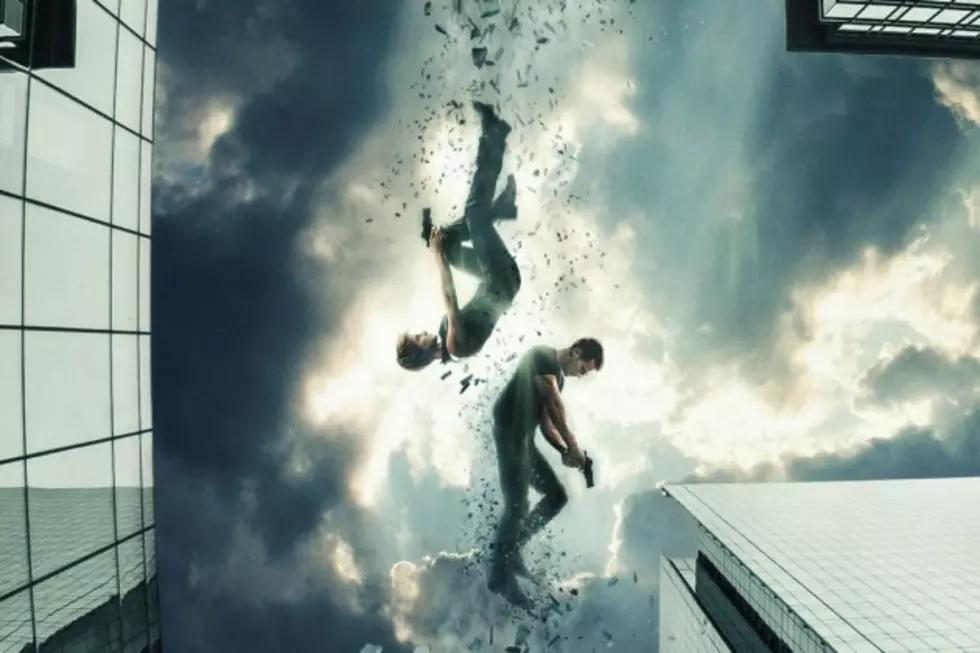 5 Things We Learned at the 'Insurgent': Shatter Reality Event
Lionsgate
When watching Tris taking on rigorous and immersive tests in Divergent, did you wonder how you'd stack up in a fear landscape? Well, with Insurgent on its way, here is your chance to test just how Dauntless you are.
Lionsgate and Samsung Galaxy teamed up to create Shatter Reality, a virtual reality experience that immerses fans into the world of the Divergent series. Insurgent's VFX team created exclusive 3D models of the films' actors and sets to throw fans full-bodied into what it's like to live like Tris. Last night we got a sneak peek at the Shatter Reality experience, and below we share what we learned.
The simulation begins in a futuristic white office with evil Erudite leader Jeanine (Kate Winslet) standing within arm's reach, her back to you. An assistant to her left sneers at you briefly, noting you're Dauntless. Then Jeanine turns, regarding you coldly before the room shatters like a mirror. The world around you (okay, the chair) shivers and you're hit with a blast of cold wind as you realize you're perched high above the devastated city. Look around quick, because your first test is about to begin.

Max isn't messing around.

Dauntless leader Max (Mekhi Phifer) materializes before you, teasing your first test. I won't spoil the surprise by telling you what it is, but know that it's okay to squeal. You'll be in good company. Especially when your seat high above the skyline plummets down into unknown depths upon test completion!

Next, you surface on a pair of train tracks that stretch far out into an uninhabited landscape. Before you can concentrate too long on where you are, Peter Hayes (Miles Teller), the bully of Tris' division, appears. He's grown a mustache but not a heart, setting you up for a pulse-pounding confrontation. (This reporter may have thrown a hand up in self-defense against a virtual attack.)

Shatter Reality is going on tour.

Look for the massive tractor-trailer pictured above, because it's hitting the road to bring Shatter Reality to New York, Los Angeles, Austin, San Francisco and Chicago. Inside are virtual reality stations where you'll be invited to sit down and put on a massive pair of headphones and a Gear VR headset with a Galaxy Note 4 serving as a personal movie screen. It seems a simple setup, but don't be fooled: It's incredible. During the 360 degrees 3D experience, I repeatedly reminded myself not to be scared because it wasn't real. (Just like Tris!)

March 20 is too long to wait for 'Insurgent'!

Still reeling from the tragedy that befell her in 'Divergent', Tris (Shailene Woodley) is on the run from Jeanine (Winslet). But with Four by her side, she's seeking out allies in the ruins of Chicago. What's next for Tris in 'Insurgent?' The movie opens March 20, but Shatter Reality plays as a perfectly enticing appetizer.

Shatter Reality Tour Details

New York: Soho's Samsung Galaxy Studio / February 27

New York: Flat Iron / February 28 - March 1

Chicago: Navy Pier / March 7-

Los Angeles: The Grove / March 14-15

San Francisco: Pier 39 / March 21-22

Austin: SXSW / March 13-21

You can check out all of PopCrush's photos from the Insurgent Shatter Reality event over on our Instagram. Send us pics of your #ShatterReality experience by tweeting @PopCrush!