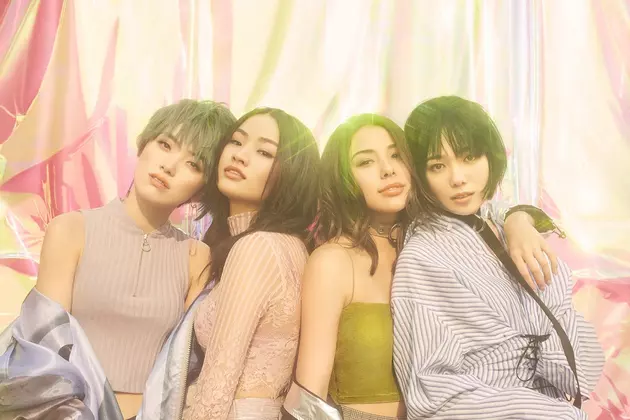 J-Pop Group FAKY on Being Inspired by Ed Sheeran: 'The Lyrics Are So Raw'
Avex
From Perfume to Kyary Pamyu Pamyu to BABYMETAL, the past few years have seen a handful of Japanese music artists and groups make a splash in the West. With their eye-popping style, instantly catchy dance-pop and colorful, stylish music videos, J-pop girl group FAKY could be next on that list.
Comprised of global singer-dancers Anna (New Zealand), Lil' Fang (Tokyo), Mikako (Fukuoka) and Akina (Los Angeles), FAKY officially debuted under an Avex sub-label in 2013. After a mini member shakeup, the group rebooted in late 2015 stronger than ever, releasing their flamenco-tinged R&B banger "You" and the thumping, hand clap-and-horn-featuring "Candy," along with its impossible not to dance along with video.
Ahead of the quartet's debut mini-album release, we caught up with the group's youngest member Akina, who grew up in California, to talk about their international pop inspirations, their early '00s-influenced music video for "Surrender" and why impacting U.S. radio is a goal.
Many fans have described your sound and image as being more akin to Western pop groups like Fifth Harmony and Little Mix, or even similar to K-pop artists, rather than traditional J-pop idol groups. What are your thoughts about that comparison?
I wouldn't categorize our music into a specific genre because it really is a diverse collection of sounds we, as a group, like. We all grew up listening to different genres of music and we want to express that through the music we release!
The "Surrender" music video—which, by the way, is one of my favorite songs this year!—reminds me so much of early 2000s pop, like TLC. What was the inspiration for the video?
That's exactly what we were going for! We take inspiration from iconic girl groups and try our best to keep the label of "girl groups" fresh and real. For the music video, our main focus was to express our individual personalities. Apart from our choreographed dance piece, the rest of what you see in the music video is freestyle that shows our unique characters.
Who are some artists or bands that inspire you?
I personally take a lot of inspiration from artists such as BANKS, Jhene Aiko and Ed Sheeran. My favorite taste in music is the mellow genre of contemporary R&B and acoustic. I also love how these artists' lyrics are so raw and straight from their hearts whether it be painfully true or of happy thoughts.
Are you focusing mostly on the Japanese music market right now, or do you have hopes to conquer international radio?
We have high high hopes of taking over the radio globally! Personally, growing up in America, I listened to the radio on the way to school everyday and I would love for students to be able to jam out to one of our songs before entering school!
Can you explain what FAMM'in is?
Famm'in is a sub unit consisted of Faky, [Japanese electro-pop duo] Femm and [J-pop singer] Yup'in.
What do you think each of you as individual members bring to the group?
I don't think FAKY would be as special as we are if it wasn't for what each member brings to the group! Anna brings poise and elegance with her presence. Lil' Fang brings a reckless, rocker girl vibe. Mikako brings a high-fashion model look that attracts all eyes. I would say I bring a typical American teenager aura to lift the members' spirits when needed.
Who are some other J-pop artists you would recommend to Western listeners?
I recommend for people who haven't yet, check out Koda Kumi's music. The members and I have been to her live concerts several times and can positively say she has never disappointed!
You recently performed at Pop Spring Japan. Are there any festivals outside of Japan that you'd love to perform at?
The opportunity to perform at Pop Spring was truly a blessing! If we're were able to perform at any festival outside of Japan, I would love for it to be Coachella or SxSW.
You have a new EP/mini-album due out in June. What are you most excited about with regards to releasing Unwrapped?
ather than saying we're excited about the title that comes with having our major debut itself, we are more excited for the many more opportunities that come with it. We are looking forward for more and more people to be able to listen to our music and to gain new fans who hadn't heard of us before the debut.
What would you like to say to your international fans?
I just want to give a huge thank you to everyone who supports us all around the world! We really hope that we can meet each and every one of you and will work hard so that it can happen! We are so grateful for your continuous support.
FAKY's Unwrapped is out June 14.
Meet the Queens of J-Pop: