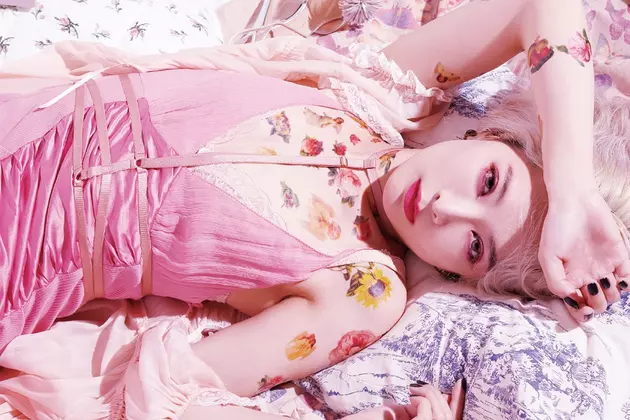 Nana Kitade on Why Her New Album Is About 'Anger at Oppression': Interview
Courtesy of Ayano Sudo
Nana Kitade got her big break after winning a Sony music audition in 2002. Only fifteen years old at the time, the singer-songwriter would quickly become a fashion icon in the music industry, idolized by teenagers for both her upbeat J-rock star attitude and signature punk lolita style.
Featuring hit single "Kesenai Tsumi," one of the themes used for popular anime series Fullmetal Alchemist, her 2005 debut, 18 -eighteen-, delivered punky, melodic pop-rock. (A success especially among teens and anime fans, the album was released in the United States via Tofu Records the following year.) Her second and third albums, I scream (2006) and Bondage (2009), tapped further into her rollicking rock persona—a sound she would explore even deeper as a member of punk and grunge bands Loveless and THE TEENAGE KISSERS, following her 2009 solo music hiatus.
After releasing a double single, "Bad Babe's Dreamer/Isolation," in late 2016, Nana made her independent return to solo music on May 3, 2017 with the release of VIOLET BLAZE, her fourth studio album.
Produced by Japanese hip hop musician Robert de Boron, VIOLET BLAZE finds Nana reborn as a bona fide J-pop princess—with a rock star edge. An electronic album at heart, songs like "Make-Believe" and "Shine Drops" sparkle with a sugary sheen, while tracks like "Bad Babe's Dreamer" and "Nasty Radio" are dance anthems hyper-charged by the singer's signature J-rock aggression. Elsewhere on the record, she showcases her soothing vocals and expert command of melody on a string of shimmery electro-ballads, including "Just a Day," "Saddest Song" and "Borrowed Time."
Ahead of the pop star's girl power music festival this autumn, September's Bad Grrrls' Night Out Show #2, Nana opened up about her love of Sofia Coppola films, her favorite Japanese street fashion brands and why her new album is about "being angry at oppression."
VIOLET BLAZE is very different from the sound of your previous albums. What inspired the pop sound?
Last year I started my solo activities for the first time in seven years. I didn't want to do the same thing as before and wanted to challenge myself with something new. I created my new album VIOLET BLAZE with Robert de Boron, who is a Japanese track maker and producer in the jazz and hip hop scene. While I created new songs with him, I found he is not only a producer of jazz and hip hop, but also a good melody maker of pop songs. He knows so many kinds of music from the 1950s to present: rock, soul, reggae, hip hop and, of course, pop music. So I told him that I needed a new sound and didn't want to make the same songs as before. He composed a lot of songs for me, then I selected from that. We were doing this for so long and then, when a year had passed, we recognized we finally had all the songs we needed!
Were you concerned about how fans would react to the transition from rock to pop? Was it more challenging to create a pop album versus a rock album?
I don't think rock is necessarily a sound. It's important for me to have the rock spirit! For example, I'm sure that John Lennon's album Imagine is filled with love, but it also has a very aggressive spirit. I don't feel Nirvana's album Unplugged is an acoustic album, as it's full of that rock spirit. Of course, VIOLET BLAZE is a kind of electronic album, but it's also a rock album in spirit. In particular, "Nasty Radio" has a rock energy, don't you think?
Which song on the album is the most precious to you?
"Make-Believe" is a new style of sound for me and it was a challenge, so I'm pleased with this song. At first I was a little worried listeners would not accept the song, but after singing it so many times in recording sessions I became less concerned.
I also have a deep attachment to the song "Just A day." This is not a song about a boy and a girl, but rather the story of two girls. When I was in junior high school, I had a close friend who had a thorn in her side. This song is about me and that girl. When I was reading my lyric book to write lyrics for VIOLET BLAZE, I found this lyric I wrote at the age of fifteen and then I rewrote it for the album. She had anxieties somewhere in her heart at that time, but now she is married and has spent a happy life with her husband and baby.
What was it like filming the music video for "Make Believe"?
This music video was shot in Ho Chi Minh, Vietnam. I wanted to shoot the video at a place that is full of energy and power. In Ho Chi Minh, many people sit on the street and talk with coffee in the daytime, while cars drive by on the opposite side of the road! I felt that place had a sense of freedom and a kind of vital power.
There are also a lot of colonial-style buildings that were built during the French colonial period there, so it's a mix of European and Asian culture, which creates a unique atmosphere. I felt very empowered there... but it was too hot and I was about to melt, too!
What is "Borrowed Time" about? It's a very powerful song.
"Borrowed Time" is a song about the last moments spent with a lover — or a parent or friend — who is about to pass away. The lyrics are very special, so you feel quite emotional listening to it.
Also, the theme of the album is "anger." I think anger sometimes comes from both the outside and the inside. My anger is not like, violence, it's just in my heart. It is said that violet is a color of holiness and nobility in the Orient. VIOLET BLAZE also refers to the blood and feelings burning in my heart quietly.
Nowadays, women are said to be free here in Japan, but I don't think so. When I look around the world, I feel that women, children and the marginalized are still oppressed. The theme of this album is anger at this kind of oppression. Therefore, this album might come across emotional.
You're very well known for your punk and gothic lolita style from years ago. Why is fashion important to you as an artist?
Everyone has a many-sided personality. If you eat steak every day, maybe you'll want to eat another kind of meal next! In the same way, sometimes I want to wear this kind of clothing, and then something different another day. I just always choose clothing that I feel is lovely at that time. I like to spend my time writing lyrics and performing, and shopping for lovely clothing that makes me feel happy is important to that, too.
What are some Japanese street styles or brands you recommend? Are there new styles J-fashion lovers should pay attention to?
At my shows, I often wear rurumu — hand-knitted clothing custom-made for me by designer Kanae Higashi.
I also recommend brands MILK and Katie. At first glance, they just look cute and girly, but you can find very rock 'n' roll pieces. Though fashions are always changing, these brands keep their style consistent. They are never affected by trends and they always take on new challenges. I think that's very cool and I appreciate that.
Are you inspired at all by Sofia Coppola's Marie Antoinette? Your visuals remind me very much of her film.
I like all of Sofia Coppola's films, and sometimes I'm inspired by her movies. Though Marie Antoinette is a tragic princess, I feel she is so free, unconventional and aggressive in a punk rock way. When I heard about the film directed by Sofia Coppola, I was so excited and went to see it at the movie theater. I also made a zine directed by Kanae Higashi, which is also inspired by Marie Antoinette.
Which Western artists do you listen to?
I listen to many kinds of music, though I prefer garage and alternative rock. I've been to concerts for Madonna, Savages, Chvrches, The 1975, Crystal Castles, Hinds and Coldplay recently. I also like Japanoise and sometimes I go to their shows. And I love Velvet Underground & Nico. I actually recorded their song "Sunday Morning" and sang it at my own show.
And which Japanese artists would you recommend?
Um... Nana Kitade! [Laughs] Actually, I will hold the event "Bad Grrrls' Night Out" in Tokyo this September. Some women artists will appear on this show: Yoko Hamasaki (a.k.a.Urbangarde), Hanae, Wakusei Abnormal. If you're interested, please check them on YouTube, iTunes or Spotify.
It's been a while since you visited the U.S. to perform, I think! Would you like to perform in the U.S. soon?
Well, I actually go to the U.S. often for vacation! Last autumn I went to Salvation Mountain in California. I took some pictures there and made postcard books. And I also spent the Christmas holiday in San Francisco last year. I like checking out second-hand clothing shops. If you know lovely places elsewhere in the U.S., let me know. Of course, I want to go to the U.S. to perform — someone invite me to come play!
How do you hope fans will feel after listening to VIOLET BLAZE?
I'm sure VIOLET BLAZE is full of both despair and hope. Everyone feels despair, but I believe we can find a ray of hope over sorrow and pain. My lyrics are written in Japanese, but music crosses all borders. So if fans feel hopeful, I'm happy.
What do you wish to say to longtime fans who have been listening to you since you debuted in the early 2000s?
I'm so glad that fans all over the world have been cheering me on for such a long time. I would like to say arigatou with all my love. It will be my 15th anniversary next year and I will try to do something new. Please invite me to your show, anywhere! I would go anywhere — the U.S., Europe, Asia and even Antarctica! — to play for you.
Meet the Queens of J-Pop: