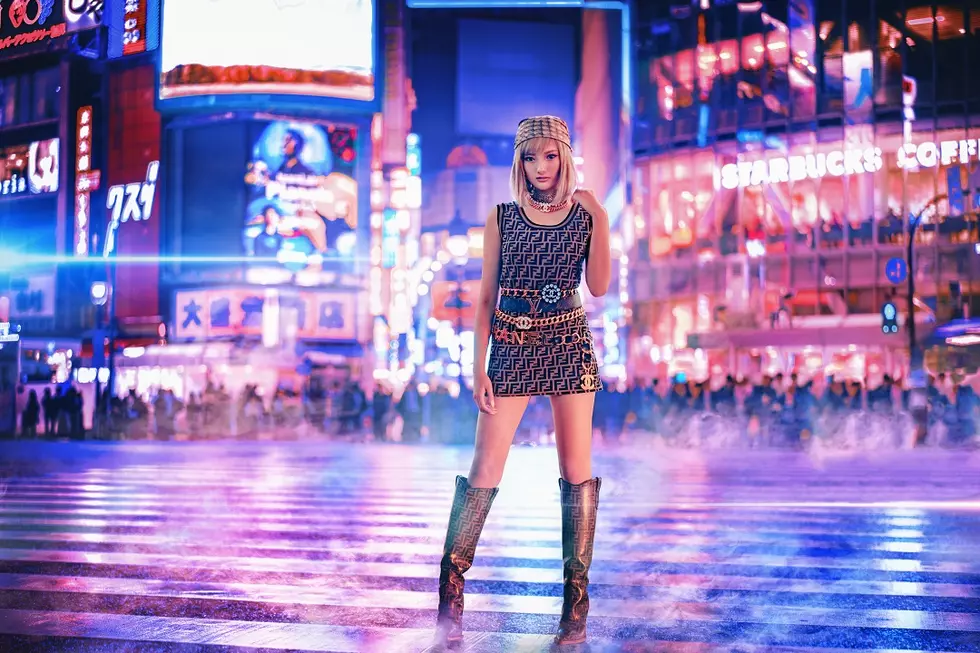 Kalen Anzai Is the Nostalgic-Futuristic J-Pop Star Dreaming Up a Gen Z Cyberpunk Utopia
Courtesy of Avex
For more than two decades, Japanese record label Avex (responsible for megastars like Ayumi Hamasaki, Do As Infinity and Gackt) has been known for defining the sound of J-pop in the late '90s and early 2000s. Now, nearly 20 years after delivering a particularly iconic era of Japanese pop marked by kinetic Y2K visuals and hyper-glossy production, one of the company's most recently debuted artists is reshaping the sound of millennium-era J-pop into something both familiar and forward-facing.
Born in 1999 and hailing from Kanagawa Prefecture just south of bustling Tokyo, Kalen Anzai has stirred up nostalgia for the instantly recognizable sound of early 2000s J-pop with her first three songs. Yes, you know the sound: that sparkling, tranced-out electro-pop that conjures images of colorful anime, glossy millennium-era technology and neon-tinged Shinjuku nightlife.
A Gen Z J-pop idol on the rise (as well as a model and rising fashion idol in Japan, where she stars in MAC Cosmetics campaigns), digital and technological themes permeate from 20-year-old Anzai's eye-candy visuals. The video for her debut single "Sekai no Subete Teki ni Kanjite Kodoku sae Aishiteita" ("I felt like an enemy to the world and loved even loneliness") shows the singer in a futuristic post-apocalyptic domed city. She dons a pair of AR contact lenses in order to wander a virtual version of Shibuya where everyone is tapped into a digital system, before seemingly breaking free. (Lyrically, the song speaks to finding strength and forging ahead for a free, bright future.)
Her second, more sorrowful video, "Dareka no Raise no Yume Demo ii" ("Someone's dream of the next life") finds her reminiscing about a lover as she observes other couples making human contact. (Notably, there are LGBTQ+ and interracial couples featured—progressive and welcome for a mainstream J-pop release.) Combining Blade Runner-meets-vaporwave aesthetics with hyper-emotive lyrics, Anzai has built a unique cinematic cyber-world with her immersive music videos, a narrative which culminates with her third and final introductory single, "Jinsei wa Senjōda" ("Life is a battlefield").
"If you watch the music videos for my first single, 'Sekai no Subete Teki ni Kanjite Kodoku sae Aishiteita,' second single, 'Dareka no Raise no Yume Demo ii,' and third single, 'Jinsei wa Senjōda,' you can see there is a clear connection and it's interesting, so I would like you to pay attention to it," Anzai explains, calling her latest track the "last in a trilogy."
"Plus, I was very happy to sing the ending song of my favorite anime, Black Clover," she continues. "It's a song that represents [the main character] Asta, spelling out the pain and courage it takes to face adversity."
Below, Kalen Anzai opens up about working with Avex, her thoughts on Y2K-era J-pop and her own definition of what it means to be cyberpunk.
Many fans have noted that your music pays homage to the late '90s, early 2000s J-pop sound, while also embracing a futuristic sound. Did you listen to a lot of J-pop from the '90s/2000s era growing up?
When I was little, I grew up listening to Western music such as rock and jazz. I still remember that I felt so fresh when I first encountered the 1990s-2000s J-pop sound. I interpret it as a new genre when I listen and sing.
What music has most inspired you as a musician?
My first live show was seeing The Rolling Stones. I was impressed by the saxophone-playing band member [Bobby Keys] and worked hard to [learn the alto saxophone] and get into a tournament. I think it was my motivation to pursue music.
What do you like to enjoy when you're not working on music?
I love watching movies. I'm addicted to Netflix's 13 Reasons Why!
What are your go-to favorite songs to sing at karaoke?
I always sing Whitney Houston's "I Have Nothing" around the end!
You're also known for showing your fashion looks on Instagram. Do you have a favorite outfit from one of your music videos?
My favorite music video costume is the outfit that combines the red mini dress with the motorcycle jacket that I wore in the video for my second single, "Dareka no Raise no Yume Demo ii." I didn't usually wear red [before], but now I like it!
What are your favorite places to go shopping for unique clothing?
I usually buy things that I thought are cute in Urahara (Ura-Harajuku) and Shibuya. When I want overseas clothes, I buy them online, but I always check out the brand ELF SACK.
What is it like working with MAC Cosmetics? Do you have a favorite makeup trend currently?
When shooting the MAC collection visuals, the face changes so much with makeup! I was so impressed and delighted to bring out my new self. A recent makeup trend [I like] is to contour the center of the face. I recommend it because it makes your face look smaller and autumn-like.
Why do you think "Sekai no Subete Teki ni Kanjite Kodoku sae Aishiteita" was the best single to introduce your music to the world?
The [combination of the] sound of the '90s and the futuristic aesthetic was interesting and new, and I thought it would be perfect for me.
Your music videos and songs have futuristic and technological themes, like virtual relationships and augmented reality. Why did you want to explore the future and technology in your music?
Musically speaking, I actually wasn't conscious of the future or technology—I drew from my real feelings instead. The video treatment was the inspiration of the creative team, and it became a collaboration. In itself, it was a very fun experience, and when I first saw the finished video, I screamed, "Cute!" Before shooting, when I was asked to propose a world view like the prophecy [in the video], I wanted to be in a position to express [my own] reality. On my own, I never really had the feeling that I always wanted to pursue the future and technology.
What is it like working with an agency as prestigious in the pop community as Avex?
I'm really stimulated every day. There are so many things I don't know yet. Everyone is really cool and I want to do my best to get closer to them.
Are there any J-pop artists you would recommend to J-pop lovers around the world?
Recently, I have been listening to Official髭男dism (Official HIGE DANdism). I love the lyrics and the melodies linger in my ears.
Your video for "Dareka no Raise no Yume Demo ii" prominently shows LGBTQ+ and interracial couples. Do you hope that society in the far future continues to embrace diversity and inclusivity?
Your songs have both themes of hope and sorrow. Do they go hand in hand?
When you really want something, I think everyone experiences feelings such as anxiety, fear and sadness.
What does it mean to be cyberpunk in your world?
I think it means to be unique, like the Japanese gals (gyaru) culture.
What is the cyberworld that is featured in your first music videos? Is it a future Earth? A future Japan?
It is a new world that can only be made through human imagination, fantasy and hope.
What does your ideal vision of the future look like?
The ideal future is always changing, but what is unchanging is the love of music ... I just hope I can continue to convey my feelings [at any given moment] in real time.
Listen to Kalen Anzai music via streaming services here.
Meet the Queens of J-Pop