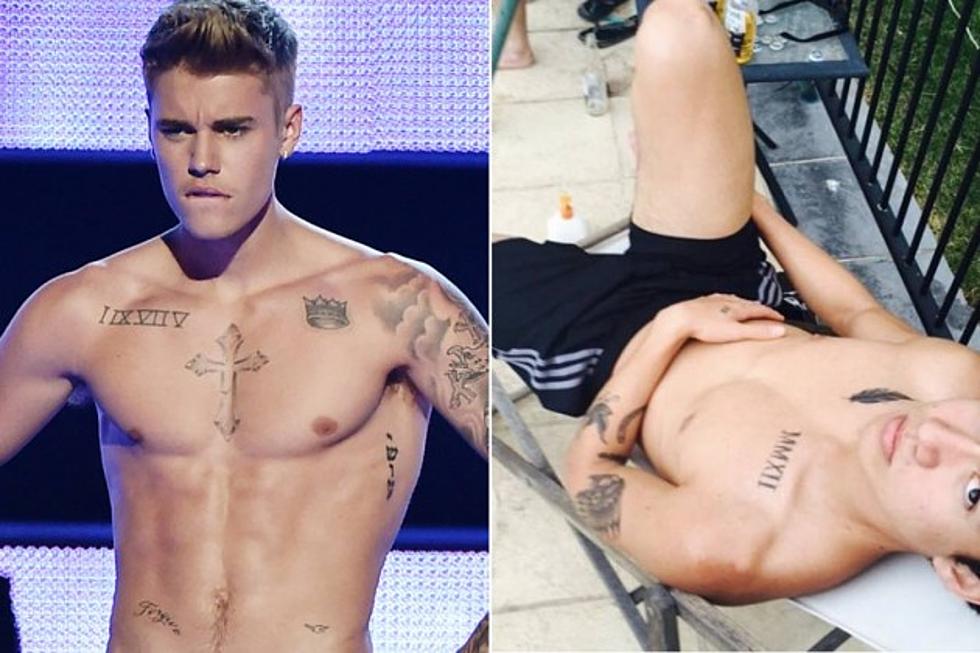 Justin Bieber vs. Calum Hood: Whose Roman Numeral Chest Tattoo Is Your Fave?
Theo Wargo, Getty Images / Twitter
Justin Bieber and Calum Hood both happen to have roman numeral ink tattooed on their chests. Whose is your fave?
Justin Bieber opted to ink the roman numerals "IIXVIIV" on his collarbone in honor of the most important woman in his life: His mama, Pattie Malette. The numbers stand for the "1975," the year that Justin's mom was born. Like the rest of the Biebs' numerous tattoos, his roman numeral chest piece is inked in black and is one of our favorite tats of his. The design is not only badass (we love a good roman numeral tattoo) but we love that he permanently displays his dedication to his mom. Awww.
Calum Hood inked the roman numerals "MMXII" -- which stands for "2012" -- on his chest, right under his collarbone. The meaning behind the tat is widely attributed to the year that 5 Seconds of Summer was formed, so it obviously has a special place in our hearts too. (True story: We've spent an embarrassing amount of hours watching fetus 5SOS covers on YouTube.) We love how the 5SOS bassist opted to get a little ombre with the tat, going for a darker gradient at the top of the numbers and a lighter one at the bottom. Plus, we're always down for an excuse for him to go shirtless.
Whose roman numeral chest tattoo do you like better? Cast your vote for Justin Bieber or Calum Hood in the poll below!
See Justin Bieber, Calum Hood + Oh So Many More Sexy, Shirtless Celeb Hotties