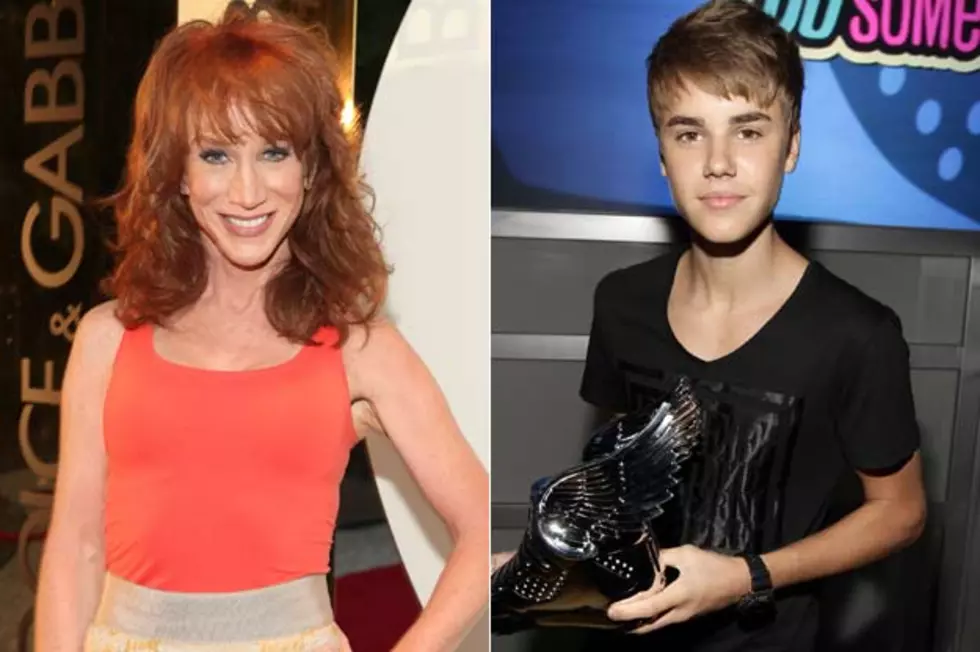 Kathy Griffin Copies Jim Carrey, Releases Video Love Letter to Justin Bieber
Come on, Jim Carrey. Did you really think you could create that creepy video love letter to actress Emma Stone (who is half your age and even wondered if she should be flattered or seek an order of protection) and not inspire tons of copycats? Well, comedienne Kathy Griffin is one upping you, filming a similar, camera-in-the-face, video love letter to Justin Bieber!
The irreverent redhead calls The Biebs "all the way beautiful" but then makes fun of his famous bangs, calling them "lesbian bangs," while quickly noting that is not meant to be an offense to the LGBT community. BTW, we totally dig Griffin's sparkly eyeliner. The Biebs' fans all wear that, so she's showing that she knows her "audience!"
Griffin gushes about The Biebs being smart and kind hearted and says, "If I could, I would marry you." She then retracts the statement, citing the fact that marriage would lead to the messy distribution of assets. She says they'd go camping  -- like Carrey said to Stone in his video -- but then fears that a bug would lay eggs in her. She also says she'd love to have The Biebs' babies, if she has any of her own eggs left.
She's 50. He's 17. Creeptacular ... And really funny!
Watch Kathy Griffin Profess Her Love For Justin Bieber