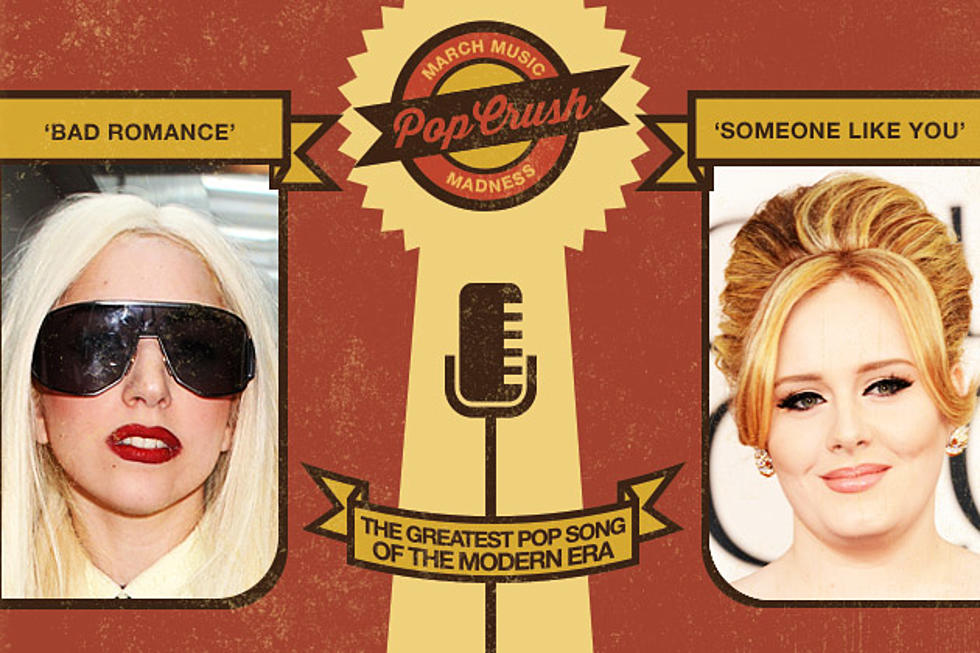 Lady Gaga, 'Bad Romance' vs. Adele, 'Someone Like You' – Greatest Pop Song of the Modern Era [Semi-Finals]
Koichi Kamoshida / Jason Merritt, Getty Images
Update: Lady Gaga won this round! Vote for her in the finals by clicking here.
Welcome to March Music Madness! Here at PopCrush, we've selected 32 of the most iconic pop songs released from the '80s to today (divided into brackets by decade) — and now it's your job to vote and decide which song will be named the Greatest Pop Song of the Modern Era. May the best song win!
We've made it to the Semi-Finals of March Music Madness! That means that only four songs are left in the competition -- and only one can be crowned Greatest Pop Song of the Modern Era. Round 3 spawned some intense competition, with Lady Gaga just barely managing to edge 'N Sync out of the competition with just over 50% of votes. Likewise, Adele's 'Someone Like You' garnered 54.56% of votes, just squeaking by Katy Perry's 'Firework.' In this semi-final round, Lady Gaga's 'Bad Romance' is facing off against Adele's 'Someone Like You.' Which song deserves the title?
Lady Gaga's 'Bad Romance' is one of the eccentric singer's biggest hits, with the classic Gaga tune going 10x platinum and garnering her two Grammy Awards. 'Bad Romance' is iconic Gaga, showing off her unique voice backed by a steady, dance-friendly drumbeat. The song helped Gaga to become the international superstar she is today and propelled her album 'The Fame Monster' to become one of her most successful.
Adele's 'Someone Like You' was also Grammy-winning, nabbing the British songstress a 2012 golden gramophone for Best Pop Solo Performance. 'Someone Like You' is one of Adele's most powerful tunes, with an emotional rawness and hauntingly beautiful composition that can't be matched. The song may be devastatingly sad, but it is ultimately hopeful -- and most of all, relatable.
Which hit should be titled the Greatest Pop Song of the Modern Era? You can vote for 'Bad Romance' or 'Someone Like You' once every hour until the polls close on April 1 at 12PM ET. The winning song will continue on to the final round of the competition!
Be sure to check out the contest at the bottom of this page to enter to win a $100 iTunes gift card after you've voted. It's a gift from us to one of our lucky readers for taking part in March Music Madness!