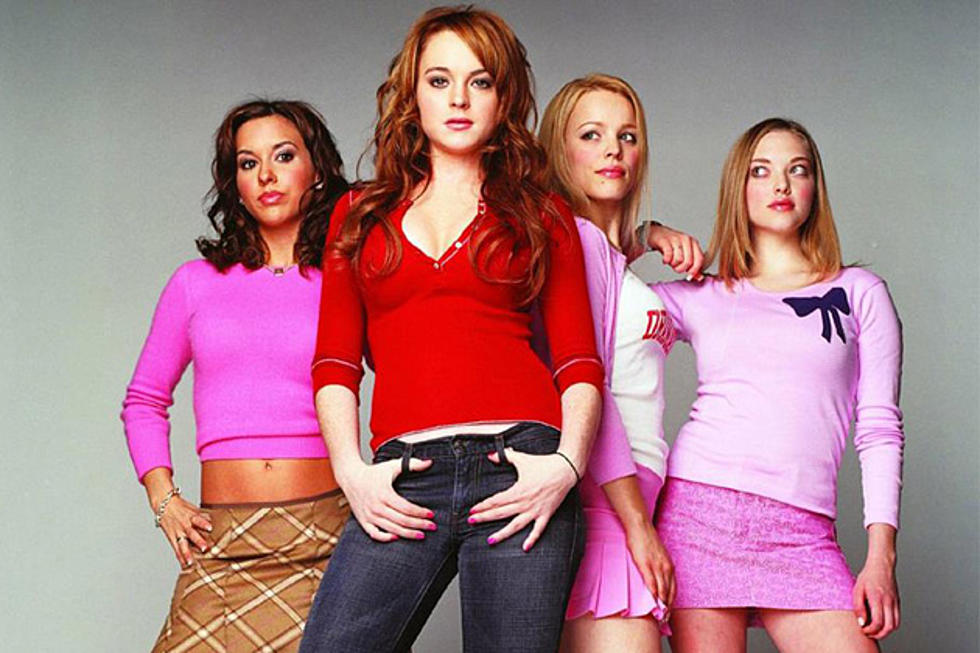 Then + Now: The Cast of 'Mean Girls'
Paramount Pictures
'Mean Girls' burst into theaters in 2004, and with it came the Plastics, a whole new vocabulary ("so fetch") and quotes that will live on forever in pop culture history ("You can't sit with us!"). It's hard to believe that almost 10 years have passed since the hilarious teen comedy first stole our hearts, but what better way to bridge that gap than by finding out where your favorite North Shore students and teachers are now? Read on to see where the cast of 'Mean Girls' is today.
Lindsay Lohan (Cady Heron)
Then: Oh, to go back to the Lindsay Lohan of 2004. The redheaded, fresh-faced young actress came to 'Mean Girls' with a slew of successful Disney movies under her belt, including 'The Parent Trap,' 'Confessions of a Teenage Drama Queen' and 'Freaky Friday.' But it was Lohan's turn as "home-schooled jungle freak" turned "regulation hottie" Cady Heron that elevated her from child star status and skyrocketed her into fame.
Now: Lohan has become a tabloid fixture, with multiple arrests, battles with substance and drug abuse, and at least six stints in rehab garnering her constant news coverage. Since 'Mean Girls,' Lohan has made several movie missteps along the way, including 'I Know Who Killed Me,' 'Liz & Dick,' and, her most recent flop, 'The Canyons.' In 2014, Lohan attempted to revive her career with a candid look into her personal life in the OWN docuseries 'Being Lindsay.' She is set to star on the London stage in the David Mamet play 'Speed-the-Plow,' making her West End debut. We're rooting for her!
Rachel McAdams (Regina George)
Then: Rachel McAdams portrayed the villainous Regina George, the 'Queen Bee' of the Plastics. Immediately after 'Mean Girls,' McAdams' star status was cemented when she starred opposite Ryan Gosling in Nicholas Sparks' 'The Notebook.'
Now: The incredibly talented McAdams has gone on to star in numerous films, including 'The Time Traveler's Wife,' Woody Allen's 'Midnight in Paris' and the recent 'Sherlock Holmes' movies. Her dating resume is just as impressive: McAdams has dated Ryan Gosling, Josh Lucas, and most recently, her 'Midnight in Paris' costar, Michael Sheen, though the two called in quits in 2013. (She is currently dating Patrick Sambrook.) McAdams is set to be honored with a star on the Canadian Walk of Fame.
Lacey Chabert (Gretchen Wieners)
Then: Prior to 'Mean Girls,' Chabert was also known for her voiceover work, voicing Eliza Thornberry on Nickelodeon's 'The Wild Thornberrys,' Meg Griffin during the first season of 'Family Guy' and Ruth McDougall on 'Hey, Arnold!' She also provided the singing voice of Young Anastasia in 'Anastasia.' Chabert was also known for her role as Claudia Salinger on 'Party of Five.'
Now: Chabert has continued to act in lesser-known TV movies and has lent her voice to various television series. She currently has a recurring role as Dr. Amy Shaw on ABC Family's 'Baby Daddy' and posts pictures of herself hanging out with famous pals Haylie Duff and Beverely Mitchell on Twitter.
Amanda Seyfried (Karen Smith)
Then: Amanda Seyfried scored her breakout role in 'Mean Girls,' playing ditzy 'Plastic' Karen Smith, whose cousin-loving attitude and forecast-predicting boobs helped secure her place as a hilarious comedic actress.
Now: Since 'Mean Girls,' Seyfried has tapped into her musical side, starring opposite Meryl Streep in 'Mama Mia' and alongside a stellar cast as Cosette in the Academy Award-winning 'Les Miserables.' Seyfried, who is currently dating Justin Long, has also acted in a range of other movies, including the Nicholas Sparks film, 'Dear John,' the dark 'Jennifer's Body' opposite Megan Fox, as Linda Lovelace in the biopic of the porn star, and in the Seth MacFarlane comedy 'A Million Ways to Die in the West.'
Lizzy Caplan (Janis Ian)
Then: Lizzy Caplan portrayed the gothic Janis Ian, the mastermind behind the plan to get Cady to infiltrate the Plastics and destroy their group. We also can't forget the fact that she may or may not have worn a wig made of her classmate's mom's chest hair. Natch.
Now: Post-'Mean Girls,' Caplan has worked hard at her craft, scoring parts both in film and on TV. In 2009, she had a role in the James Franco film '127 Hours' and has since really found her niche on TV, with a recurring role as Julia on 'New Girl' and as Virginia Johnson on 'Masters of Sex,' for which she was nominated for an Emmy.
Daniel Franzese (Damian)
Then: Daniel Franzese played Janis' best friend, the "too gay to function" Damian. He also really wanted his pink shirt back.
Now: Franzese has continued to act, scoring small parts in 'War of the Worlds' and 'Burn Notice.' In 2011, he had a recurring role on the web series 'Foodies.' According to his Twitter, Franzese starred in his one-man show, 'I've Never Really Made the Kinda Money to Become a Mess,' and recently came out as gay in a heartwarming letter to his 'Mean Girls' character Damian.
Jonathan Bennett (Aaron Samuels)
Then: Jonathan Bennett played Aaron Samuels, Regina George's too-good-for-her boyfriend and Cady's "grool" crush. Before 'Mean Girls,' he also took over Jesse McCartney's role as JR Chandler on the soap opera 'All My Children.'
Now: Bennett is still acting, though most of the films he has been in post-'Mean Girls' have been more under-the-radar. In 2014, he became one of the contestants of 'Dancing With the Stars' Season 19, sashaying across the dance floor with partner Allison Holker in memory of his parents. But the best news of all is that his Twitter account is chock-full of 'Mean Girls' goodies. Not only does his bio read, "I get it… my hair looks sexy pushed back," he also recently posted a ton of behind-the-scenes photos with the cast. You go, Jonathan Bennett.
Tina Fey (Ms. Norbury)
Then: Not only did Tina Fey play Cady's math teacher, Ms. Norbury, she was also the brains behind the entire film. The bespectacled 'SNL' star adapted 'Mean Girls' from the non-fiction book 'Queen Bees and Wannabees' and also wrote the entire screenplay.
Now: With several hit films, a crazy-popular television show (R.I.P. '30 Rock'), a best-selling memoir and one Golden Globe hosting stint under her belt, it's safe to say that Tina Fey has the whole comedy thing on lock. And with two Golden Globes hosting duties under her belt (both Fey and Amy Poehler hosted two years in a row), we know that she won't be falling off the radar any time soon.
Amy Poehler (Mrs. George)
Then: The 'SNL' comedian played Regina's video-recording, alcohol-serving "cool mom," Mrs. George.
Now: Like her co-star, 'Golden Globes' co-host and comedic bestie Tina Fey, Amy Poehler has been on fire since 'Mean Girls,' stealing the show in films like 'Blades of Glory' and 'Baby Mama.' The actress, who recently lent her voice to the animated hit 'Free Birds,' has also starred on TV in 'Parks and Recreation' since 2009. (She also has the two most adorable sons, Abel and Archie, with ex-husband Will Arnett.)
Think You Know 'Mean Girls'? Test Your Knowledge!