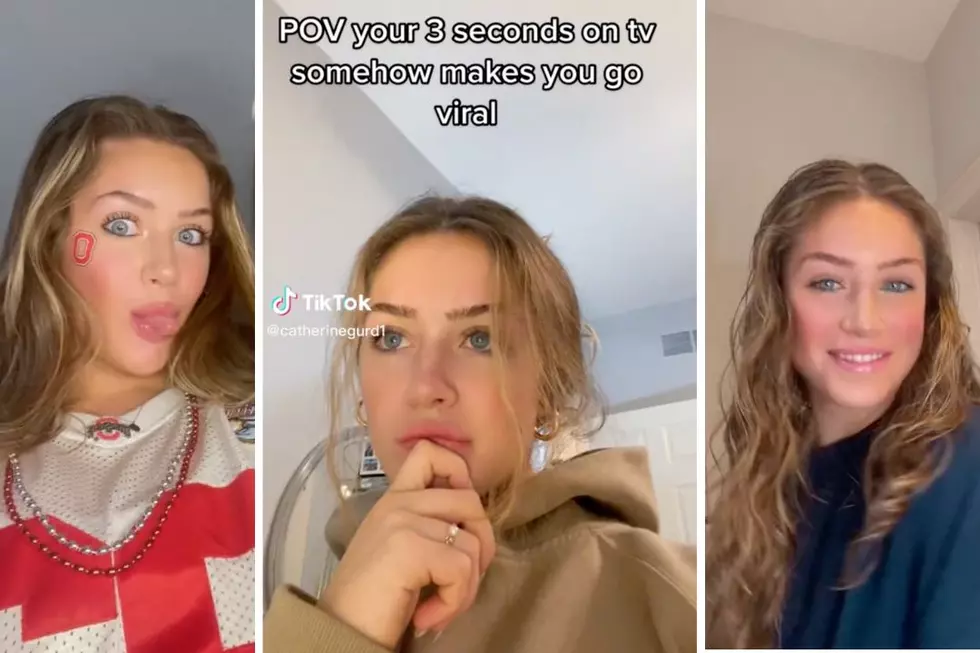 Ohio State 'Peach Bowl Girl' Seen on TV Goes Viral After Infatuated Viewer Posts Her on TikTok
@catherinegurd1 via TikTok
Internet sleuths have done it again.
On occasion, a great mystery consumes the internet, and while this one took a few days to solve, we now know that the Ohio State fan who went viral after being spotted in the crowd at the Peach Bowl playoff game is a young woman named Catherine Gurd.
Earlier this week, Gurd unwittingly went viral on social media after a viewer posted a video of her on his TV screen to TikTok. Gurd was in the crowd watching the Ohio Buckeyes face off against the Georgia Bulldogs in the College Football Playoff semifinals held on New Year's Eve.
The stunning young woman, dubbed the #PeachBowlGirl, wowed TikTok user @haydenshepppard, who begged the app to help him locate "this girl from Ohio State... for the love of God."
Social media detectives quickly came together to identify the woman from the video, tagging her in the comments section of the viral clip.
Eventually, she reacted to going viral. In her own TikTok, she wrote, "POV your 3 seconds on TV somehow makes you go viral."
Watch below:
So, who is Catherine Gurd?
According to Inside Edition, the Ohio State fan is currently majoring in biomedical sciences. She's also an athlete who plays lacrosse.
In fact, athleticism runs in her family. Her older brother is Patrick Gurd, who plays as a tight end for the Ohio Buckeyes, while their father also played for the Buckeyes.
Celebrities Who Slid Into DMs
From Lizzo to Dua Lipa and Joe Jonas, check out stars who slid into other peoples' DMs.