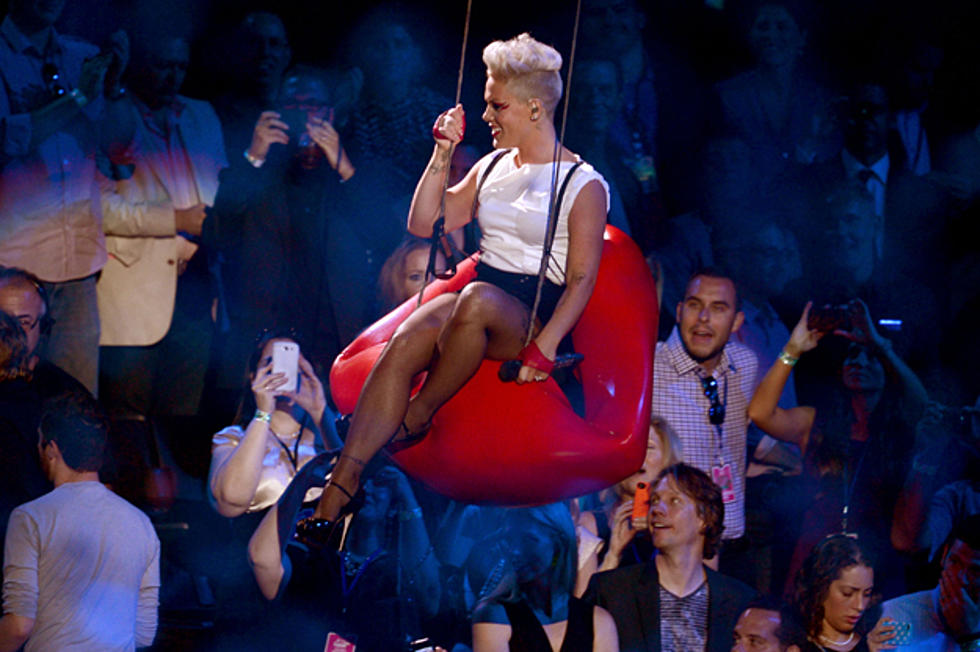 Pink Blows Up With 'Blow Me (One Last Kiss)' at the 2012 MTV Video Music Awards
Kevin Winter, Getty Images
Miley Cyrus, who rocked an almost identical hairstyle to Pink's blonde bouffant-mohawk hybrid, took to the stage with Mac Miller to bring her out, gushing over her influence over not only her own music, but many of her generation's peers as well.
Pink, who stunned in a floor length fitted silver gown on the red carpet, took to the stage in black sparkly hot pants, a white tee, black suspenders, red lipstick and red eye makeup. She opened her set with 'Get This Party Started,' singing, "I'm coming up" as she hit the keyboards -- then took to the air in her signature aerials. We see what you did there, Pink! The proud mama to Willow Sage then plopped back to the stage for her new single, 'Blow Me (One Last Kiss).'
The background flashed with black and white and red and black stripes. Girls dressed as giant smooching lips (and wearing little else other than black lingerie) pranced around the stage hanging out bright red lips to girls in the crowd and shooting confetti.
The camera panned to a somewhat somber looking blue-haired Chris Brown, whom the songstress had previously criticized for ripping off of her performances and lip syncing live. Alicia Keys and Swizz Beatz, along with baby Egypt, were spotted enjoying her performance.
Pink interacted with the crowd throughout her set, even taking a seemingly uncomfortably long hug from one particularly enthusiastic male fan. She closed out her triumphant, typically spunky performance by riding off of the stage on a giant kissing lip swing. Pink, if you keep singing, we'll blow you as many kisses as you want.