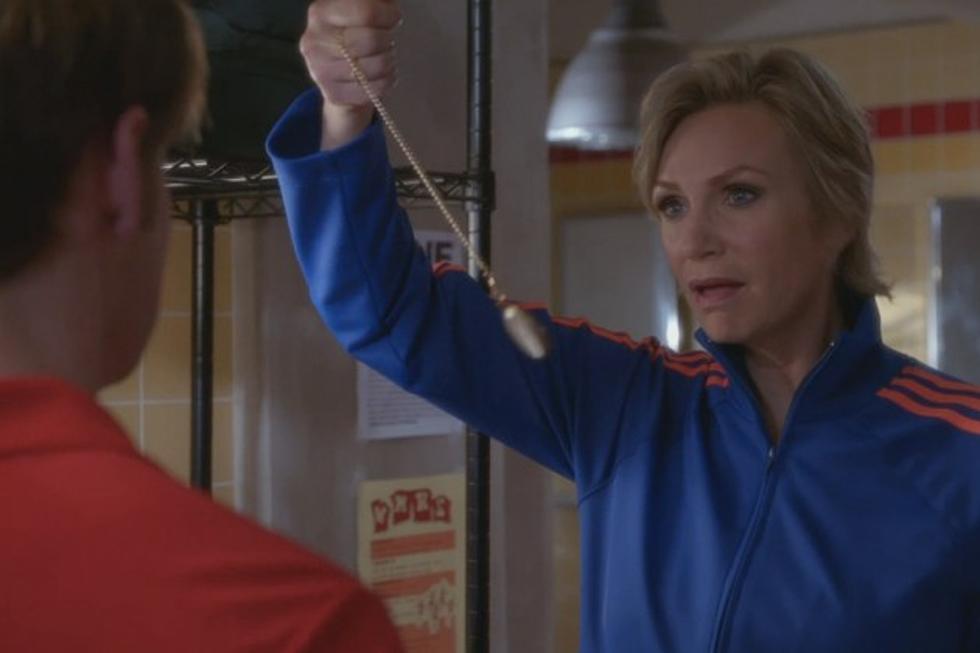 Warbler Ramblings: 'Glee' Singer Rilan Recaps 'The Hurt Locker: Part One'
FOX
'Chemical' singer Rilan – who's also part of the Warblers on 'Glee' this season — is watching 'Glee' every week and writing recaps of each episode exclusively for PopCrush! Below is his take on the latest episode of 2015. Stay tuned to PopCrush for more 'Glee' guest columns from the rising pop artist.
Imminent chaos is afloat in the halls of McKinley High as Principal Sue Sylvester maliciously schemes to end the New Directions once and for all in this week's episode of 'Glee,' entitled 'The Hurt Locker: Part 1.'
Episode 604 opens with a seemingly harmless lunch meeting at McKinley between Will and Sue, in which -- upon closing -- Sue reveals her own devious hurt locker to Becky and its surprising twist: She 'ships' Klaine and wants nothing but the couple's happily ever after. As she discusses her hopes for Blaine's relationship to Kurt, Sue announces the first ever McKinley High Glee Club Invitational. Sue knows that when competing against Blaine's Warblers and Will's Vocal Adrenaline, the four members of the New Directions will not stand a chance.
Beginning her diabolical plan, Sue hypnotizes Sam into kissing Rachel, using Sam as her entranced monkey throughout the episode. Sue also sets a bear cub loose in Blaine and Karofsky's new apartment, with bear puns intended. Denied Rachel's request for some slack, Blaine and Will both refuse to go easy on her and Kurt's novice glee club during the invitational. Sue interrupts Rachel and Sam's 'not-a-date' piano lesson with Blaine and sings the first song of the episode: Meredith Brooks' '90s hit 'Bitch.' Sue cavorts through the halls of the school viciously spraying students with a fire extinguisher, while she cheerily sings about her self-proclaimed nastiness. Hours later, Sue surprises Blaine and hubby Karofsky on their date night, inviting all of Karofsky's ex-lovers (some twenty, forty-year-old-looking men), and she reveals to the uncomfortable couple that, upon DNA testing, they are in fact third cousins.
Back in McKinley's choir room, Sam flirtatiously helps Rachel practice her piano chords. Sue visits Vocal Adrenaline's sending school of Carmel High where Principal Figgins' sister, hysterically played by Figgins himself, is principal. Sue relentlessly suggests that Will's loyalties lie not with his current charges at Carmel High but with McKinley's New Directions. Will confronts Sue about her behavior, and she retaliates against his accusations with one hell of monologue. However, Will exposes her plans to retire and promises that even with all of her violent attempts to ban show choir from McKinley, he will never let her win her battle against the arts.
Blaine and Kurt share a sweet moment and an awkward hug as they discuss their friendship. While practicing once more, Rachel and Sam sing Vanessa Carlton's 'Thousand Miles' and recreate the singer-songwriter's music video, speeding down the streets of Los Angeles sitting at a traveling piano. Upon finishing their beautifully harmonic duet, they share a passionate kiss. The next day, Rachel confronts Sam about their lip-lock, of which he has no knowledge due to Sue's hypnotism. He subsequently declines a date with Rachel and is immediately re-mesmerized by Sue, this time with the intention of ruining Will. Kurt goes on his first date with an online mystery man, Walter, who turns out to be a newly-gay, divorced father in his fifties. They decide to take things slow and start out as friends, much to the relief of Gleeks worldwide. Will catches Sam stealing his utility bills. Under Sue's influence, Sam blames the act on Rachel, citing her motive as her desire to win the invitational.
Back at McKinley, the quasi-tournament begins with Vocal Adrenaline's performances of the '80s hits 'Rock Lobster' by the B-52s and 'Whip It' by Devo. As usual, the members of Vocal Adrenaline dazzle the Warblers and the New Directions with their extremely complex choreography, this time complete with lifts, costume changes, aerialists and an interesting choice of headwear. It is immediately apparent that Will has no intention of sparing Rachel and her New Directions from a landslide of a loss at the invitational. All glee clubs will have to bring their A-game next Friday in Part 2 of 'The Hurt Locker.'
Leaving us hanging last night, let's see how the Warblers and the New Directions will fair against their tough competition this coming Friday. Until then, this is your inside man signing off. Have a gleeful week, Gleeks.
Watch Rilan Perform His Song 'Chemical' Acoustic