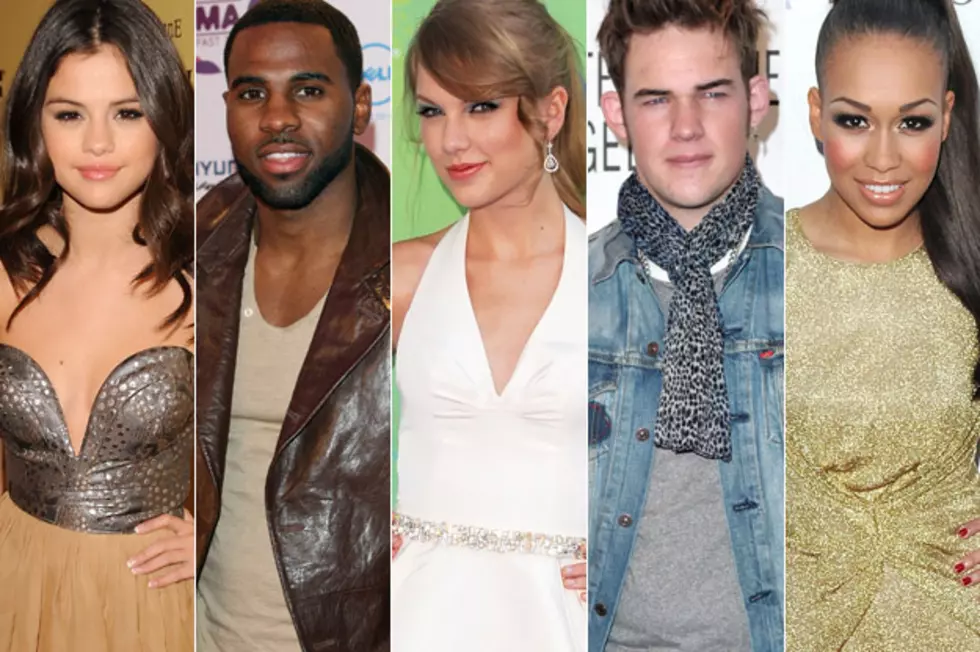 About to Pop: Selena Gomez, Jason Derulo + More Singles
Another week has come, and it's time for another round of voting for the song you think is About to Pop. This week, music lovers can vote for tracks from Selena Gomez, Jason Derulo and more --whichever song wins the most votes will receive airplay on PopCrush's national radio show the following weekend (April 7 or April 8, depending on which station you're tuning in to).
Last week, Demi Lovato took the About to Pop crown with her song 'Give Your Heart a Break,' which will be featured on PopCrush's Top 20 Countdown this weekend. So, who can follow in Demi's footsteps and become the new About to Pop champ? This week, fans can choose between Selena Gomez and the Scene's 'Hit the Lights,' Jason Derulo's 'Breathing,' Taylor Swift's 'Eyes Open,' 'American Idol' contestant James Durbin and his song 'Love Me Bad,' and former 'X Factor' (the U.K. edition) songstress Rebecca Ferguson and her single 'Nothing's Real but Love.'
So, PopCrush readers, which song are you rooting for as the next potential Top 40 hit? Take a listen to each track and cast your vote for your favorite tune below. The poll will close on Monday, April 2 at 3PM EST.
Rules: The song with the most votes will get aired on the PopCrush Top 20 syndicated radio show, which airs on over 20 radio stations across the United States.
Watch the Selena Gomez and the Scene 'Hit the Lights' Video
Watch the Jason Derulo 'Breathing' Video
Listen to, Taylor Swift 'Eyes Open'
Watch the James Durbin 'Love Me Bad' Video
Watch the Rebecca Ferguson 'Nothing's Real but Love' Video