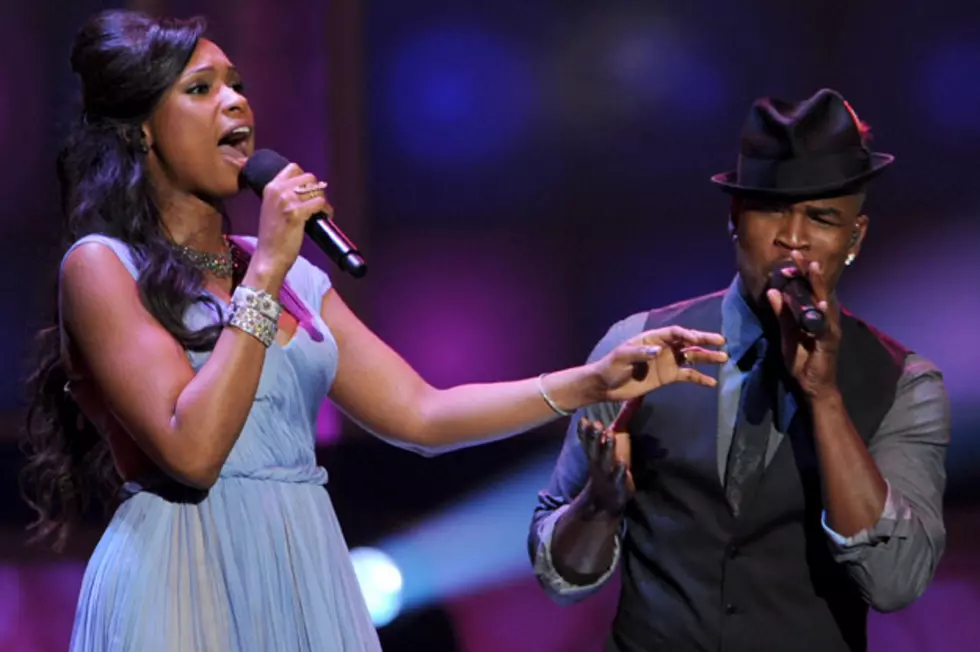 Jennifer Hudson + Ne-Yo Explain How to 'Think Like a Man' on 'American Idol'
The Dream Girl herself, Jennifer Hudson, went back to her 'American Idol' roots tonight. The former contestant, who Ryan Seacrest noted as the only member of the 'Idol' family to have won both a Grammy and an Academy Award, took to the 'Idol' stage tonight for a performance of 'Think Like a Man' with R&B singer Ne-Yo.
Entering in classy black attire, accented by black-clad backup dancers a la Janet Jackson, with a hairstyle and moves that would make Janelle Monae jealous, Hudson performed her hit song 'Think Like a Man' -- the track is from the movie of the same name, which stars Chris Brown and Gabrielle Union. Crooner Ne-Yo joined her for a verse, sporting a black fedora and a tasteful mustache, and their voices went together like peanut butter and jelly. Sadly, Rick Ross, who is also featured on the song, was nowhere to be found.
Together, the soulful duo took us all out by engaging the crowd; They took to the front of the stage and touched the hands of some of their most adoring fans. Afterward, Ryan Seacrest and Hudson reconnected briefly. Jennifer said that she absolutely loved collaborating with Ne-Yo, and really, who wouldn't? They sounded perfect together, and we hope it's only a matter of time before they take the stage together again.
Watch Jennifer Hudson + Ne-Yo Perform 'Think Like a Man' on 'American Idol'